Adventure sports in New York State: Get your winter thrills
Whether it's ice climbing, zip-lining or speeding around in a snowmobile, winter adventure sports in New York State are the ultimate rush.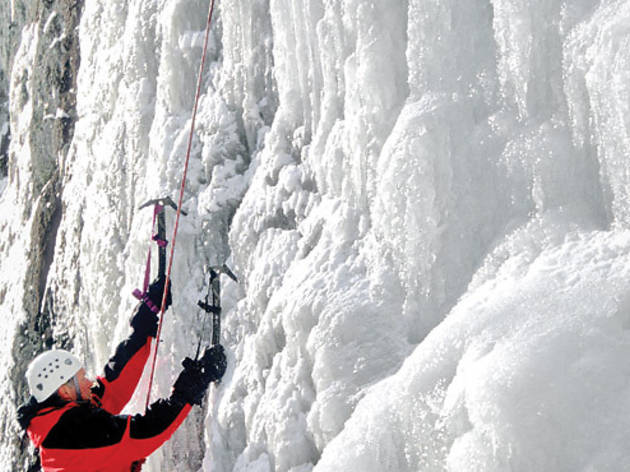 No Pants Subway Ride
, consider trying more strenuous
adventure sports in New York
like ice climbing or bobsledding. Winter zip-lining, offered at
ski resorts
like Hunter Mountain, lets you admire spectacular views while satisfying your need for speed.
RECOMMENDED: Winter getaways from NYC
Ice climbing
The sky's the limit when you're ascending an ice-covered mountain. Climbers of all ability levels—including no ability—can learn the most current techniques from the pros at Alpine Endeavors(877-486-5769, alpineendeavors.com; half day $195, full day $280, includes gear), who offer daily instruction at two convenient bases, in the Catskills and the Adirondacks. Near Lake Placid, the seminars at Earth Treks Climbing (800-254-6287, earthtreksclimbing.com; three days $450, includes gear) cover all the basics: ice ax and crampon use, rope systems, even clothing selection. Private guiding is the way the Adirondack Rock and River Guide Service (518-576-2041, rockandriver.com; rates start at $180 for one day for one person) does the 'Dacks, allowing guests to stipulate the kind of companionship they're interested in, whether that means an elementary tutorial or a partner with whom to scale an unmarked 4,000-foot peak.
Winter zip-lining
Just 90 miles from the city in Hyde Park, Big Bear Ziplines(888-947-2294, bigbearziplines.com; $99)—the closest zip-line course to NYC—boasts more than 50 acres of winter wonderland scenery. Follow your pilot through the eight-line course, where you'll climb fire ladders, swing on vines Tarzan-style and (hopefully) take a moment to bask in the beauty surrounding you, all at speeds of up to 30 miles per hour. And Big Bear makes getting there easy, with a free shuttle to and from the Poughkeepsie Metro-North Station. Take your high-flying adventures to the extreme at Hunter Mountain(800-486-8376, huntermtn.com; $89–$119), where you'll traverse the continent's longest and highest zip line. The mountain offers three levels of fun, but the SkyRider tour—in which you'll dangle 600 feet above the ground and move as fast as 50 miles per hour—is the real pulse-pounder. Urban Sherpa(917-692-5222, urbansherpatravel.com; Wed, Sat, Sun 6am; $79–$85) makes the 125-mile trek from Manhattan three times per week.
Mountain coasters and bobsledding
There's nothing wrong with preferring to descend a mountain on your keister. Let a rope tow take you to the top of Greek Peak Mountain Resort's Tubing Center, then see how quickly you can make it back down via one of the incline's ten tube chutes (800-955-2754, greekpeakmtnresort.com; hours vary based on weather conditions; usually Fri 5–10pm; Sat, holidays 10am–10pm; Sun 10am–9pm; five hours $25). Or make like a gold-medal athlete as you bobsled your way around Mt. Van Hoevenberg at the Lake Placid Olympic Sports Complex(518-523-4436, whiteface.com/activities/bobsled-experience; Wed–Fri 1–3pm, Sat 10am–5pm, Sun 10am–2pm; $80), following an actual Olympic track at breakneck speed. You'll have your very own driver and brakeman, too, and will commemorate the daredevil antics with a team photo, T-shirt, and membership in the U.S. Bobsled and Skeleton Federation.
Snowmobiling
If you're revved up for a high-speed adventure, head for Old Forge(877-653-3674, oldforgeny.com/snow) in the Adirondacks, a.k.a. "The Snowmobile Capital of the East." Just under a five-hour drive from NYC, Old Forge is the gateway to 500 miles of first-class trails, groomed daily; its intricate trail system is appropriate for riders of all levels and connects to all other major systems in central and upstate New York. RPM Snowmobile Rentals (Smith Marine, 2842 State Rte 28, Old Forge, NY; 315-369-5522, rpmsnowmobilerentals.com) has the latest models starting at $200 per day (driver's license required).