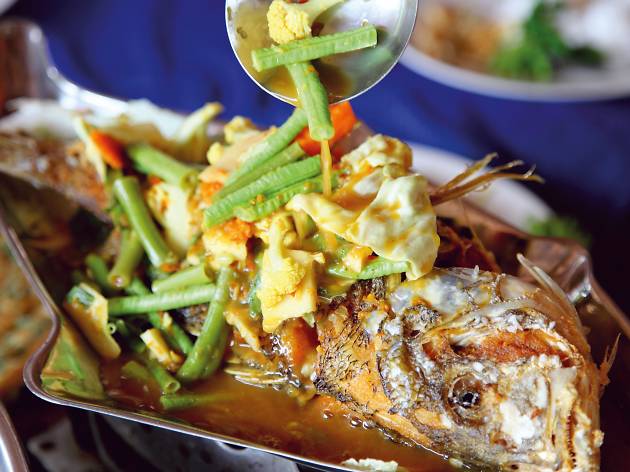 Guide to seafood
There's no need to feel intimidated when at a seafood restaurant in Penang with this easy-to-follow guide on the hows and whats of seafood types and the popular styles of cooking them. By CK Lam
Penang is a food haven and the variety ranges from appetising hawker food, contemporary cuisine and of course, seafood. For those craving seafood meals, you're spoilt for choice with the many seafood restaurants on both the mainland and the island.

Just ask around and the locals will proudly recommend their favourite seafood places. There are some right on the beach with views of fishing boats and fishermen hauling in the day's catch. However, if you prefer dining indoors with air-conditioning, there are many restaurants conveniently located within Penang towns.

There is a comprehensive selection of seafood to choose from in the display counter of seafood restaurants such as crabs, mussels, prawns, clams, fish, oysters and many more. Whether you want them grilled, steamed, chilled, deep-fried or baked, choosing fresh seafood can take some time. Fear not, here are a few tips that will help you order the best seafood meal you've ever had.

Choosing Fresh Fish
Start with looking for those with bright clear eyes, vibrant red gills under the flaps on both sides of the head, shiny scales on the skin and of course firm flesh. Another factor not to miss is the odour. Fish, especially those fresh off the boat, are odourless while a stinky-sourish odour indicates a bad one.

Steamed Fish Styles
There are many ways to cook the fish. Steaming is a healthy choice and the common types of fish good for this cooking style will be seabass, snapper and pomfret. Nyonya, Thai and Teochew styles are popular choices. Salted (sour) plums, salted vegetables and ginger are the main ingredients for the sourish-salty Teochew style. For Nyonya style, do expect spiciness from bird's eye chilli and fragrant flavour from lemongrass. Additional herbs such as ginger flower are added for that subtle piquancy.
Thai steaming style uses fresh herbs such as galangal, lemongrass, kaffir lime leaves, spicy bird's eye chillies and lime that make a great tangy-spicy gravy. Then there's the simple Chinese style flavoured by soy sauce, ginger and spring onions that appeals to those with a more delicate palate.

Other Fish Dishes
Fish grilled over a charcoal fire, known as ikan panggang, is also popular. Many restaurants offer dipping sauces of chilli paste or tamarind juice topped with chopped shallots and chilli. Stingray or meaty mackerel are perfect for the cooking style that gives a barbecued-smoky flavour.

For the adventurous ones, do check out the fish head curry. This classic fish dish goes well with white rice. Snapper or threadfin fish head are common for this dish. Coconut milk, spices and aromatic curry leaves make up the thick creamy curry with a slight tang and vegetables such as okra, onions and tomatoes are added too.

Choosing Crabs
A general rule of thumb, when selecting crabs, is to go for the weight of the crab rather than the size. Squeeze the back of the shell – if it is brittle, the crab would most probably be less meaty. Make sure all their limbs are intact and the shells are not cracked.

Commonly, the flesh of the crab turns mushy after the crab dies, so if the meat that you are consuming is mushy, the crab is no longer fresh. Choosing the gender of the crab is fairly straightforward – the male has a triangular-shaped flap on his underside while the female comes with a smooth oval-shaped flap.

There are several crab varieties. The more common ones are the lively mud crabs, while the flower crabs (known as 'cheek' in Penang Hokkien) are easily spotted with blue markings on their shells.

Crab Dishes
Popular, finger-licking-good crab dishes are charcoal-baked crabs, stir-fried noodles with crabs and sweet and sour crabs. Some restaurants serve baked crabs with condiments of fresh cucumber and pickles while others serve it plain because it is simply delicious on its own, with the intense smoky flavour.

Sweet and sour crabs come steeping in gooey sauce that's good to sop up with steamed buns or what the locals call mantou and pieces of toast. Crabeating is messy business and that's why some places provide bibs to avoid splatter.

Choosing Prawns
Prawns are some of the most versatile seafood and there are many different prawn types and sizes in Penang. The common large ones are called king prawns, followed by tiger prawns. Both are big and juicy, and readily available in seafood restaurants. When you're choosing prawns, look out for any black discolouration around the head or legs. Fresh prawns should not have these markings but instead have good bright colours and a fresh, clean smell.

Prawn Dishes
Due to its versatility, there are numerous ways of cooking this shellfish. Besides grilled and steamed, it also goes well with sweet and sour sauce, spicy sambal, black pepper sauce and curry.

In Penang, the Nyonya style stir-fried assam prawn dish is a firm favourite and they marinade prawns with shells intact in tamarind pulp, salt and sugar. The assam heh, as the locals call it, is thick with zesty tamarind flavour and dark soya sauce which accentuates the delicate sweet flavour of the prawns. The gravycoated prawn shells are tasty to suck on as well. This dish will definitely keep you wanting more.

Other Types of Prawns and Cooking Styles
The mantis prawns are good eaten cold straight out of their shells. The intense sweet flavour they possess goes well when dipped in chilli sauce. Seafood lovers should not miss out on the freshwater prawns commonly known as udang galah. Although highly regarded for its sweet and succulent flesh, it's actually the roefilled heads that make up half the size and weight of the prawn that locals love.

Freshwater prawns are good for steaming. A favourite dish is one of these prawns steamed with egg white, ginger and Chinese wine. The best part is the gravy which complements a bowl of white rice perfectly. Definitely don't miss these prawns cooked in curry. Fresh spices and curry leaves in the gravy pack a punch of robust, fiery flavours. Don't forget to sop up the thick fragrant curry with bread!

Clams and Oysters
Commonly served in Chinese restaurants, this shellfish is often cooked with chilli, coriander, garlic, parsley, tomato and white wine. The slim, long bamboo clams are juicy with a chewy texture and often stir fried with brown beans, ginger, garlic and spring onions.

Some restaurants even offer bamboo clams with stir-fried noodles. A unique one is kappa mee suah or clams cooked with wheat vermicelli simmering in gravy enriched with eggs. It's delicious when dipped in chilli-soaked soy sauce.

When it comes to oysters, look for plump moist flesh. Although fresh oysters are best eaten with a squeeze of lemon juice, some outlets are serving them steamed or baked. The dish of steamed oysters topped with black beans, chopped chilli and garlic is a welcome addition to any meal. The ingredients provide an interesting play of flavours. Meanwhile, baked cheesy oysters topped with mushrooms are sinfully satisfying.

Octopus and Squids
With octopus or squid, look for a whole body with an intact head and tentacles. The baby octopus is commonly boiled, then served drizzled simply with garlic oil. The bigger-sized octopus or squid is coated with batter, deep-fried, and served golden brown and crispy with different dipping sauces. These dishes make delightful finger food that go well with chilled beer.

Final Points
All types of seafood are sold by weight and according to market prices. Therefore, the price may fluctuate according to the availability of the seafood. As a gauge, expect to pay around RM80 per kg for big-sized prawns, RM110 per kg for a white pomfret fish and RM30 per kg for tenggiri or large mackerel fish. Cooking styles are included in the price too.
Penang's best seafood restaurants
Known for their fresher than fresh toddy that's harvested daily from the coconut trees grown on the premises, this place is also good for their steamed fish and mussels but it's the crispy, thin prawn fritters that are totally addictive. Unlike most seafood restaurants around Penang that open at dinnertime, they only do lunch and close by 5.30pm.
What we like here: The paper-thin crispy fritters.
Here, what we enjoy is the coconut milk based tomyam prawns and the cubes of deep fried red snapper fish and yam coated in thick, molasses-like sauce. Also, another must try here is the steamed stingray fish drenched in garlic, ginger and chilli sauce. They're only open for dinner.
What we like here: Steamed stingray drenched in chilli, ginger and garlic sauce.
Practically eaten up by a huge tree, this little restaurant is considered a gem among the locals. Here, what we recommend is their Nestum-batter deep-fried prawns. This one's sure to be a crowd-pleaser with both kids and adults. Pair that with their softshell crab coated in thin egg-batter with some white rice, and it's 'Ooh la la'! They're open for both lunch and dinner.
What we like here: Minced-meat filled deep-fried cakoi.
See the full list