Top 20 iconic hawker dishes
Time Out Penang takes you on an epicurean tour of the best hawker dishes on the island, from side alleys and night markets to historic kopitiams and boisterous food courts
Historically and geographically, Penang is perfectly positioned to be one of the top places for street food in Asia. As one of the great entrepots of the region, the combination of the spice trade, colonialism and the myriad of cultures which settled here through the ages has given rise to a unique cuisine which is becoming renowned the world over. The number one priority for many visitors is to eat their way through the island and this list will give you a head start. Here are 20 classic hawker dishes in Penang – what they are and where you can get them.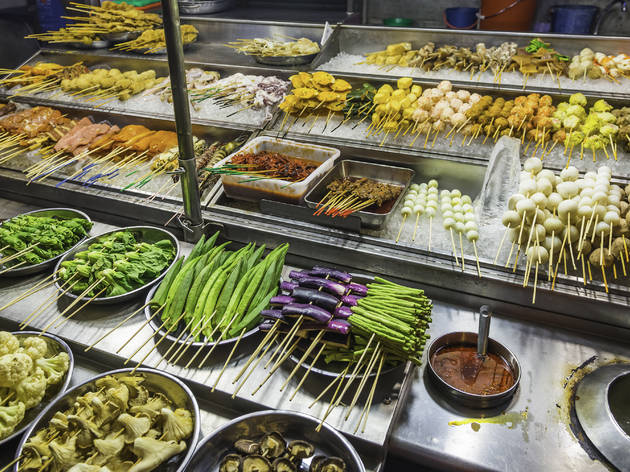 Luk luk
This is a great example of communal eating. People stand around a food truck overloaded with bamboo skewers of every meat group in many forms, choose what they like, and cook them in boiling water before dipping them in a selection of sauces. It's casual, fun and the perfect after-party food. Alternatively get civilised, sit down and cook the skewers in a pot on the table. Try everything from squid, cockles, sausages, okra, pork balls, dumplings, abalone and more.
Kean Huat Lok Lok Jalan Perak, off Jalan Anson, George Town
Pulau Tikus Market Jalan Pasar, George Town
Chulia Street Hawker Next to Chung Hin Pawn Shop, Lebuh Carnarvon, off Lebuh Chulia, George Town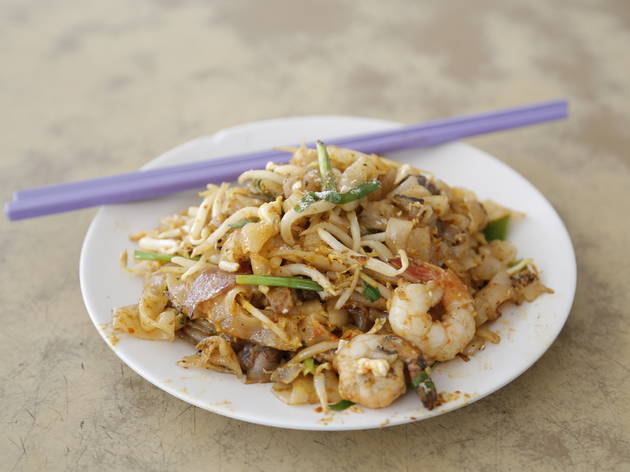 Char kuey teow
One of the pillars of the local hawker scene and the ideal combination of kuey teow, prawns, cockles, bean sprouts, lap cheong and egg (chicken or duck) fried with garlic, chilli, chives and a mix of soy sauce in a very hot wok.
Stand-alone stall on Jalan Siam Opposite Hock Ban Hin Café, end of Jalan Siam, George Town
Kafé Heng Huat 108 Lorong Selamat, George Town
Tiger Char Koay Teow Kafé Ping Hooi, 179 Lebuh Carnarvon, George Town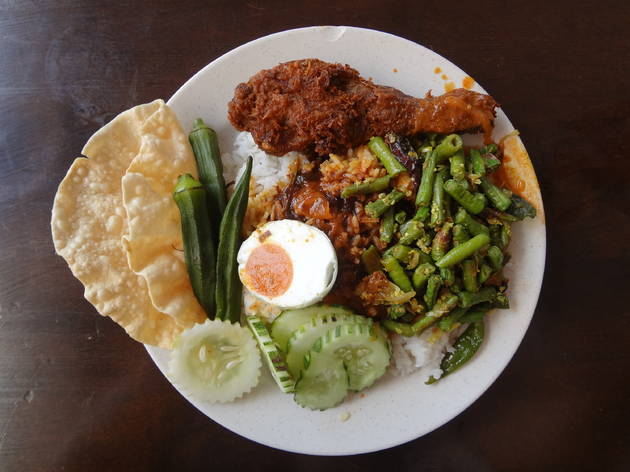 Nasi kandar
The concept is easy – get a plate of rice and heap on curry, meat and vegetables. The hardest part is choosing from the large selection of side dishes, although the popular choices are chicken or seafood curry with a choice of side dishes. This is proper spicy Malaysian Indian food and very good value, which makes it a must-try when in Penang.
Line Clear Nasi Kandar 177 Jalan Penang, George Town
Nasi Kandar Deen Maju 70 Jalan Gurdwara, George Town
Restoran Sup Hameed Nasi Kandar 48 Jalan Penang, George Town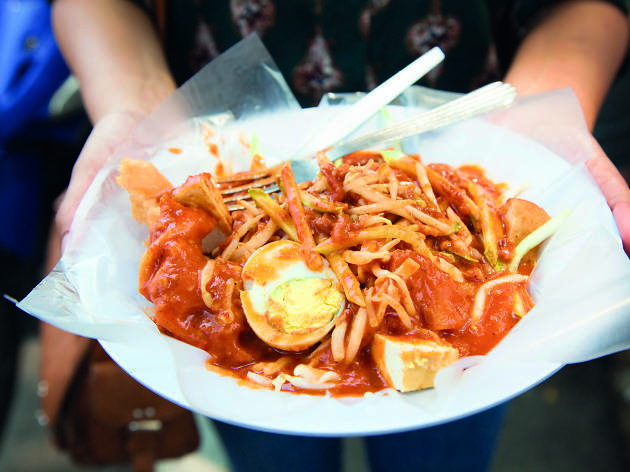 Pasembur
Another typically Malaysian salad with an Indian slant, this dish comprises shredded yam bean and cucumber with sliced boiled egg, bean sprouts, potato, prawn fritters and bean curd topped with spicy peanut gravy.
Kareem Pasembur Opposite Maybank, Lebuh Union, George Town
Pasar Lebuh Cecil Lebuh Mcnair, off Lebuh Cecil, George Town
Kompleks Gerai Makanan Batu Lanchang Next to Pasar Batu Lanchang, Lebuhraya Batu Lanchang, Jelutong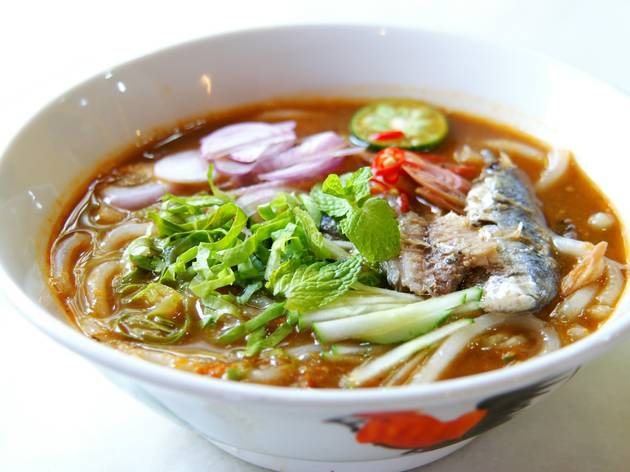 Assam laksa
There are several types of laksa with different soup bases and ingredients. The Penang version is the assam (sour) version comprising a tamarind and mackerel soup base with rice noodles and condiments including chilli, mint, sliced shallots and pineapple, torch ginger flower and hae ko.
Phaik Laksa 91-1 Jalan Air Itam,Ayer Itam
Kedai Kopi dan Makanan Taman Emas Next to Wah Thai, Jalan Gottlieb, George Town
Pasar Air Itam Laksa 1 Jalan Pasar, Ayer Itam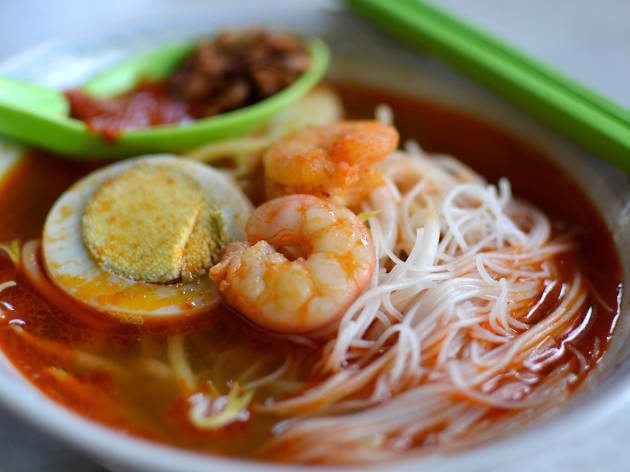 Hokkien prawn mee
Penang's hawker food scene is usually judged on the trifecta of char kuey teow, laksa and Hokkien prawn mee, with visitors trying every single stall they can find to discover the best. Hokkien prawn mee is noodles in a delectable pork and prawn soup topped with prawns, sliced pork, hard-boiled egg, bean sprouts and water spinach. At some stalls you can complement your steaming bowl with crispy roast pork, crackling or pork balls. For extra spice, stir in the accompanying chilli sauce.
888 Hokkien Mee 67-A Lebuh Presgrave, George Town
Sin Hup Aun Café 17 Jalan Pasar, Pulau Tikus, George Town
Kedai Kopi Swee Kong 317-E Jalan Burma, George Town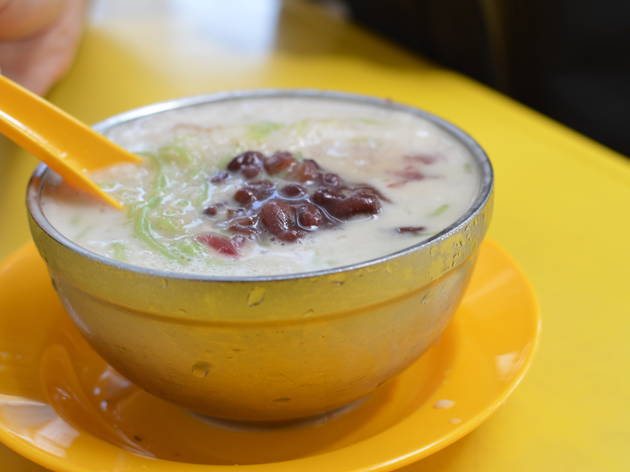 Cendol
One of the winning combinations in local cuisine is coconut milk and gula Melaka. The creaminess and sweetness of these ingredients is the base of many a popular dessert, of which cendol is the winner. Shaved ice is covered with coconut milk, green noodles made from green bean flour, and flavoured with pandan, red beans, creamed corn and jelly – a fantastic antidote to a hot day.
Kafé Fountain 268 Lebuh Carnarvon, George Town
Chendul Ais Kacang Opposite Hong Leong Bank, Lorong Macalister, George Town
Jelutong Highway hawker stalls Next to the post office Lebuhraya Jelutong, Jelutong
Nyonya kuih
Kuih are small snacks that can be eaten for breakfast, tea or dessert. There is a rather intimidating selection to choose from, but they all have their own distinctive look and taste. Common ingredients include glutinous rice, coconut, palm sugar and various flours like rice, green pea and tapioca.
Genting Café Lorong Delima 3, Taman Island Glades, Jelutong
Kompleks Gerai Makanan Batu Lanchang Lebuhraya Batu Lanchang, Jelutong
Moh Teng Pheow Night Hawker Lorong Chulia, George Town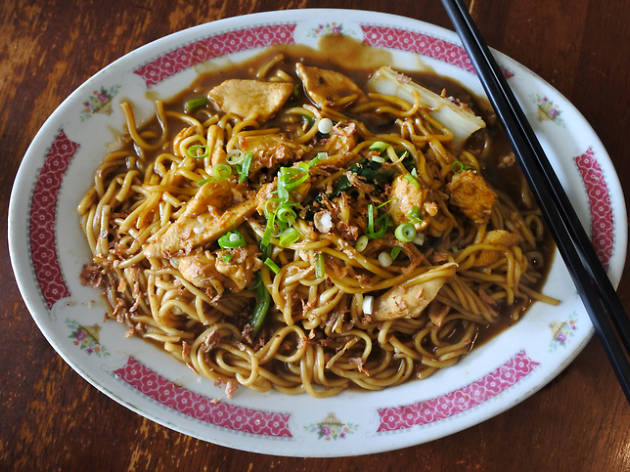 Hokkien char
A perennially Penang dish where yellow noodles or bihun is wok-fried in a dark gravy with pork, prawns, fish cake, some semblance of green vegetables and deepfried pork lard. Some say the sambal belacan is what makes this dish special, so be sure to ask for an extra dollop.
Kedai Kopi New Cathay 452 Jalan Burma, George Town
Medan Selera Taman Free School 75 Jalan Trengganu, off Jalan Free School, George Town
Goodall Food Court Next to Wah Thai, Jalan Gottlieb, George Town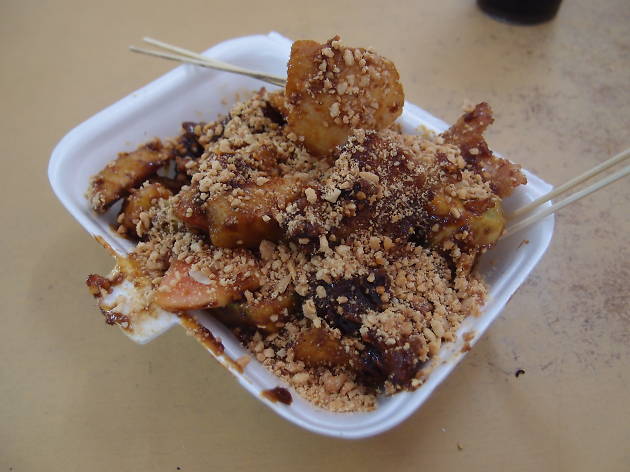 Penang rojak
A motley mixture of cucumber, pineapple, yam bean (similar to turnip) and sour mango with a thick sauce whose main ingredient is the ubiquitous hae ko, topped with crushed peanuts. Add you tiao and crispy shrimp crackers for extra crunch and calories.
Joo Hooi Café 475 Jalan Penang, George Town
Tan Swee Hoe Rojak Stall 52, Gurney Drive Hawker Centre, Persiaran Gurney, George Town
Kedai Kopi dan Ice Kacang 84 Lorong Selamat, George Town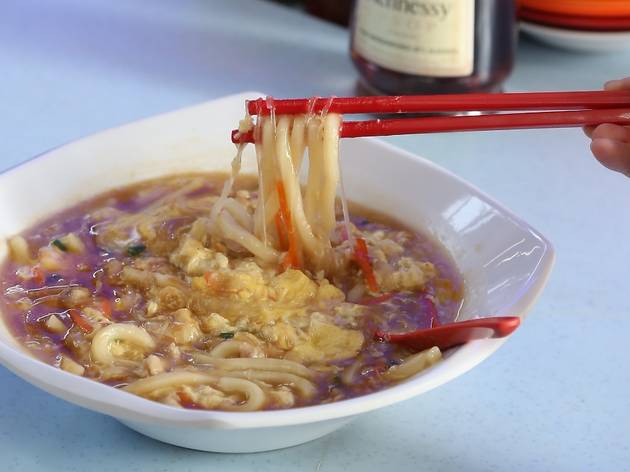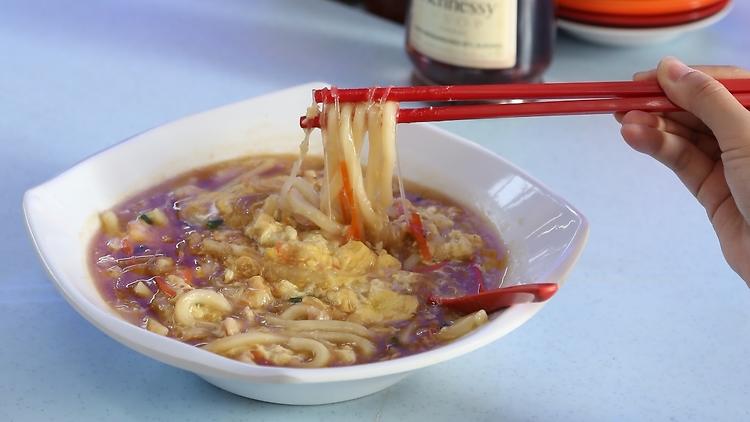 Lor mee
This isn't the prettiest of dishes but what it lacks in finesse, it makes up for in taste. The viscous soup base is made from pork bones, prawns and five-spice powder, and then thickened with eggs and corn starch. Add noodles, bean sprouts, sliced pork, hard-boiled egg, garlic sauce and fried shallots for the perfect bowl of goodness. Some stalls offer extras like roast pork belly, innards, pig's ear and pork knuckle to ramp up the taste.
Old Green House 223 Jalan Burma, George Town
Kim Leng Loh Mee 336-1-G, Jalan Perak, Jelutong
Ah Joo Loh Mee Kafé Fong Sheng, 6 Lorong Selamat, George Town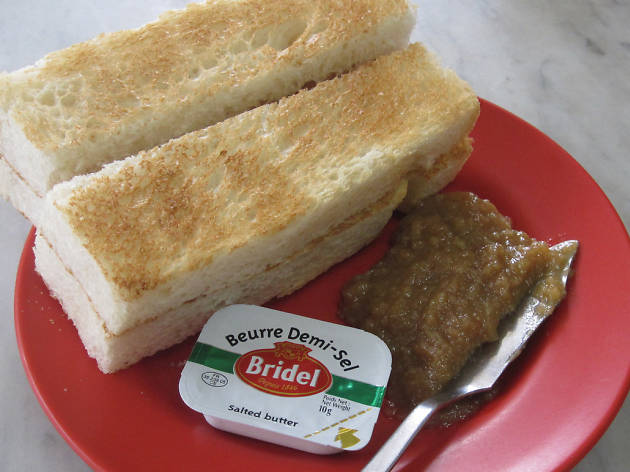 Hainan kaya toast
Sometimes the simplest combinations are the best; think toasted white bread spread with butter and kaya – also known as roti kahwin or literally 'marriage bread'. This is comfort food at its finest and has become a breakfast staple usually eaten with half-boiled eggs loaded up with white pepper and soy sauce, washed down with the kind of local coffee that will knock your socks off.
Toh Soon Café Lebuh Campbell, off Jalan Penang, George Town
Ah Wang Café Flat UDA Fasa 3, Jalan Tanjung Tokong, Tanjung Tokong
Ah Lai Café Next to Central Stationery Company, Gat Lebuh Gereja, George Town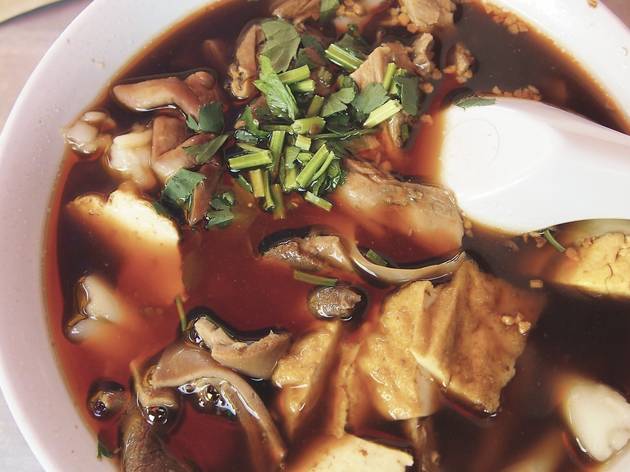 Koay chiap
Delicate, rectangular rice noodles steeped in a rich duck soup flavoured with herbs, spices and soy sauce make for a bowl of koay chiap. Slices of duck meat complete the dish and if you
want to do as the Penangites do, ask for innards and gelatinous blood cubes. This is quite a gamey dish, but the strong taste is subtly masked by the star anise and cinnamon in the soup.
Restoran Kimberly 137 Lebuh Kimberly, George Town
Kedai Kopi New Cathay 452 Jalan Burma, George Town
Kedai Makanan & Minuman 113 113 Lebuh Melayu, George Town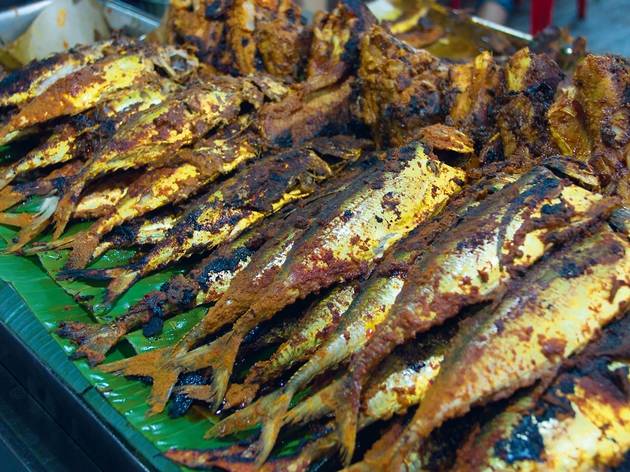 Ikan bakar
The literal translation of 'ikan bakar' is burnt fish and is actually a simple dish of marinated fish or seafood wrapped in banana leaf grilled over a charcoal fire. Served with steamed rice and a selection of sambal and kicap manis sauces, this dish makes for a hearty meal. Popular fish choices include Spanish mackerel, tilapia and stingray.
East Coast BBQ Jalan Sungai Pinang Food Court, Kampung Rawa, Jelutong
Viva Food Court Jalan Tanjung Tokong, Seri Tanjung Pinang, Tanjung Bungah
Goodall Food Court Next to Wah Thai, Jalan Gottlieb, George Town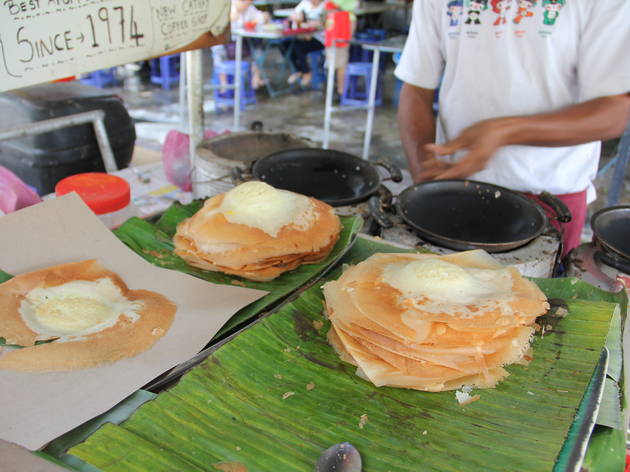 Apom
Little fluffy pancakes – three words no one can say 'no' to. The batter is made of coconut milk, eggs and rice flour and cooked in small individual hot plates, and then finished with slivers of banana and corn niblets. The best thing is that you can eat five at one go and not feel guilty at all because they really do taste that good.
Apom Guan Jalan Burma, George Town
Restoran Bee Hooi 415 Jalan Burma, George Town
Kedai Kopi Swee Kong 317-E, Solok Moulmein, off Jalan Burma, George Town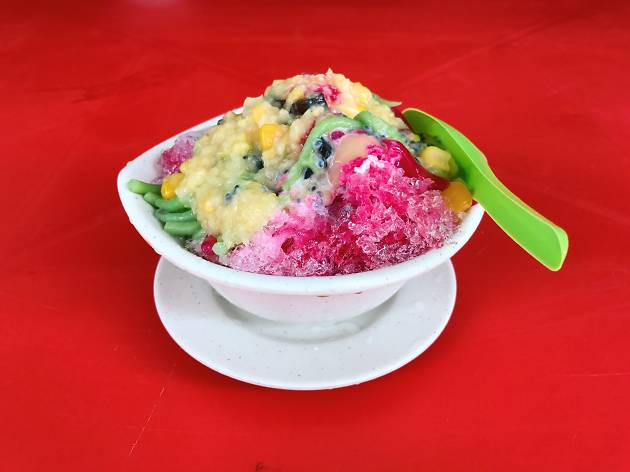 Ais kacang
Anything with shaved ice is welcome respite in the tropical heat and ais kacang is the ideal thirst quencher and the perfect ending to a heavy local meal. With almost the same ingredients as cendol but without the green noodles and the addition of flavoured syrups and a scoop of durian ice cream, this is a sinful addition to the Penang food trail.
Kek Seng Coffee Shop 382 Jalan Penang, George Town
Presgrave Street Hawker Lebuh Presgrave, George Town
Padang Brown Hawker Jalan Perak, off Jalan Anson, George Town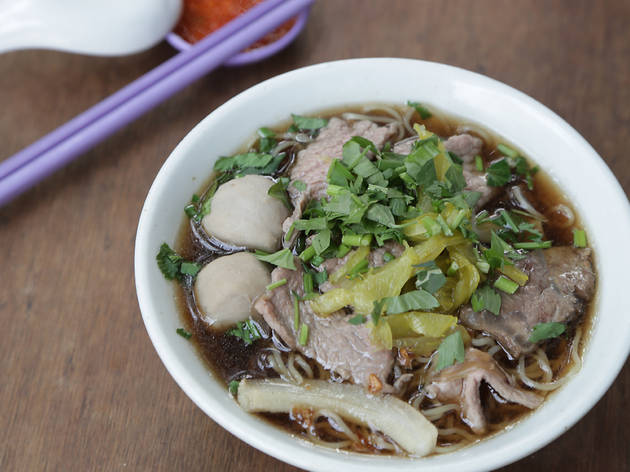 Beef ball noodles
One of the healthier hawker food options, this noodle dish has a base of beef broth and comes with beef balls, thin slices of barely cooked (to retain the tenderness) beef and a selection of other cow parts like tripe and tendon, which are optional. The addition of pork crackling enhances the meatiness of the soup. You can also have the dry version where the noodles are tossed in sauce and the beef ball and meat soup is separate. Either way, it's all very tasty, especially with the garlic chilli sauce that comes with it.
Kafé St Loo 156 Lebuh Carnarvon, George Town
Kedai Kopi Lam Ah 194 Lebuh Pantai, off Lebuh Chulia, George Town
Kwang Beef Noodle Sri Weld Food Court, between Ambank and Alliance Bank, Lebuh Pantai, George Town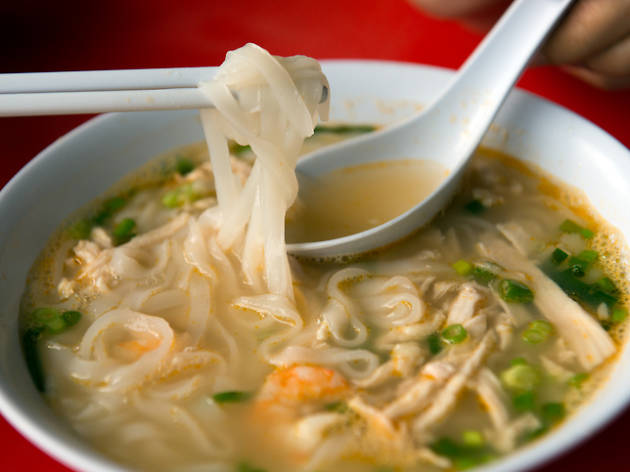 Koay teow th'ng
'Th'ng' means soup in Hokkien and is a typical comfort dish made of a tasty broth, flat rice noodles, fish balls and shredded chicken, topped with deep-fried garlic in oil – simple and seriously delicious!
Fook Cheow Café Lorong Amoy, off Jalan Hutton, George Town
Ah Hai Kuey Teow Soup Kedai Makanan Kim Lee, Lorong Macalister, George Town
Kedai Makanan & Minuman 113 113 Lebuh Melayu, George Town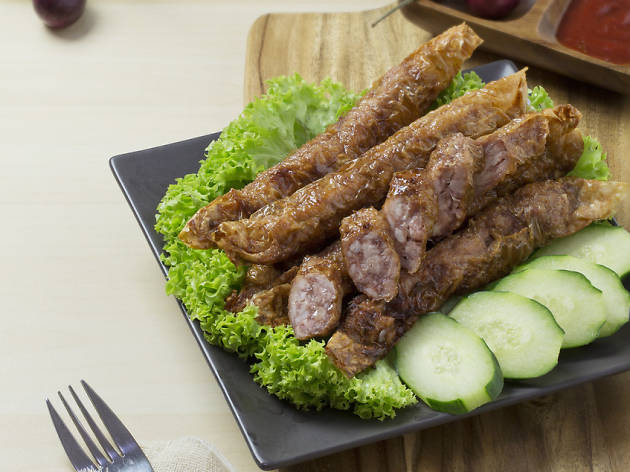 Lor bak
A classic Penang dish made from minced pork marinated in five-spice powder, rolled in thin soy sheets and then deep fried. You can eat this on its own or add fried bean curd, prawn fritters and more. Be sure to dip everything into the two accompanying sauces – chilli and a tapiocastarch- based seasoned blend.
Tan Jetty 90-A Pengkalan Weld, George Town
Kafé Kheng Pin 80 Jalan Penang, George Town
Kedai Kopi Ho Ping Jalan Kampung Malabar, off Jalan Penang, George Town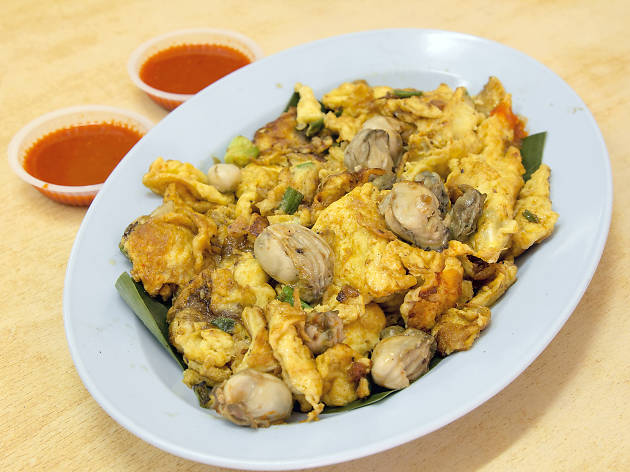 Oh chien
This dish is the perfect combination of oysters, eggs and corn starch, accompanied by a piquant garlic chilli sauce, and garnished with coriander or spring onion. The omelettes can differ in taste and texture; some stalls have a crispy version while others offer a starchy version.
Kedai Kopi Lam Ah 194 Lebuh Pantai, George Town
Kedai Kopi Seng Thor 160 Lebuh Carnarvon, George Town
Northam Beach Café 58 Jalan Sultan Ahmad Shah, George Town