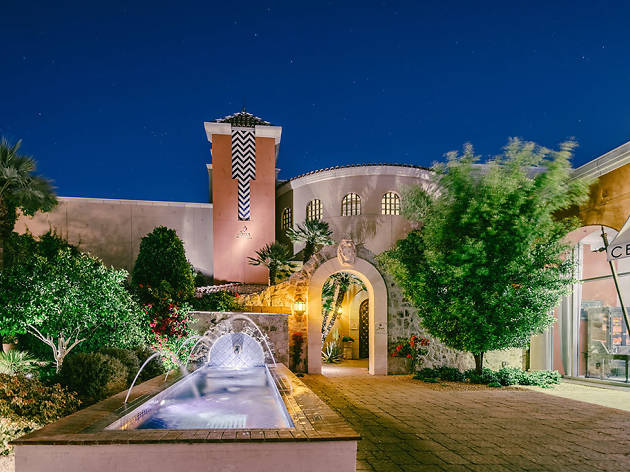 The 20 best hotels in Phoenix
Whether on vacation, a business trip or on a luxurious staycation, the best hotels in Phoenix are where you want to stay
Phoenix gets more than 22 million visitors each year. And with so much to do here, it's no wonder. The city's hot spots are numerous: college and professional sports arenas, top notch dining establishments, landmarks offering beautiful views and close access to places like Sedona and the Grand Canyon. The city is also known for its opulent spas and hotels. Here are some of our very favorite places to stay at, whether for your out-of-town visitors, during a family staycation or when in town for a business trip. In an effort to feature only the very best on our list, we include beautiful hotels in Scottsdale as well, a mere 15-minute drive from Phoenix proper.
Best hotels in Phoenix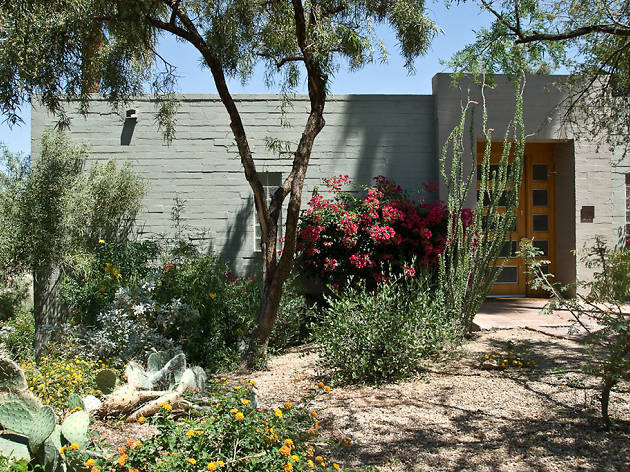 Photograph: Courtesy CC/Flickr/Neil Hunt
Close your eyes and imagine the perfect desert oasis: Breathtaking mountain views, sleek finishes, large rooms, an infinity pool and perfumed candles and bath salts awaiting at the end of the long day. Now, open your eyes: You're looking at Sanctuary, which may very well be the most aptly named resort ever. Guests are offered complimentary valet and self-parking, a rarity among many local hotels, spa and fitness center access, including fitness classes, steam rooms, a hot tub and more.
Time Out tip: Absolutely do not leave the resort without enjoying a meal at Elements. The executive chef is Food Network star Beau MacMillan (yes, that Beau MacMillan), which means you're in for a treat, no matter what you order.
The Arizona Biltmore is a Waldorf Astoria Resort, which probably tells you everything you need to know about what to expect. Here are a few more details, just in case: There are eight swimming pools, seven tennis courts, two golf courses, five on-site restaurants, and afternoon tea is offered in the lobby Thursday-Sunday (your teas will be chosen by a tea sommelier).
Time Out tip: You don't have to be a history buff to appreciate the architectural elements that comprise the Biltmore. Schedule a history tour and learn about the background and inspiration for the grand hotel. The hour-and-a-half tour is available three times a week. Be sure to reserve a spot.
Photograph: Four Seasons Resort Scottsdale at Troon North
13. Four Seasons Resort Scottsdale at Troon North
Don't worry about asking for a room with a view: Here, you're guaranteed one no matter where you stay. Choose from casitas or suites; either way, you're in for a treat. Rooms also come with private patios. There are three on-site restaurants and a lounge that offers daily happy hours. The sparkling blue pool is heated year-round, so you can take a dip no matter what the season. Schedule a service at the spa for yourself or for family members. Golf lovers can take the complimentary shuttle to the resort's two beautiful golf courses.
Time Out tip: Standard Four Seasons' cabanas are free on a first-come first-served basis, a rarity for a resort. Get to the pool early enough to snag one. Trust us.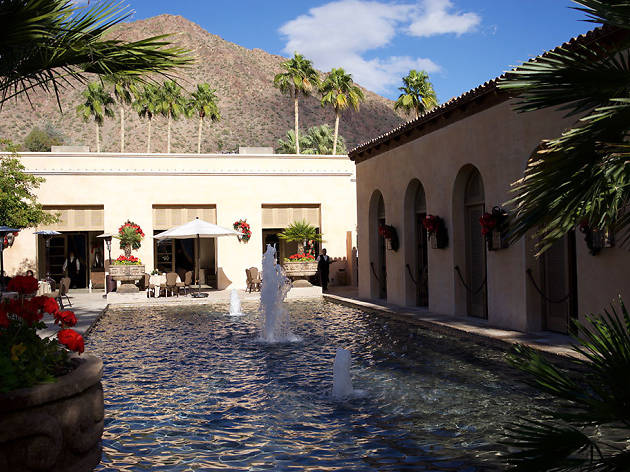 Photograph: Courtesy CC/Flickr/Daniel Greene
This Spanish-inspired resort is the type of place you can walk through and forget you're in a desert. You can take a dip in the pool or just lounge poolside with a cocktail or a bite to eat. The Mediterranean-style tapas bar offers a true farm-to-table experience that you will probably never forget.
Time Out tip: Learn how to make and sample cocktails from the resort's mixologists every Monday at the Mixology Mixer series.
Photograph: Courtesy CC/Flickr/Daniel Greene
The Kimpton is located in downtown's Cityscape area, which means you're right in the middle of the action, no matter why you're in town. The hotel is in walking distance of some of the city's best restaurants, hottest bars and two of the biggest sports venues. It is also home to the area's only rooftop swimming pool, so be sure to take advantage of it. The restaurant bar is known for its innovative cocktails; try one (or three) during the weekday happy hours. And don't worry if you miss your running buddies; you can join the hotel's general manager and some employees for a run on Tuesday evenings. If you'd rather work out alone, there are yoga mats in every guest room, along with on-demand yoga and pilates programming.
Time Out tip: Wake up early Saturday morning and check out the Phoenix Public Market. Pick up local goodies like handcrafted jewelry, handmade soaps and artisan goods you can't get anywhere else. Working up an appetite while shopping? There's typically a food truck or two and lots of prepared foods you can choose from while you're in the area.
Just call the Arizona Grand your home away from home. There are three room options, with two kinds of suites and villas for the ultimate luxury experience. The property is home to six restaurants, a full-service spa and an award-winning fitness center. Oh, and it is situated on a golf course. What else could you ask for?
Time Out tip: To make it an ultimate vacation or staycation, slap on your sunscreen and spend the day poolside. Thrill seekers can try one of the two eight-story-tall waterslides, the wave pool or the lazy river.
You'll love the modern chicness of this downtown-area hotel. Located in the artsy Roosevelt Row, it only makes sense for the hotel lobby itself to feel a bit like an art gallery. Even the guest rooms feature local artwork. Dine at the on-site restaurant, Match, take a dip in the swimming pool and spend some time exercising at the small fitness center.
Time Out tip: Guests are charged a per-night parking fee so, if you can help it, skip the car this trip.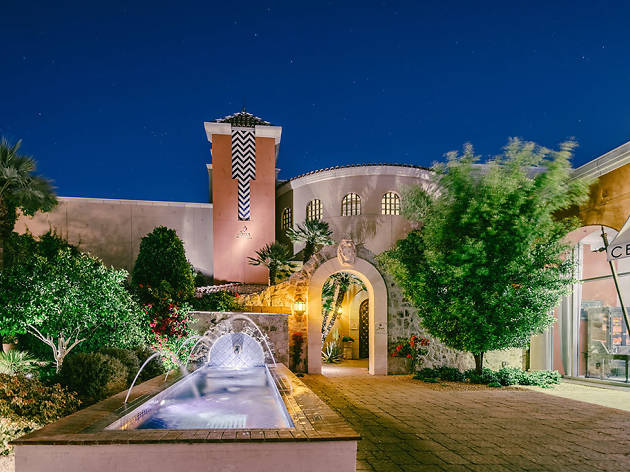 Photograph: Trey Hill
18. Omni Scottsdale Resort & Spa at Montelucia
This Spanish-style resort exudes, dare we say it, romance. No wonder it's a wedding destination. Already married or not looking to be so anytime soon? Worry not: There's tons for you to still enjoy. The 30 acres include three pools, each offerings beautiful views of Camelback Mountain, a Moroccan-themed spa, a fitness center and, of course, hiking and biking.
Time Out tip: The pool menus are legit. Try the sopes or the scallop ceviche, order the frozen grapes or mango for a treat to cool you down during the hot Phoenix summers.
Photograph: Courtesy CC/Flickr/Experience Scottsdale
The Westin Kierland Resort is on every local's staycation list. And for good reason. It's perfect for families, couples, business travelers and anyone else who wants to experience the beauty and amenities of a resort while just a few minutes away from shopping and restaurants. The Adventure Water park, which includes a 110-foot water slide and lazy river, is one of the resort's biggest draws. Also expect a "flowrider," which lets guests live out their surfer fantasies without leaving the desert. If you prefer a more low-key visit, opt to spend time by the adult pool and a courtyard that is perfect for winding down with a glass of wine after dinner. Amenities also include a fitness center and full-service spa.
Time Out tip: They're super serious about not allowing outside food and drinks into the hotel and the pool area, so beware.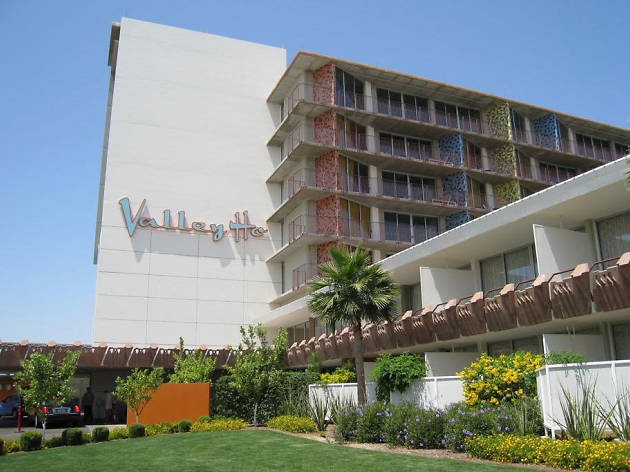 Photograph: Courtesy CC/Flickr/Dru Bloomfield
The Valley Ho is where historic charm meets modern chic. It's also a resort minus the resort fee, which means you'll have a little extra money to spend. There are two swimming pools onsite, plus a restaurant that hosts tons of events and specials. The spa is so popular that locals book appointments on the weekend and stick around to hang by the pool with a cocktail.
Time Out tip: Stick around for the weekend brunch at the hotel's restaurant Zuzu. Hit the Bloody Mary + Mimosa Bar and build your own brunch cocktail, complete with anything your heart could desire.
Photograph: Courtesy CC/Flickr/Dru Bloomfield