Heads up! We're working hard to be accurate – but these are unusual times, so please always check before heading out.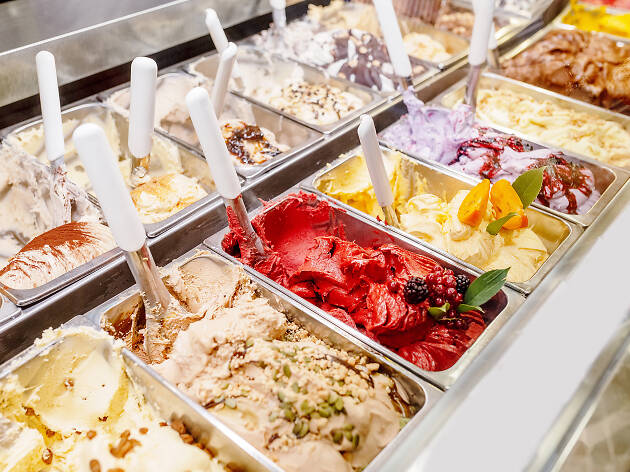 Eat the best gelato in Rome at these 15 spots
The best gelato in Rome is nothing like the ice cream you've had before. Try it at these local shops.
Locals don't really wait for high temperatures to drop when considering whether to indulge in the best gelato in Rome. It is, indeed, an year-round love affair.
Word to the wise: never call it ice cream when in town. The American version of the treat is high on fat and air, it's produced in large, industrial quantities and simply tastes different. Real Italian gelato is made fresh daily in-house with natural ingredients, always opting for fresh milk and cream to powdered versions of the stuff.
When selecting which gelateria to visit and which flavour to go for, keep in mind that seasonal fruits are always best, that your treat should be creamy and without ice crystals and that the delicacy should be kept in steel containers.
A perfect way to round off a traditional meal at a local restaurant, gelato is a favourite choice for an afternoon break from shopping and museum-going as well as during an evening stroll. Basically, when in Rome, it's always the right time to indulge.
RECOMMENDED: Full guide to the best restaurants in Rome
Best gelato in Rome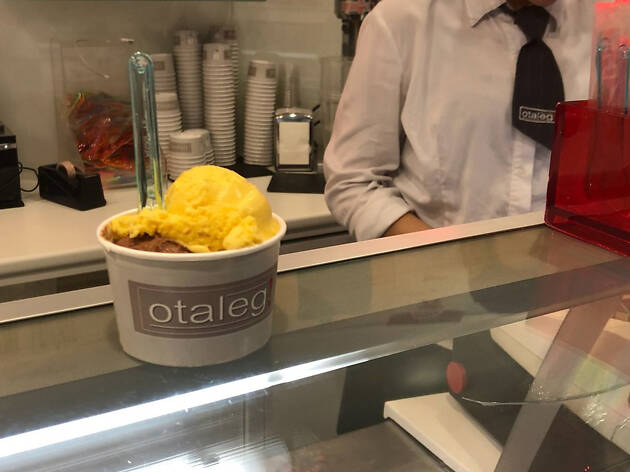 Photograph: Courtesy TripAdvisor/dapper777
Found in the hip Trastevere neighbourhood, all-natural gelato by Otaleg has quickly become an institution in Rome, championing a slow making process and a careful selection of ingredients. Here, quality is preferred to quantity, resulting in an extraordinary consistency. The flavours change often and some of the most creative (read: must-haves) are the salty cacio e pepe and fava beans with Pecorino cheese. Also outstanding are the eggnog with Marsala wine and the fruit sorbets, think passion fruit and strawberry – when in season, of course.
Must-try flavours: Passion fruit, strawberry, mango with dark chocolate chips, Greek pistachio, eggnog with Marsala wine.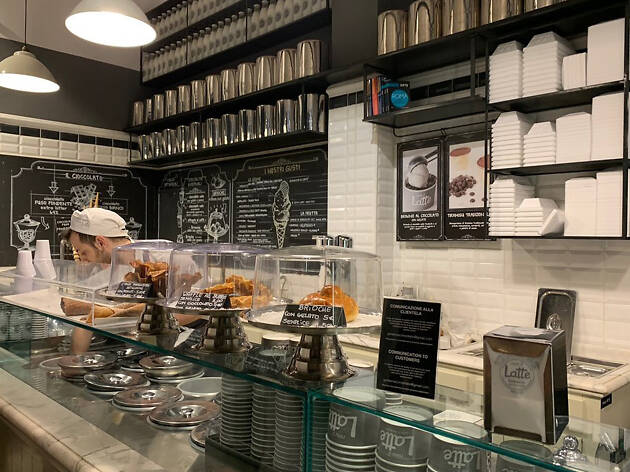 photograph: Courtesy TripAdvisor/jeongsu
When you enter Come Il Latte in the Sallustiano quarter, you'll immediately notice chef Nicoletta Chiacchiari's expertise in scenography (she used to be a scenographer). An elegant and carefully-designed interior is the perfect surrounding for the luscious gelato experience. The ice cream is always fresh, the wafer handmade and the chocolate drizzled on top makes for a delicious decoration. Freshness is key and an appreciation for every used ingredient is apparent.
Must-try flavours: Salted caramel, mascarpone with Gentilini cookies, ricotta with caramelised figs and hazelnut.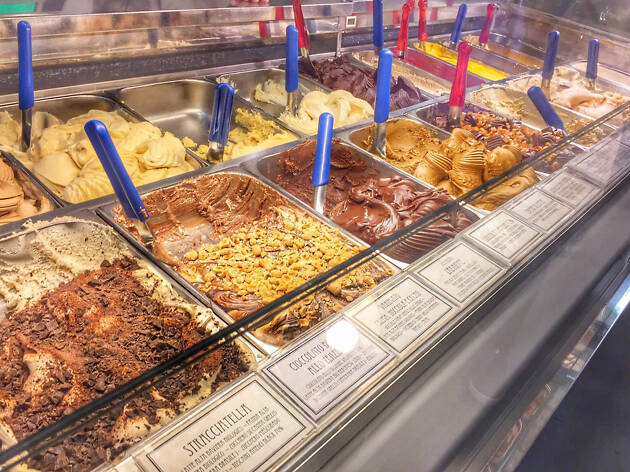 Photograph: Courtesy Yelp/Gabriele V.
This all-natural gelateria has two branches, one close to the MAXXI (Museum of Contemporary Art and Architecture) and one in the Prati neighbourhood. At both destinations, enjoy your treat while comfortably sitting in a modern and minimalist décor. The focus is on organic and biodynamic ingredients, which are carefully selected. The creams are rich and flavourful, the fruit sorbets velvety and succulent and the cherry brittle version is heavenly.
Must-try flavours: Cherry brittle with hazelnuts and chocolate, maple syrup and crumble, orange sorbet, raspberry sorbet.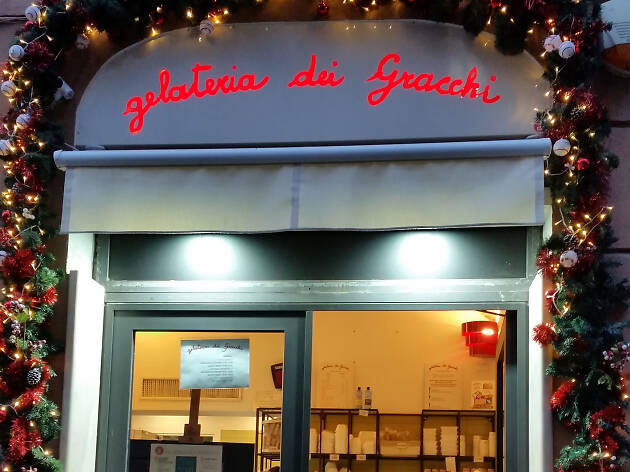 A famous gelato shop in the Prati area not far from the Vatican, Gelateria dei Gracchi is not a place to linger in. The almost always present queue and the small interior only allow for a grab-and-go experience, but the excellence of the product makes it all worth it. Enjoy your gelato while strolling around Cola di Rienzo shopping street and towards the Vatican.
Must-try flavours: Dark chocolate with orange, apple and cinnamon, toasted almond with orange.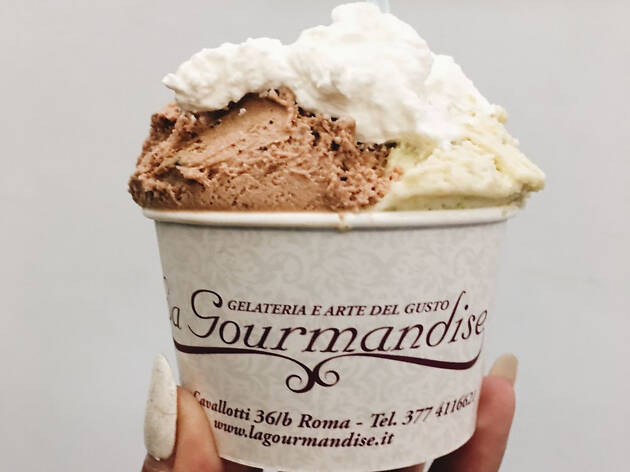 Photograph: Courtesy Yelp/Erika N.
This small and seemingly unassuming ice cream shop in Monteverde has been welcoming gelato lovers since 2010. Chef Dario Benelli gives life to daring flavours that will tickle even the most sophisticated palates by combining unexpected ingredients like helichrysum, thyme and juniper with high-quality eggs and goat milk as well as seasonal fruits, with an eye towards dairy and gluten intolerances.
Must-try flavours: Raspberry in rose water, saffron and walnuts cream, Roman mint with lemon zest, almond on salt crust.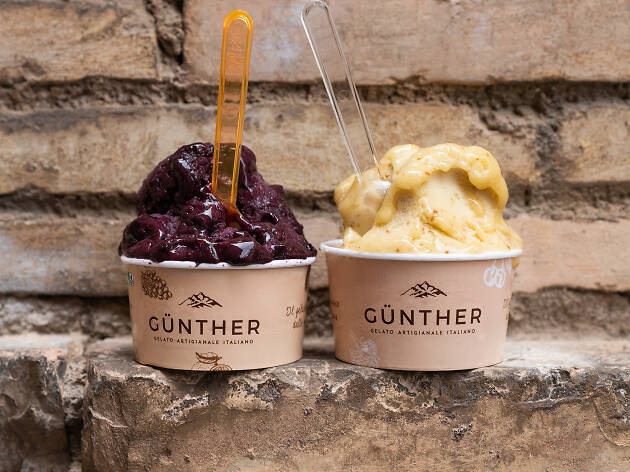 6. Günther Gelato Italiano
Since opening the first gelateria in 2012 behind Campo de' Fiori, Trentino Alto Adige-born Günther Rohregger has inaugurated two more venues, all in the heart of the city. The key to his success? A careful selection of ingredients: organic milk from local farmers, only-in-season fruits, water from the Plose mountain.
Must-try flavours: Ricotta stregata, eggnog, mug pine.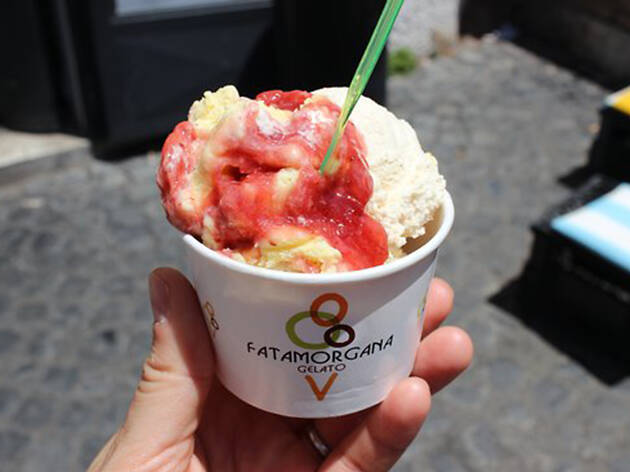 Photograph: Courtesy TripAdvisor/JMchgo
FataMorgana counts nine shops on its Roman roster. Taranto-born Maria Agnese Spagnuolo is the mastermind behind the daring yet spot-on combinations of all-natural and high-quality ingredients that patrons easily get addicted to. Flavours rotate often, depending on seasonal availability, but what is never missing is a wise and creative blend of spices, herbs, nuts and seeds, fresh fruits, cereals, honey and spirits, chocolate and coffee.
Must-try flavours: Thought (pink grapefruit, ginger, horseradish and lemon zest); avocado, lime and white wine; punch (strawberry, white wine and lemon); Panacea (almond milk, fresh mint and ginseng); Pollicina (walnuts, rose petals and violet flowers).
Photograph: Courtesy Yelp/Romina S/
One of the pioneers of artisan all-natural gelato and bold flavours, Claudio Torcè recently added two more venues to his historic shop in the Eur district. You can stick to the safe (and delicious) basics when ordering, think pistachio, peanut and eggnog, or opt for braver options, like wasabi and bell pepper, habanero capsicum or Gorgonzola cheese.
Must-try flavours: Chocolate with Himalayan pink salt, habanero, eggnog.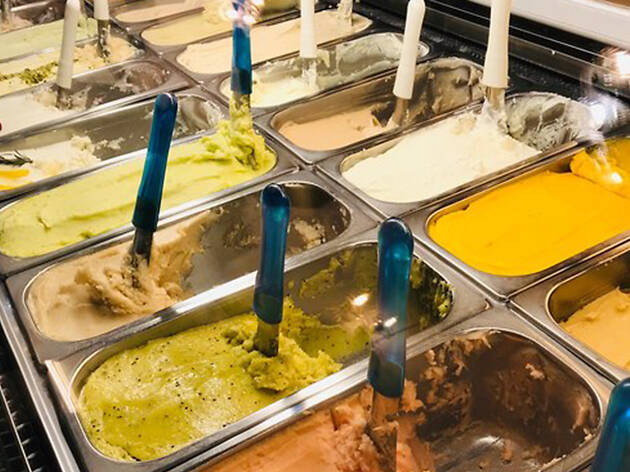 Photograph: Courtesy TripAdvisor/Yağmur K.
Hardly a day goes by without long queues of tourists and locals alike waiting for their sweet fix at Gelateria del Teatro. The attentive production methods employed seek to enhance every single ingredient, and creative flavours sit side by side with original creations like sage and raspberry, rosemary, honey and lemon, or lavender and white peach. Dairy-, egg- and gluten-free folks, rejoice! Appropriate flavours are marked as such on the display. Pro tip: the best way to enjoy the gelato here is on a cone, with olive oil and sugar-free fresh cream on top.
Must-try flavours: Sage and raspberry, favetta strawberry from Terracina, orange Sacher, Avola extra-dark chocolate.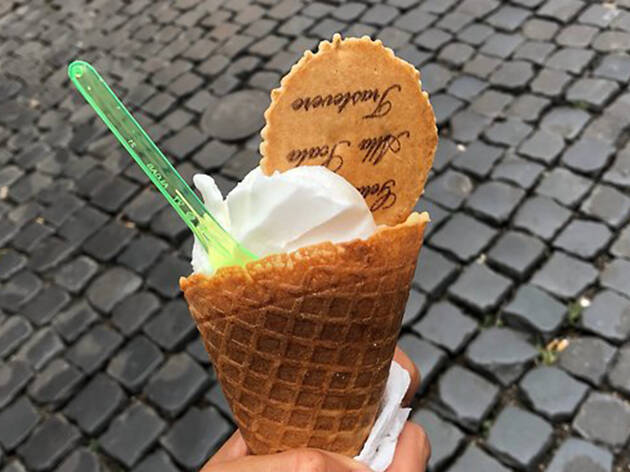 Photograph: Courtesy TripAdvisor/Javi
A minimalist approach (some flavours are made with only two ingredients), little to no use of sugar and an indisputable creamy texture have made Fiordiluna gelato a favourite in the trendy Trastevere neighbourhood for some thirty years. Dealing mostly with smaller producers, the owners use high-quality ingredients, including fruits that are seasonal and fresh. This is a small shop with very limited seating options, so grab your gelato on a cone, a cup or a brioche (yes, you read that right) and enjoy it on the go.
Must-try flavours: Chocolate with Sichuan pepper, black cherry ripple, Fred (custard with cookies); pistachio and hazelnut with dark chocolate.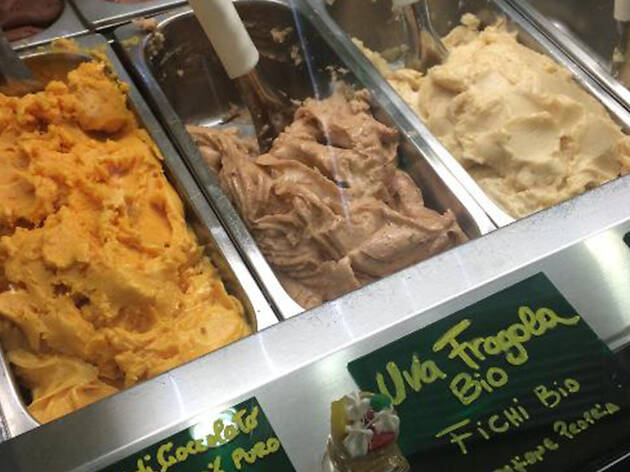 Photograph: Courtesy TripAdvisor/Giovanni S.
Self-taught chef Mirella Fiumanò founded the open-laboratory gelateria Al Settimo Gelo in 1997. Located in the busy Prati area, the shop offers a mouth-watering selection of creams and dairy-free fruit sorbets. Among the classics, some flavours to try are Avola almond and wild blackberries sorbet. If you feel like exploring savoury treats, absolute epicurean delights are the cardamom-based Afghan gelato, the Persian-inspired saffron and rose water, and sheep-milk ricotta with caramelised figs.
Must-try flavours: Afghan (cardammon-based), Persian (saffron and rose water), ricotta with caramelised figs.
Photograph: Courtesy TripAdvisor/Fassi Gelateria
A historic destination in Rome, Fassi Gelateria has been serving gelato, cakes and semifreddi (Italian frozen dessert) to kings and ordinary citizens for five generations since 1880. Close to Stazione Termini in the Esquilino neighbourhood, the shop is large, able to accommodate the large crowds that stop by daily. Enjoy your gelato on a cone or give it a twist and ask the staff to fill a brioche Sicily-style or a "sandwich" with your favourite flavours. For a more gluttonous experience, savour their sanpietrini, semi-frozen desserts covered with chocolate in the shape of the typical cobbles that make up the city centre's streets.
Must-try flavours: Zuppa Inglese (English soup), currant, pistachio, eggnog.
Photograph: Courtesy TripAdvisor/FinnishMom
13. Pinguino Gelateria Naturale
For high-quality, all-natural, preservative- and artificial colouring-free gelato, visit Pinguino Gelateria Naturale. Seasonal fresh fruits, nuts and seeds, herbs and spices are some of the ingredients used to create a unique dessert in this small gelateria. A not-to-be-missed treat involves caramelised peanuts and, when in season, the zesty mandarin is a must-have as well. Pinguino Gelateria is not close to major monuments, but if you do venture off the tourist path, visit nearby urban park Villa Pamphilj.
Must-try flavours: Caramelised peanuts, chocolate, mandarin, pistachio.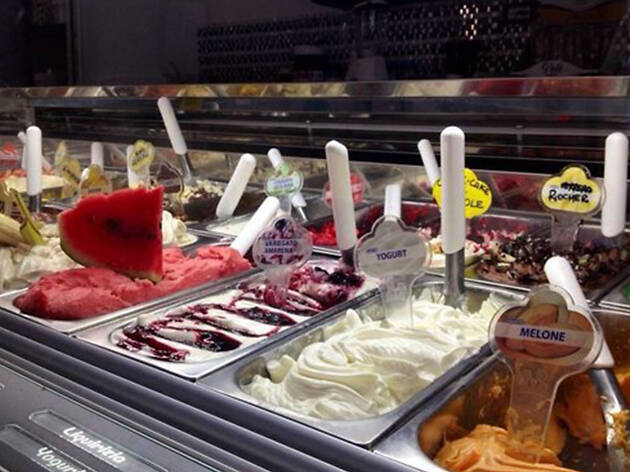 Photograph: Courtesy TripAdvisor/MStellaD
Brivido, in the former working-class Testaccio neighbourhood, has been churning out traditional artisan gelato every day since 1986. The all-natural (no artificial colouring, sweeteners or preservatives are used) treats range from the classic to original creations inspired by regional cakes and the chef's own imagination. For a more sinful experience, dip your gelato in hot chocolate before tucking into it. There is a vast assortment of vegan and sugar-free options as well.
Must-try flavours: Sugar-free chocolate, vegan raspberry, salted peanuts, eggnog.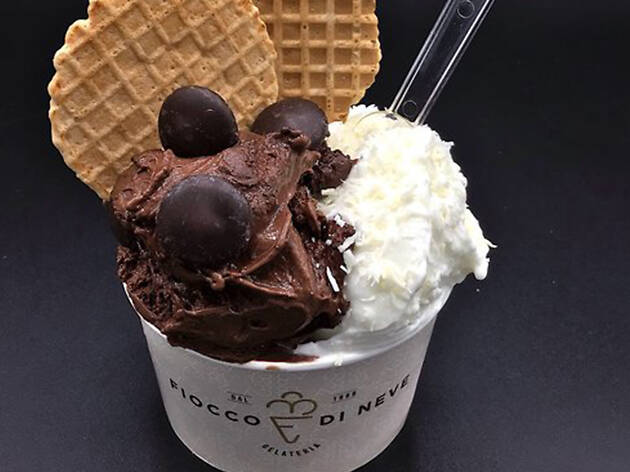 Photograph: Courtesy TripAdvisor/Fiocco di Neve
Recently renovated Fiocco di Neve displays a pretty wide range of flavours a stone's throw away from the Pantheon. Among the classics, try Riso del Moro with rice, chocolate and cinnamon, or tiramisu. If you enjoy culinary experiments, the ricotta with pistachio and mint chocolate won't disappoint. The polished contemporary interior comes equipped with footstools, ideal for resting before resuming your historical sightseeing.
Must-try flavours: Riso del Moro, ricotta with pistachio, tiramisu, chocolate with mint.
Cool off while tanning
Most spiagge (that's "beaches" in Italian) in the boot of Europe are lined with stabilimenti: beach bars that offer chaise lounges and umbrellas for rent, laid out in neat rows. Guests can also make use of bathrooms, changing rooms and showers, on-premise restaurants and pools.