Heads up! We're working hard to be accurate – but these are unusual times, so please always check before heading out.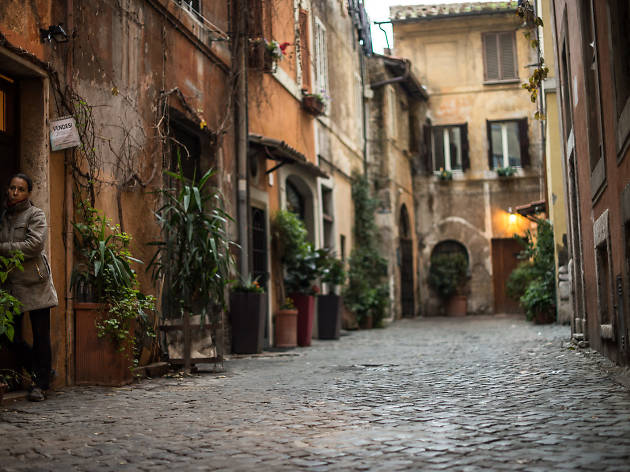 Where to stay in Rome
Figure out where to stay in Rome with this guide to the Eternal City's most enchanting neighbourhoods
Boasting the Pantheon, Trevi Fountain, Spanish Steps and Colosseum (just to name a few), Rome's impressive list of attractions can tempt even seasoned travelers to book one of the best hotels in the historic centre and set off on a game of monument bingo. But when choosing where to stay in Rome, consider that while the city is best known for its ancient history, its newer and more diverse neighbourhoods tempt visitors with creative eateries, speakeasy bars and art galleries, all within an easy commute of the must-see ruins.
So, do you blow the budget on a boutique hotel near the Forum? Or cosy up with the Eternal City's edgier residents? To help you navigate your way through the Eternal City's ancient ruins, hip hangouts, nonna-approved restaurants and quality hotels, we've broken down the city's five best neighbourhoods—including a favorite Bohemian 'hood and the up-and-coming area considered to be Rome's answer to Brooklyn.
RECOMMENDED: Your essential Rome travel guide
Where to stay in Rome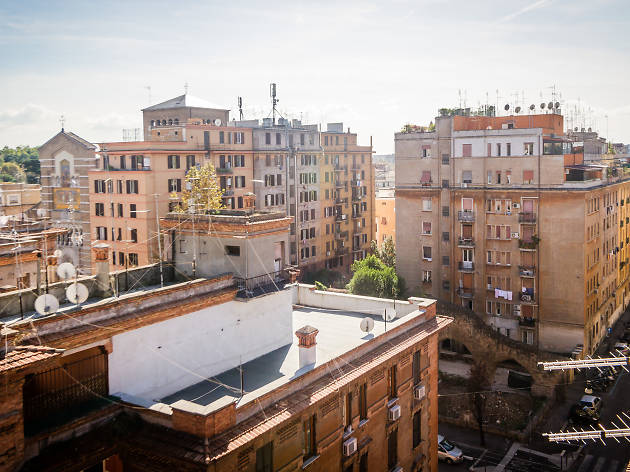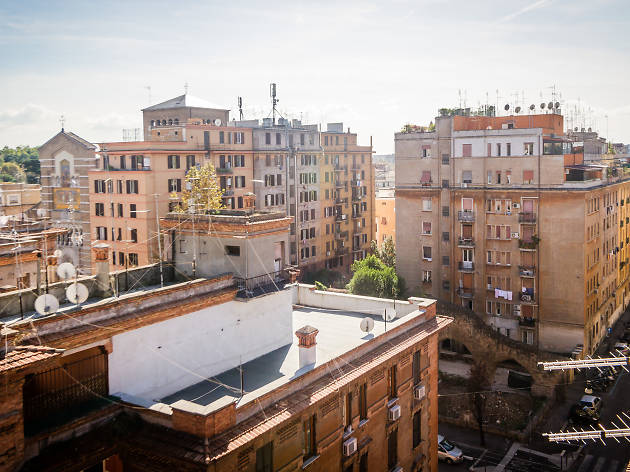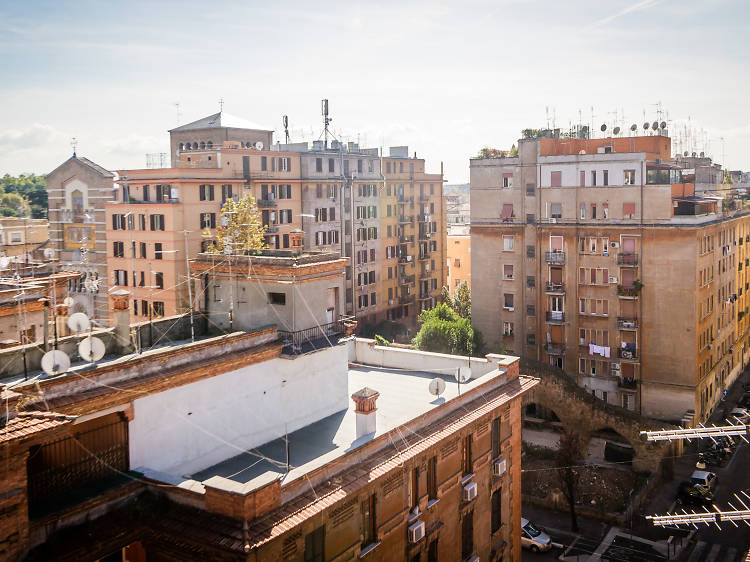 Photograph: Flickr/Nicola Delfino
When in Rome, live as the Romans do. Though quickly rising to the ranks of seriously trendy, the city's Testaccio neighbourhood has managed to maintain some appealingly rough edges thanks to its working-class history. Once home to the largest slaughterhouse in Europe, Testaccio is where many of the city's culinary traditions have their roots. While laundry flaps outside, foodies flock to the area's abundant restaurants for platters of oxtail, sweetbread and tripe. The affordable enclave feels miles apart from tourist crowds despite the fact that the Colosseum lies just two metro stops away.
EAT
Start your day at Tram Depot, a seasonal kiosk that has the area's best outdoor seating from April to October. After a third wave coffee and an artisan cornetto (Italian croissant), make sure lunch plans include a meal at Flavio al Velavevodetto, a bustling trattoria known for its hearty Roman classics.
DRINK
Locals know that the best aperitivo in the area is to be had at Oasi della Birra, but for a more refined glass of wine head to Taverna Volpetti. The bistro-style restaurant serves gourmet cheese and meat platters from the neighbouring Volpetti specialty food shop.
DO
Testaccio's recent urban renewal is most apparent at the ex-mattaoio, the former slaughterhouse which has been transformed into the setting for contemporary art museum MACRO Testaccio. Along the way, stop at Monte dei Cocci, the neighbourhood's namesake hill which is actually an archaeological site made up of 53 million broken Roman pots.
STAY
Chains have been slow to catch up with this rapidly gentrifying neighbourhood, but Re Testa, Testaccio's only hotel, has simple contemporary rooms inside the Mercato di Testaccio complex.
If you do one thing…
Explore the Testaccio Market which combines traditional Italian fresh market stands with street food stalls like the popular panino shop Mordi e Vai.
Photograph: Courtesy La Taverna dei Fori Imperiale
Once a Bohemian enclave on the edge of the historic centre, fashionable Monti has recently moved slightly higher end. The result is a mix of vintage stores and family-run restaurants set between upscale boutiques and vegan gelato shops. While the traditional neighbourhood has taken on a slight hipster tinge, it's only a short walk from the Colosseum and remains an ideal base for exploring the rest of the city. Whether your jam is archeological ruins, dangerously hip Brazilian sushi, or cheap drinks in the picturesque square, Monti has a little something for everyone.
EAT
Elbow your way to the counter at Zia Rosetta for mini sandwiches with gourmet Italian fillings, or book a table at homey La Taverna dei Fori Imperiale and dig into cacio e pepe pasta topped with shaved truffles.
DRINK
Avant-garde Blackmarket has a mishmash of boho furnishings and a laid-back vibe that will make you want to get comfortable with another cocktail while a local band sets up in the corner. Serious wine lovers will feel more at home stopping for a drink at the intimate Al Vino Al Vino bar.
DO
Boutique-hop along Via del Boschetto, where independent designers have set up shop alongside retro furniture resellers.
STAY
The Fifteen Keys Hotel takes its name from the number of rooms it offers—15 unique and modern spaces inside a townhouse-style former office building. The updated design blends Danish simplicity with Roman pops of colour and original architectural details.
If you do one thing…
Head to Madre for modern pizzas topped with burrata and gamberro rosso (raw red shrimp) in a stunning garden dining room.
Photograph: Courtesy Rosti
Gritty Pigneto has long been a gathering place for artists and creatives along the eastern edge of the city. Once a favorite living set for Neo Realist Italian director Pier Paolo Pasolini, the neighbourhood now serves as a canvas for street artists. Because Pigneto maintains some of its shabby splendor, the suburb is a magnet for hipsters who mingle with the families of former railway workers who originally lived in the Liberty-style villini (detached houses) that dot the neighbourhood. The area's vibrant heart is undeniably along Via del Pigneto—a pedestrianised street that hosts a market by day, but becomes Rome's mecca for outdoor nightlife after the shops close and the bars open.
EAT
Necci first opened in 1924 as a gelateria and has slowly but surely evolved into an all-around ideal neighbourhood hangout for any hour of the day. But the coffeehouse remains best for breakfast, when freshly baked cakes can be savored on the plant-filled patio.
DRINK
Ring the buzzer and push through butcher's plastic at La Premiata sandwich shop in order to gain access to the trendy Spirito speakeasy, a New York prohibition-themed bar.

DO
Check out the street art along Via Fanfulla da Lodi before popping into Blutopia to peruse the music store's impressive vinyl collection.
STAY
Renting an apartment is the best way to get the full Pigneto experience, but Eurostars Roma Aeterna hotel has convenient and comfortable rooms steps from the neighbourhood's main thoroughfare.
If you do one thing...
Ride your fixed-gear bicycle to Rosti for cocktails on the patio.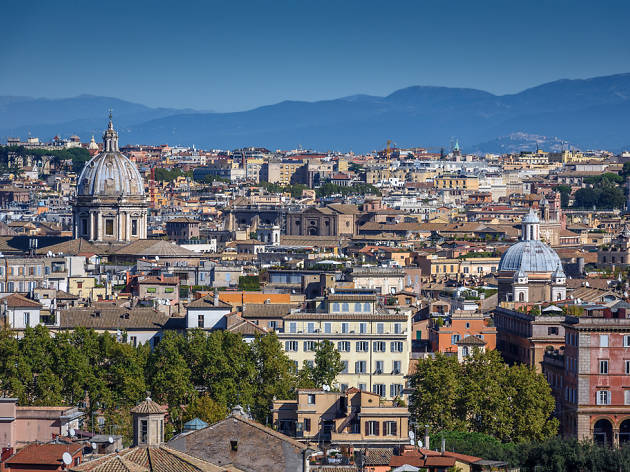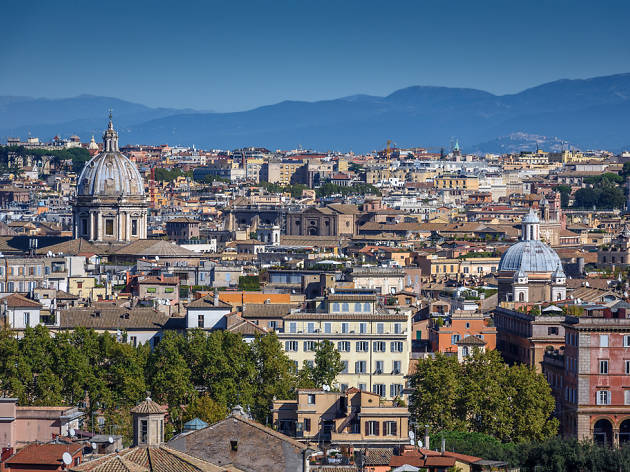 Photograph: Courtesy Flickr/Diana Robinson
Once considered to be the wrong side of the river, Trastevere has established itself as one of Rome's most charming quarters. The area is filled with small ivy-draped lanes that spiral out away from a lively central square. Some of those scenic alleyways are, admittedly, packed with boisterous students seeking abundant drinks and late night crowds, but Trastevere still manages to hold on to plenty of authentic appeal. Most of the pubs and bespoke boutiques are north of Viale Trastevere, while the area to the south boasts better restaurants and quiet bookshops.
EAT
Join the line of hungry Romans queuing up for crispy thin pizza at Ai Marmi, or snag a reservation at Michelin-starred Glass Hostaria for a less traditional but impressively indulgent tasting menu that includes almond gazpacho with lychees and foie gras.
DRINK
Inspired by Mexico City's vibrant cantinas, La Punta Expedio de Agave serves up excellent tequila and mescal based cocktails against a backdrop of adorably gaudy paraphernalia from south of the border.

DO
Catch a live show at Alcazar, a former 1950s movie theatre which has been turned into an intimate venue that hosts everything from concerts to vintage markets.
STAY
Housed in a building dating back to 1122, Relais Le Clarisse was once a church cloister. The hotel still shares a wall with the original church, but the space has been recently remade into 18 rustic-style rooms.
If you do one thing…
Escape the crowds by climbing the Gianicolo hill to take in stunning views of Rome's cupola-dotted skyline.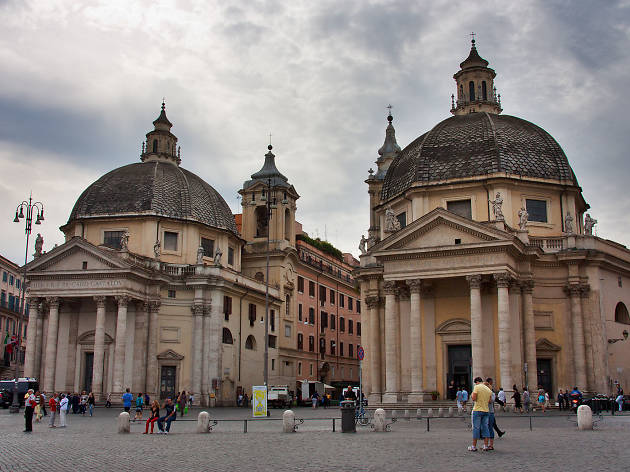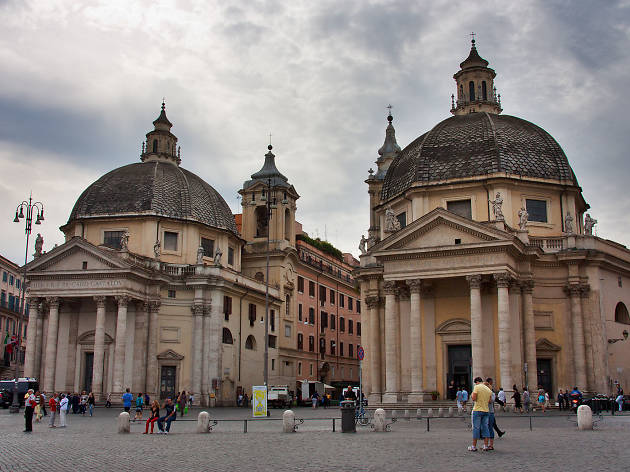 Photograph: Flickr/Andrés Nieto Porras
For those who can't resist the siren call of central Rome, Tridente near Piazza del Popolo hits all the right notes. The neighbourhood splits away from the square along three main roads (hence its "trident" name), including Via del Corso—Rome's most popular avenue for shopping. The affluent area is filled with luxury hotels and bustling crowds heading towards the Spanish Steps, but also has modern galleries and artisan workshops tucked in along single-lane alleys. These surprisingly tranquil corners make Tridente perfect for visitors who want to be close to the action without sacrificing the Old-World charm that makes Rome such a unique capital city.
EAT
Settle in for a coffee between marble sculptures at Caffè Canova-Tadolini, where a neoclassic studio has been converted into a ritzy dining room. For more casual and comfortable fare in the otherwise swank neighbourhood, reserve a table for lunch at Gino al Parlamento.
DRINK
Nestled on the rooftop of Fendi's central Palazzo, Zuma is a Japanese-inspired bar and restaurant. The dim zen-like space is where fashionable young professionals gather for a post-work cocktail with a side of edamame.
DO
Pass the Spanish Steps and continue on to the Giorgio de Chirico House Museum. Preserved in all of its 1960s glory, the former home of the Italy-based artist features his personal art collection and studio.
STAY
The First Roma hotel has splurge-worthy rooms filled with modern masterpieces, as well as an unbeatable rooftop bar with views for days.
If you do one thing…
Brave the stairs to the Pincio Terrace and wander through the expansive Villa Borghese park.
Time to start exploring
Stroll the Eternal City and you'll be treated to stunning views, world-class attractions, friendly locals and many a history lesson.