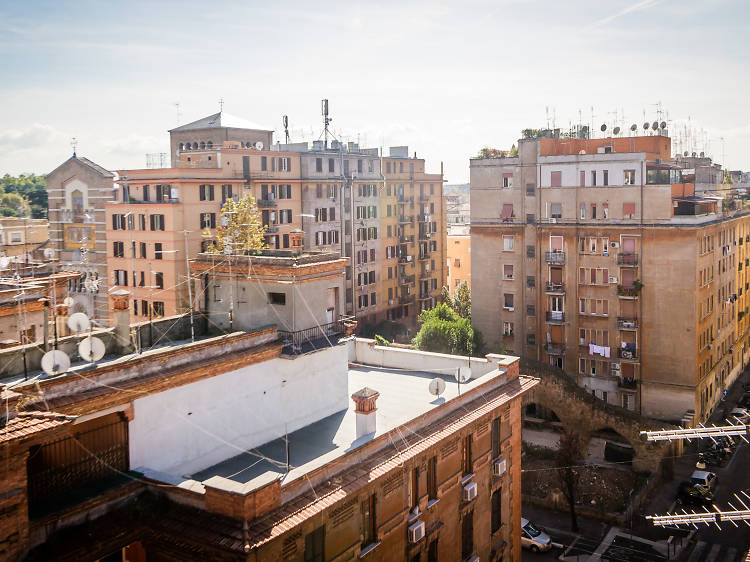 Photograph: Flickr/Nicola Delfino
When in Rome, live as the Romans do. Though quickly rising to the ranks of seriously trendy, the city's Testaccio neighbourhood has maintained some appealingly rough edges thanks to its working-class history. Once home to the largest slaughterhouse in Europe, Testaccio is where many of the city's culinary traditions have their roots. While laundry flaps outside, foodies flock to the area's abundant restaurants for platters of oxtail, sweetbread and tripe. The affordable enclave feels miles apart from tourist crowds even though the Colosseum lies two metro stops away.
EAT
Start your day at Tram Depot, a seasonal kiosk that has the area's best outdoor seating from April to October. After a third wave coffee and an artisan cornetto (Italian croissant), make sure lunch plans include a meal at Flavio al Velavevodetto, a bustling trattoria known for its hearty Roman classics.
DRINK
Locals know that the best aperitivo in the area is to be had at Oasi della Birra, but for a more refined glass of wine, head to Taverna Volpetti. The bistro-style restaurant serves gourmet cheese and meat platters from the neighbouring Volpetti speciality food shop.
DO
Testaccio's recent urban renewal is most apparent at the ex-Mattatoio, the former slaughterhouse that has been transformed into the setting for the contemporary art museum MACRO Testaccio. Along the way, stop at Monte dei Cocci, the neighbourhood's namesake hill that is actually an archaeological site made up of 53 million broken Roman pots.
STAY
Chains have been slow to catch up with this rapidly gentrifying neighbourhood, but Re Testa, Testaccio's only hotel, has simple contemporary rooms inside the Mercato di Testaccio complex.
If you do one thing…
Explore the Testaccio Market, which combines traditional Italian fresh market stands with street food stalls like the popular panini shop Mordi e Vai.