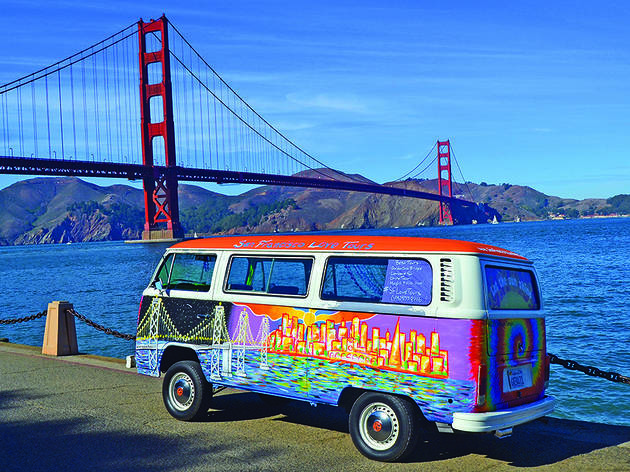 The best San Francisco bus tours
Make the most of your time in the city with these San Francisco bus tours, from hop-on hop-off buses to themed excursions
If you don't want to rely on Ubers, taxis or an unfamiliar public transportation system to get around San Francisco, bus tours might just be your best bet. These San Francisco tours will shuttle you all around town, from the most popular San Francisco attractions to the most fascinating San Francisco museums. If you just want a way to get around, hop-on hop-off bus tours might be your best bet; if you're looking for deeper insight into S.F.'s culture and history, you might want to opt for a themed tour of famous movie sights or the Haight-Ashbury district. Whether it's your first or hundredth time in the Bay Area, these bus tours of San Francisco will help you get the lay of the land.
Best bus tours of San Francisco
1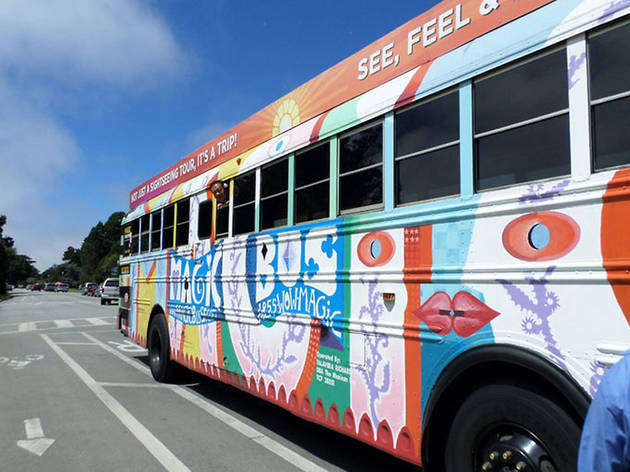 Photograph: Courtesy Viator
Feel the laid-back vibes of the Summer of Love 40 years later on this hippy-dippy bus tours of San Francisco. After you climb aboard the rainbow-hued bus, you'll visit spots like the influential City Lights Bookstore in North Beach, the famous Haight-Ashbury district and Golden Gate Park. If the weather cooperates, you might even be able to join a drum circle. $70
2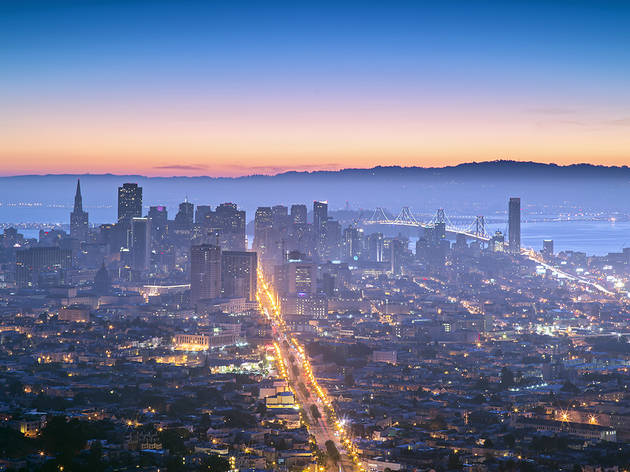 Photograph: David Yu
San Francisco Deluxe Half-Day City Tour
If you have limited time to spend sightseeing in the City by the Bay, this half-day bus tour might be your best bet. The route includes everything from the Palace of Fine Arts to Fisherman's Wharf, so you'll be able to cross all the big S.F. attractions off your bucket list. Don't forget your camera, either: The bus makes brief photo stops at picturesque observation points like Twin Peaks and the Golden Gate Bridge. $58
3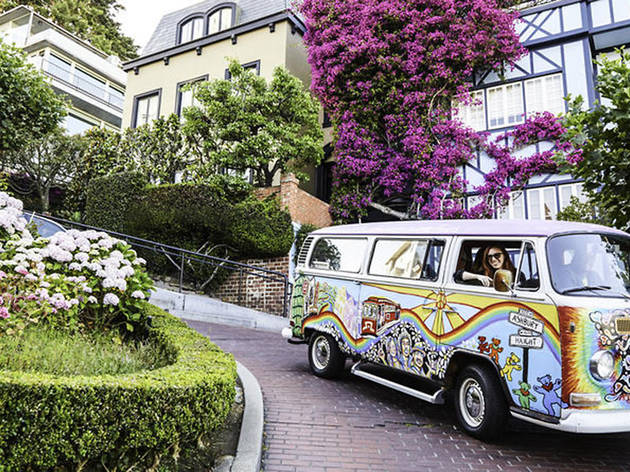 Photograph: Courtesy Viator
Though the 1970s Volkswagen bus used for San Francisco Love Tours is a little smaller than the standard sightseeing coach, it is technically still a bus. The neon blue seats, shag carpet, beaded curtains and brightly painted exterior should give you a hint about what you'll cover on this tour. The intimate six-person tour drives by all the top city landmarks (think the Castro, Chinatown and the Presidio), but sets it to a soundtrack of Jimi Hendrix, the Grateful Dead and Janis Joplin. $48
4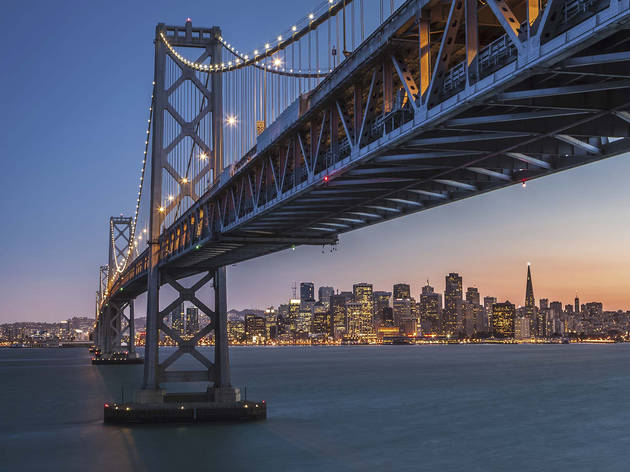 Photograph: Courtesy Viator
San Francisco City Lights Evening Tour
Watch the city come to life as darkness falls on this evening bus tour. When you depart from Union Square at twilight, few lights will be on. As the bus winds through neighborhoods like Chinatown and the Marina, however, you'll see San Francisco begin to sparkle. The tour culminates at the Bay Bridge, where you can peep the spectacular 1.8-mile LED light art installation. $30
5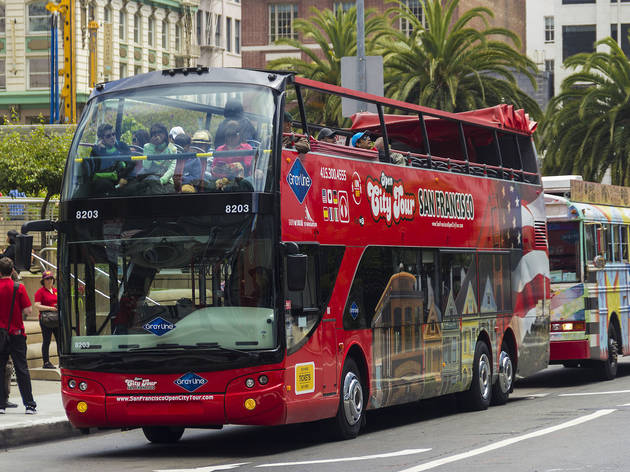 Photograph: Courtesy Viator
San Francisco Hop-On Hop-Off Tour
If you can't be bothered to figure out BART, use a hop-on hop-off bus tour to get around San Francisco. With both San Francisco and Sausalito loops, this bus stops at 24 locations all over the city so you can customize your itinerary to fit your interests. Pro tip: Pick a seat on the top deck to get a bird's eye view of the city in between stops! $55
6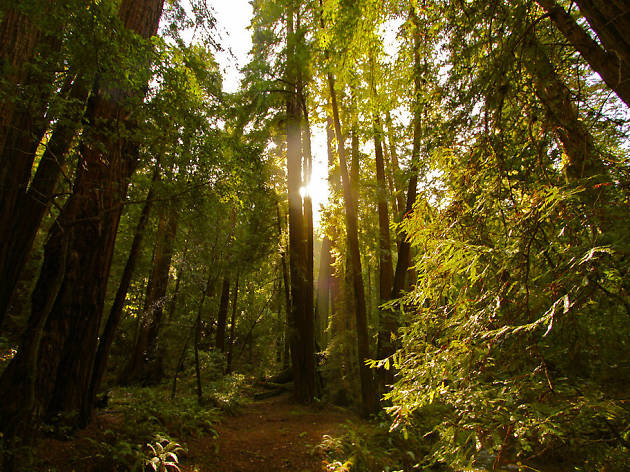 Photograph: Courtesy CC/Flickr/Jason Toff
Best Day in San Francisco Tour With Muir Woods
Just want to get the highlights? Sign up for this six-hour guided tour by bus that departs from Fisherman's Wharf. Your guide will explain the history behind iconic San Francisco neighborhoods like North Beach, Chinatown, Haight-Ashbury and Pacific Heights as you cruise around the city. Then, you'll venture outside of the city for an hour-long hike among the redwoods in Muir Woods National Monument. $85
Photograph: Courtesy CC/Flickr/Jason Toff
7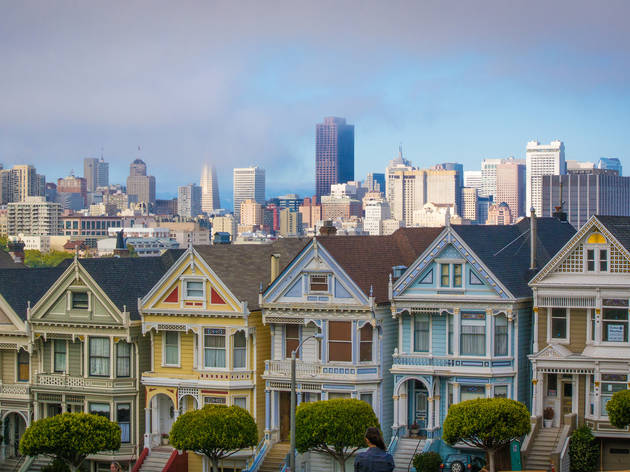 Photograph: Courtesy CC/Flickr/Nan Palmero
San Francisco Movie Sights City Tour
San Francisco has its fair share of film credits, thanks to appearances in everything from The Princess Diaries to Mission Impossible. Catch a glimpse of the home from Full House, the apartment from Antman and the location of the chase scene in Bullitt. You'll even find out how many movies have starred the Golden Gate Bridge. (Hint: It's a lot.) As you pass each filming location, your guide will play clips from the movie or TV show in question to jog your memory. $49
Photograph: Courtesy CC/Flickr/Nan Palmero
8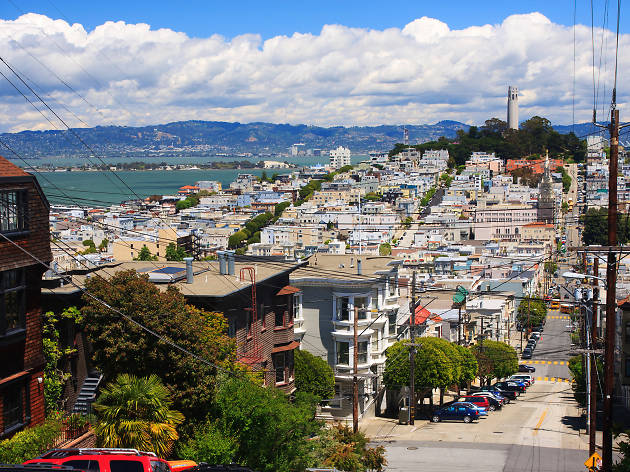 Photograph: Shutterstock
San Francisco and Sausalito Tour
You'll speed through all San Francisco's most popular neighborhoods on this quick 2.5-hour bus tour. Spot the sea lions at Fisherman's Wharf, colorful murals in the Mission, mansions in Pacific Heights, Lucasfilm headquarters in the Presidio and more. $70
9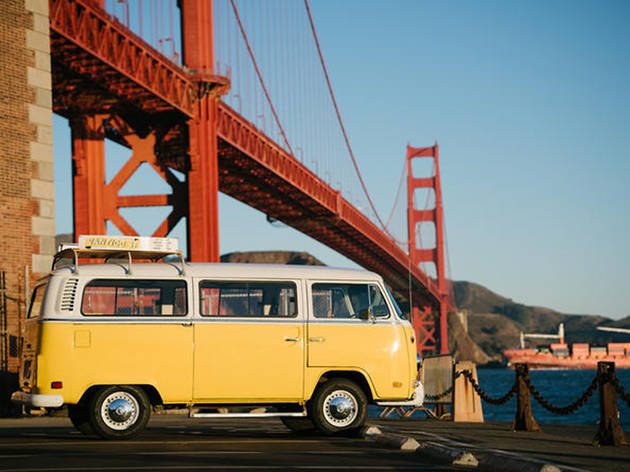 Photograph: Courtesy Viator
San Francisco Private Tour
Don't want to be crammed into a coach with dozens of other tourists? Opt for a private city tour by vintage Volkswagen bus instead. Your guide will give you the scoop on San Francisco's history and culture over the four-hour sightseeing tour. And since you're calling the shots, you can customize the itinerary to fit your interests. $500 for up to seven people
Looking for more fun things to do in San Francisco?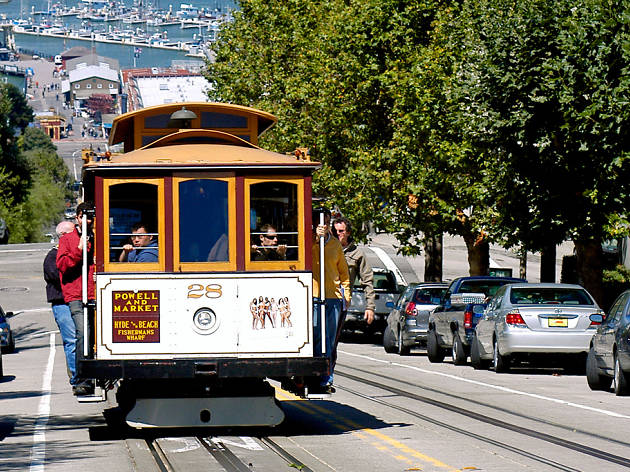 We took on the seemingly impossible task of narrowing the city's endless offerings down to the top 34 options