The Haight, Western Addition and Hayes Valley neighborhood guide
Find the best restaurants, bars, shops, attractions and things to do in the Haight, Western Addition and Hayes Valley with our insider's guide to the area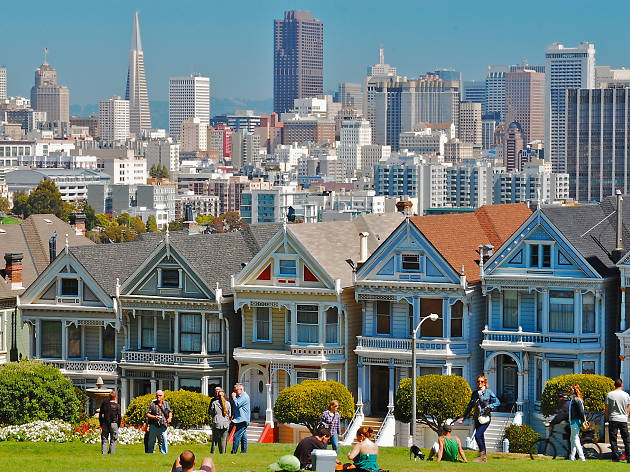 Mention the words Haight-Ashbury and members of a certain generation will either sigh with nostalgic longing or groan in exasperation. But once the crowds had tuned out, turned off and dropped back in again, the neighborhood resumed duty as one of the most liveable in San Francisco, with a high concentration of Victorian houses, many of them painstakingly restored and elaborately painted. The Haight, of course, was the epicenter of hippie culture in the 1960s (the word hippie is said to have derived from a derogatory beatnik term meaning "little hipster"). While the stretch of upper Haight Street between Masonic and Stanyan Streets still clings dreamily to its past, a younger, more progressive contingent has migrated down the hill to Lower Haight. The area's main intersection is at Haight and Fillmore Streets, where trendy shops, tattoo parlors, funky bars and ethnic eateries radiate in all directions.
The Western Addition was not only the city's first suburb, but also its first multicultural neighborhood. Mapped out in the 1860s to accommodate the post-Gold Rush population boom, the area was home to a thriving Jewish community in the 1890s. After the 1906 earthquake, the Fillmore District, the area's heart, sprang to life as displaced residents, many of them Japanese, began arriving. A wave of black southerners migrating west for work followed the Japanese (many of the latter were sent to internment camps in the wake of Pearl Harbor). In the 1940s and '50s, the Fillmore became known as the "Harlem of the West" as jazz and blues musicians thrived in the area, but in the 1960s, it was deemed a slum by the San Francisco Redevelopment Agency and torn apart under the guise of urban renewal. While it's never fully recovered, the Fillmore is slowly regenerating with new music venues and restaurants—though the opening of the state-of-the-art SFJAZZ Center in nearby Hayes Valley has shifted the scene eastwards. Across Geary Street, three commercial blocks and a compound-like mall packed with noodle and sushi restaurants and alluring J-Pop shops comprise Japantown, which is also the location of Robert Redford's flagship Sundance Kabuki cinema.
Southwest of Japantown, Hayes Valley was literally overshadowed by the Central Freeway for years, until irreparable damage from the 1989 earthquake brought about the roadway's demolition and transformed the neighborhood into one of the hippest and liveliest shopping and dining destinations in town.