The Ng Teng Fong Roof Garden perched atop the National Gallery Singapore is now home to a new large-scale installation by Antony Gormley. On display from August 6 to October 30 next year, Horizon Field Singapore (2021) will be exhibited alongside three other sculptures that trace four decades of Gormley's practice: Sense (1991), Close V (1998), and Ferment (2007). Placed at key locations throughout the Gallery, these works form a sequence of what the artist calls "acupuncture points" within the architecture, activating their surroundings and provoking connections with their audience.
The exhibition offers an introduction to the artist's extensive body of work, which draws on a range of traditions and ideas including Buddhist sculpture and philosophy, minimalism and quantum physics. Many of Gormley's works encourage viewers to focus their attention on their own movement and perception in relation to the surrounding space.
But first, let's talk about the exhibition highlight: Horizon Field Singapore, a new work that's part of the Gallery's annual Ng Teng Fong Roof Garden Commission. Standing at almost five metres tall and spanning the garden gallery, the installation invites visitors to walk through a vast matrix of intersecting aluminium rings, allowing them to co-create the experience by stepping through the rings. The spatial experience continually shifts as they walk through.
"Horizon Field is about how each of us carry our own horizon with us as we move through space and time," Gormley explains. Its title alludes to the horizon as the final limit of human perception, as an individual's spatial and visual experience of the horizon shifts in their every move.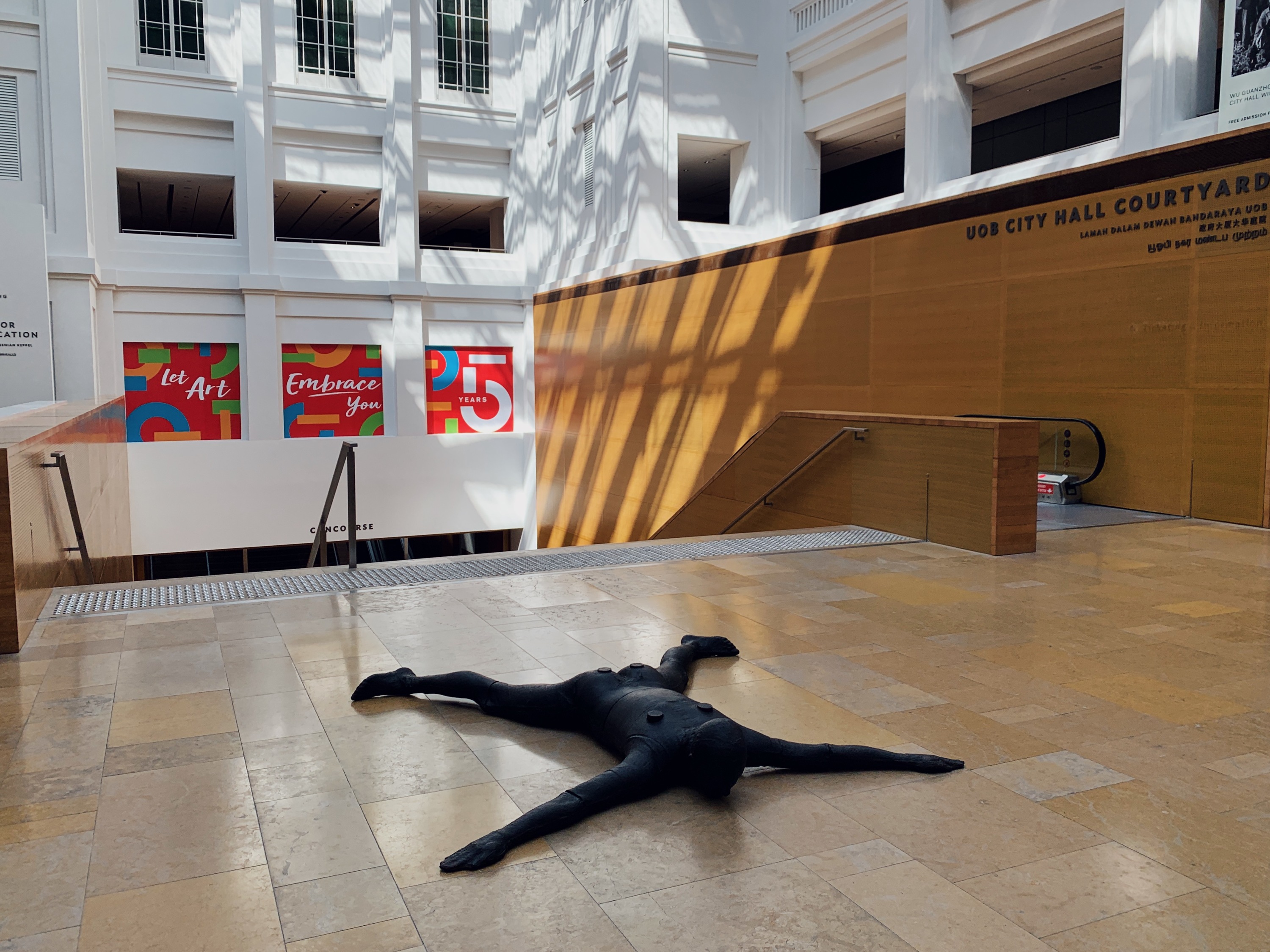 Providing a context for this new commission are three of Gormley's earlier sculptures, in which our bodies become part of the work, and where we can reimagine our own relationship with our environment. Visitors to the Gallery will first be welcomed into the building by Close V (1998), a surprising sight for most. The life-sized solid iron sculpture is cast from the artist's body, lying face down on the floor. It encourages visitors to circle around and reflect on ideas such as stillness and movement, lightness and gravity, and permanence and change.

At Level 3 of the Supreme Court Wing, Southeast Asia Gallery, you'll find Sense (1991). Here, the artist presents the human form as an empty void, its negative space compressed within a concrete cube. The work suggests the continuity between our consciousness and the space around us, the cosmos.
Lastly, find out more about Gormley's exploration of quantum physics in Ferment (2007), which hangs above the iconic staircases at the Gallery's Supreme Court Foyer. It challenges the solid form of traditional sculpture by presenting the human body as a dynamic energy field, a suspension providing a sense of weightlessness.