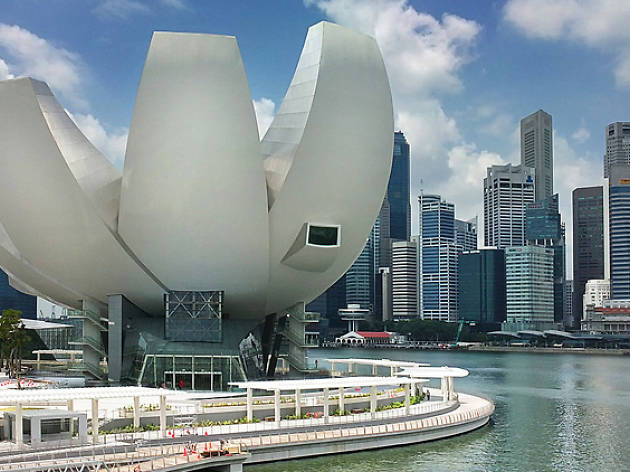 Shoehorning art and science into the same room and doing justice to both was always going to be a big risk (although we could think of bigger – who wouldn't want to spend an afternoon at the Religion Science Museum?). Right from the get-go, the concept, with its strong ring of focus-grouped marketability, invites cynicism and excitement in almost equal measure. Is this, you wonder, the arrival of a museum thinking well and truly outside the box? Or is it, as some have reckoned, another hole in the foot of a city trying ever harder to better itself with another catchy but ultimately hollow niche-filler? Another empty, world-beating superlative to add to the list?

As it turns out, the answer is a bit of both. The permanent exhibition – that's the ArtScience showcase on the top floor – is surprising for its brevity and, after all the hype, a bit of a letdown. Three rooms make a glib attempt to tackle the 'conceptual barriers erected between the artistic and scientific communities'. The Inspiration room asks: what do an ancient Chinese scroll, Leonardo's flying machine, a robo-fish, a Kongmin lantern and the ArtScience Museum itself have in common? You leave without ever really finding out, other than they were invented by very creative minds. But you do get to play with touch screens and, if you so desire, create a digital postcard to send to mum.

The Expression room, a large, multi-panelled cinema, screams 'Look, art and science can co-exist!' with a short video montage of loosely connected inventions by a number of famous art-science straddlers like sculptor/scientist Theo Jansen and author/aviator Amelia Earhart. Feeling like a school project with a budget, it's all too shallow to satisfy. As you leave, there's a feeling that either you've missed the point, or that the overriding arc to this exhibition, despite its techno finery, is fairly flimsy.

Perhaps this is museum-going 2.0 – a lighter, more hands-off, user-led, gizmo-centred forum for thought and enquiry. Or maybe it's the result of a museum coming up with a catch-all, buzzword concept and filling in the blanks later; obsessing over the how, without fully grasping the why.

Far more rewarding and comprehensive, two exhibitions in the basement are both epic in scope and brilliantly accessible. 'Shipwrecked: Tang Treasure and Monsoon Winds' presents an awesome collection of sunken, Tang Dynasty treasures found in Indonesian waters in 1998. There's gold, but not like you've ever seen it before, almost cinematic in its glow. Part of a 60,000-strong collection, these perfectly preserved ceramics, mass produced and on their way to the Middle East, suggest that China has long been a factory for the world. A beautiful, dragon-headed ewer testifies to the era's artistry.

The 'Traveling the Silk Road: Ancient Pathway to the Modern World' exhibit is equally impressive and digestible: a sweeping, lushly colourful survey of the ancient trade route that connected East and West between AD600 and 1200.

But, for now, the show-stealer is the visiting 'Genghis Khan: The Exhibition', which traces the story of one of history's most famous warmongers from birth to death with a convincing set of artefacts that includes delicately wrought jade pieces and some fairly hefty swords – how many scalps did these tools deliver to their maker, you're invited to wonder. Well curated, there's historical depth here, but also a number of quirky, carry-home facts throughout, notably about Khan's legacy: he invented the passport, diplomatic immunity, paper money, ground meat and, er, pants.

Then there's the robot-paw structure itself, which is undoubtedly destination architecture of the most achingly modern kind. Of course, it's part of the casino-driven Marina Bay Sands package, which, in effect, means it's also part of that grand, conscience-rattling trade-off between the state and its new gaming licensees: gambling permits in exchange for major investment into the city's tourism-boosting infrastructure. We haven't done badly so far on that front: headline architecture care of Moshe Safdie's MBS behemoth, Battlestar Galactica-shaped thrills at Universal Studios, blockbuster new retail space and, among other things, a highly photogenic infi nity pool.

This was the great hope for a proper arts- and knowledge-based third space. It was certainly the promise: 'an endowment to Singapore's creative class', says the website. For some, the structure alone might live up to that payoff and get behind the idea that this is indeed 'Singapore's gift to the world'. Others may lament the thinness of the permanent exhibit and the exorbitant cost of ticket prices, and ask: what about something for us?

Venue name:
ArtScience Museum
Contact:
Address:
Marina Bay Sands
10 Bayfront Avenue
Singapore
018956

Opening hours:
Daily 10am-7pm (last admission at 5.30pm)
Do you own this business?
All Possible Paths: Richard Feynman's Curious Life

Commemorating the global celebrations of Richard Feynman's 100th anniversary, ArtScience Museum is presenting a brand new exhibition, casting the spotlight on the astonishing, multi-aspect life and achievements of the Nobel Prize-winning physicist. Known...

Until Sunday March 3 2019

Future World

The ArtScience Museum's first-ever permanent exhibition is a world of high-tech, immersive digital art installations. Featuring a plethora of works by award-winning Japanese art collective teamLab, Future World will be constantly updated with new works...

Until Thursday January 31 2019

Impart Collectors' Show 2019: Fabulous Monsters

What do you get when you merge the creative minds of contemporary artists? A dream-like world that showcases how the grand collection of visual iconography in Asia can be used to examine current socio-political issues. The ArtScience Museum transforms...

Until Saturday February 2 2019