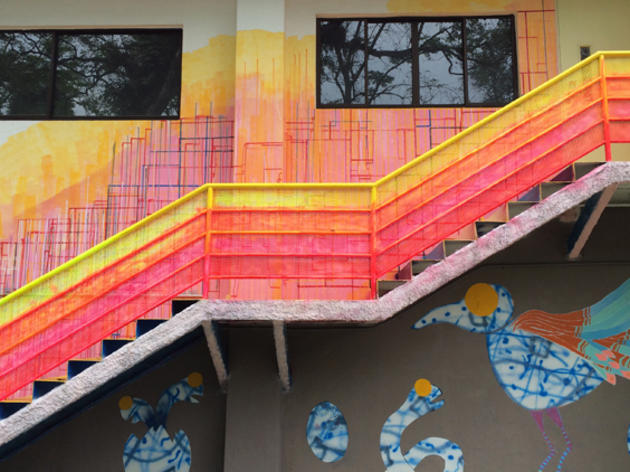 Plenty of interesting and thought-provoking exhibitions take place each month in the 16 galleries that sit prettily in Gillman Barracks. And yet not many throng the former army camp, partly due to its out-of-the-way location, the fact that galleries and F&B outlets never open at the same time, and the general public deeming the visual arts as out of their depth. While the first two can't be changed, a cadre of curators is hoping to address the third.
Audrey Yeo is one of them. The founder of Yeo Workshop and the Arnoldii Arts Club – both are based in Gillman – is rounding up like-minded curators and gallerists to make art more accessible and to encourage more people to make their way to the arts cluster. And thus, DRIVE Festival was born. The campaign hopes to unearth ambitious artists from the public and give them an opportunity to work alongside the arts professionals involved in DRIVE.
'DRIVE alludes to the ambitions and inspirations: What drives artists, what drives you, and what drives the art scene in Singapore,' Yeo says. 'It also refers to Gillman Barracks and making it a "drive-through" or a destination for art by adorning the façades with artworks.'
Following an open call for public submissions last month, a panel of curators – including art director Bryan Loke and Equator Art Projects' curator, Tony Godfrey – will select ten to 15 artworks. The process will culminate in the announcement of a grand winner, who will receive a cash prize and a spread in quarterly mag Art Republik. The finalists' works will be displayed at Gillman, too.
Yeo is also planning a public outreach programme to complement the festival, where artists will conduct a series of lectures and guided tours – both revolving around their work – that show the public their inspirations and processes. 'Art historians will provide insight into basic art theory and history, and there will also be live demonstrations of painting, print-making and photography, giving insight into art production,' says Yeo. DRIVE's final event – a movie screening and live performance by musicians and artists – will be held on 25 January 2015, during Art Week Singapore.