Guide to Peranakan needlework
Achieve domestic goddess status when you find out more about the intricate craft of Nyonya needlework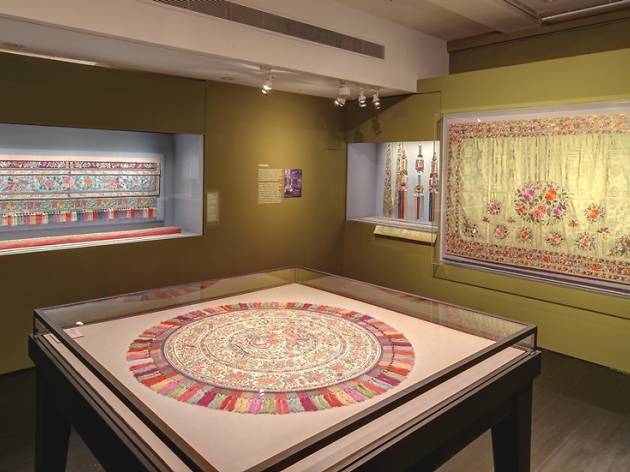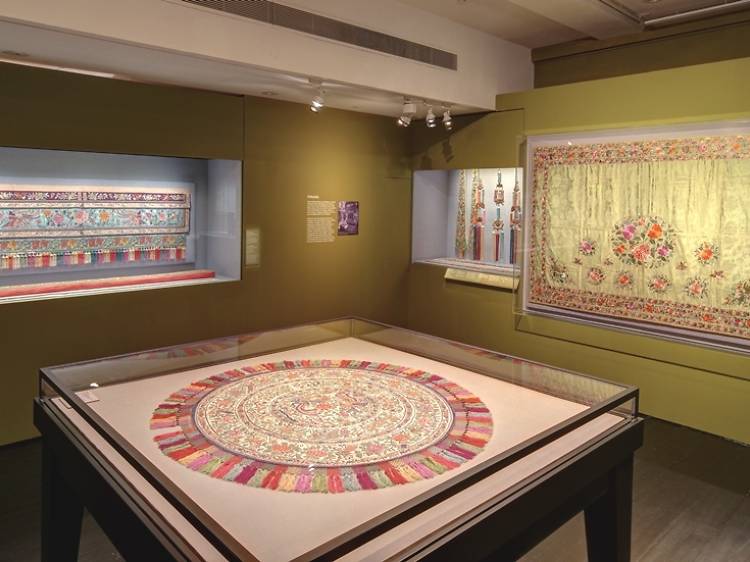 Photo: Peranakan Museum
Nyonya needlework is a lot more than just stitching brightly coloured beads onto a shoe. The Peranakan Museum's latest exhibition, Nyonya Needlework: Embroidery and Beadwork in the Peranakan World, is testament to that. Displaying over 200 pieces, it showcases the rich diversity of Peranakan craft from various regions, including Malacca, Penang and Indonesia, and how different cultural influences and motifs pervade these masterpieces.
If the gorgeous creations have caught your eye, and you're itching to make some handmade crafts of your own, you can. Get the low-down on the techniques used to make exquisite patterns – beading, silk embroidery, fabric printing, and cooking are just some of the skills you can pick up at the museum's workshop series. But first, here are a couple of things you need to know to get your stitch game up to par.
Photo by Peranakan Museum.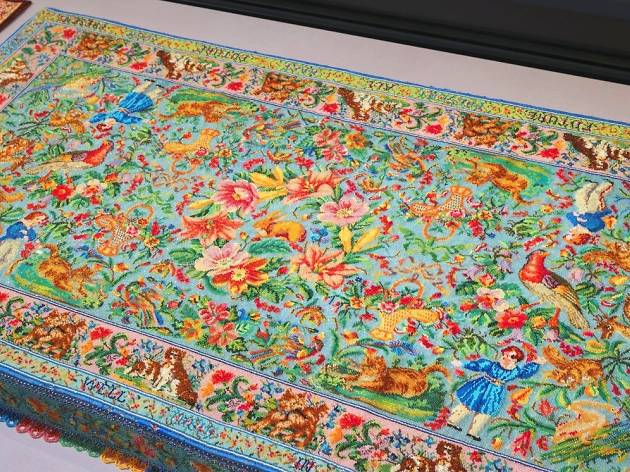 Everyone's familiar with the vibrant beaded bags and shoes of popular Peranakan culture. But did you know that one of the most common beads used in traditional Peranakan bead embroidery, called 'charlottes' (manek potong in Baba Malay) are typically only 1.5 millimetres in diameter? To give you an idea of how miniscule that is, the average length of a single short-grain rice is about 4 to 5 millimetres. Charlottes are hand-cut on one side to give them that extra sparkle. These beads were commonly produced in the Czech Republic, Germany and Italy.
Peranakan bead embroidery demonstrates strong cross-cultural influences in its techniques and motifs. Take, for instance, this bead-embroidered wedding chamber panel from Penang. It features images popular in European needlepoint, including roses, birds, and boys and girls in Western outfits, and motifs often used in Chinese designs such as deer and flower bouquets. Stitched on its border is a verse in English: 'Here's to the bride and the bridegroom, we'll ask their success in our prayers…' (We're guessing that this was a wedding gift for newlyweds of high social standing.)
TRY THIS Get a first-hand look at bead embroidery with Peranakan craft doyenne Bebe Seet, who runs the Rumah Bebe Peranakan shop in Katong. Seet's intricate bead embroidery demos at the Peranakan Museum run from 2 to 4pm every second Sunday of the month, from now 'til March 2017.
Pictured: Panel, probably a table cover. Penang, around 1910. Canvas, glass beads, 100 x 60 x 8 cm. Collection of Dr Roger and Mrs Betty Mariette.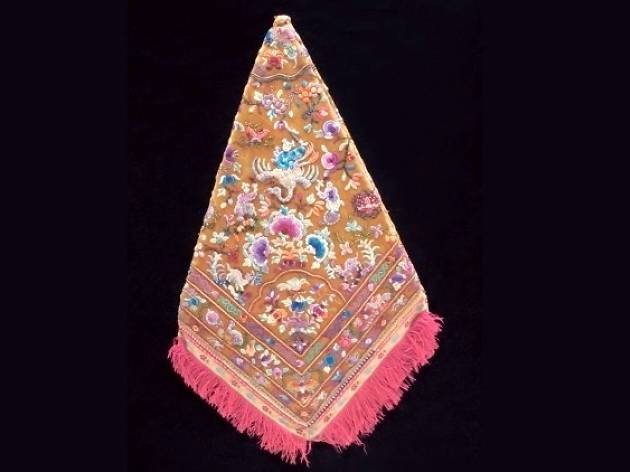 Silk thread embroidery is perhaps the most versatile of Peranakan needlework techniques – it comprises variations on stitches and knots reminiscent of traditional Chinese embroidery styles. So if you're enamoured of the silk shawl given to Michelle Obama by Ho Ching during the recent Singapore state visit to the US, you're in luck. Take tips from embroidery maestro Raymond Wong at the Perankan Museum's embroidery workshop, part of the Nyonya Needlework programmes. Wong has perfected kebayas for over a decade, and counts Mary Tan, wife of President Tony Tan, among his happy clientele.
These embroidered pieces reflect influences from Singapore, Malacca, Penang and West Sumatra. Study the 19th-century ceremonial handkerchief from Malacca on display at the exhibition, and you'll find a horseshoe crab or two stitched into its design, alongside Chinese motifs such as phoenixes and deities. Horseshoe crabs are an uncommon motif to see in art from pretty much anywhere in the world, but they were often featured in the embroidery of Peranakan Nyonyas in Malacca (where the crabs are also still enjoyed as a dish) as a symbol of marital fidelity and bliss.
TRY THIS Make your own silk embroidered bookmark – horseshoe crab motifs optional – at the Peranakan Museum's Embroidery Workshop (September 17 and 24, 2-5pm. $50 per session), helmed by Raymond Wong. The signature vivid colours and patterns of Peranakan silk embroidery will definitely make your embroidered handiwork Instagram-worthy, no filter needed.
Pictured: Ceremonial handkerchief. Malacca, late 19th century. Silk, metal beads, glass beads, cordonnet, 34.2 x 20 cm. Peranakan Museum.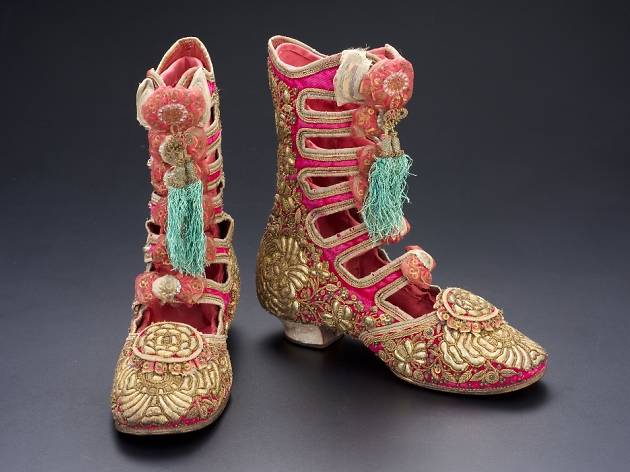 Embroidery can be metal, too
With metal threads, that is. The threads are used to make raised gold and silver embroidery, while metal purls (or twisted wire) and sequins add shine and glamour to any piece of work. And, boy, is the effect stunning on this striking pair of ankle boots, which date back to Java in the late 19th century.
There's no doubt that this sweet pair of kicks was both a fashion statement and a declaration of sophistication. While wealthy Nyonyas wore velvet boots with gold embroidery for weddings and special occasions, this bride upped the ante by stepping out in this unique creation that combines traditional Chinese imagery with the shape of European women's ankle boots that were at the height of fashion in the 1880s. And you thought that pair of Jimmy Choo bridal shoes was fancy.
Pictured: Woman's ankle boots. Java, late 19th century. Silk, lametta, metal, sequins, gold, brass, stucco, height 24.5 cm. Peranakan Museum, Gift of Mr and Mrs Lee Kip Lee.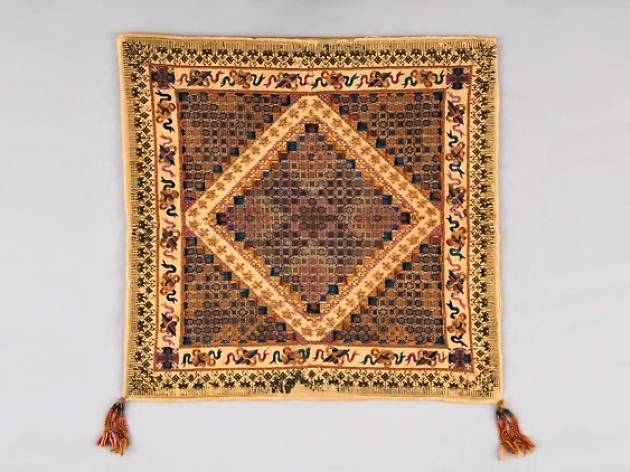 The elegance of drawn thread
Drawn thread embroidery is the rarest and most refined technique in Nyonya needlework, and understandably so given its painstaking process. Embroiderers would remove parts of the fabric, then weave a different fabric into the spaces for pops of colour. The process is then repeated until the desired design is complete.
The handkerchief (sapu tangan in Baba Malay)in the Peranakan Museum's Nyonya Needlework exhibition is an example of how embroiderers drew inspiration from traditional Indonesian batik patterns to create their own textile art. The limited colour palette and restrained use of motifs give the work a subtle sophistication.
Pictured: Handkerchief or tray cover. Sumatra, Palembang, 2nd half of 19th century. Silk, metal thread, glass beads, coral, 37.5 x 32.6 cm. National Museum of Singapore.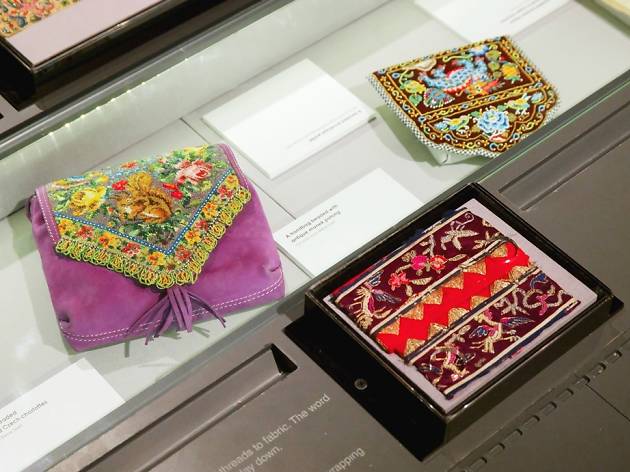 Photo: Peranakan Museum
Cultivate your inner domestic goddess with these fun workshops at the Peranakan Museum, and bring home your very own embroidered accessory, fabric print or taste of Nyonya cooking.
We tried our hand at the bead embroidery workshop, and it turns out that the beadwork, while dauntingly intricate at first glance, is a great way to de-stress and relax. The focus needed to work with tiny beads and needles clears one's mind. Add to that the repetition of sewing in bead after bead, and you're essentially stitching your stress away.
Workshop participants get a range of design templates to work with, and materials and guidance are provided by the experts. We're no experts (even threading the needles was a struggle), but the Nyonya Needlework workshop took us from total beginners to seasoned thimble-wearers. Well, almost.
TRY THIS Check out the fabric print workshops by Jennifer Lim (October 1 and 15, 2-4pm, $55 per session), or the cooking workshops by Benjamin Seck in November (5, 12, 19 and 26, 2-5pm, $50 per session). All workshops also include admission to Nyonya Needlework.
For other Nyonya Needlework programmes, visit the Peranakan Museum website.
Photo by Peranakan Museum.