In praise of shadows
We speak to locally based artists Adeline Kueh and Betty Susiarjo to shed light on their joint-exhibition, 'Umbra'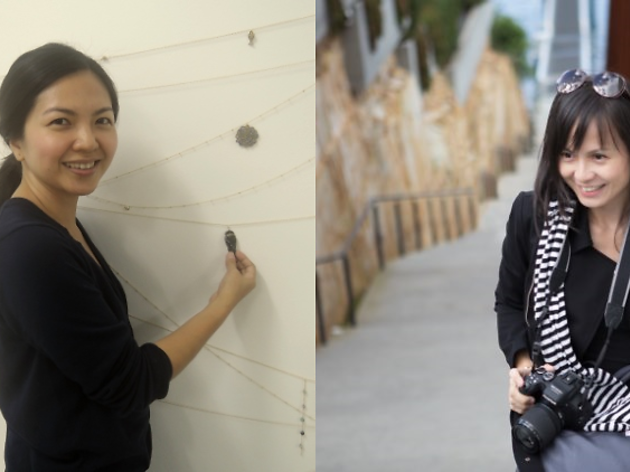 No, 'Umbra' isn't some new-fangled lingerie or umbrella hybrid. It means 'the darkest part of a shadow', and two locally based artists are stepping into the blackness to create works for their upcoming exhibition at Objectifs. Adeline Kueh and Betty Susiarjo tell us more about the installations, videos, photos and sonic artworks at Umbra.
'There's something about living in this city that makes artists crave for something deeper'
What does the term 'umbra' mean to you?
Adeline Kueh: 'Umbra' serves as both a physical play of shadows and light, as well as a metaphor for that deep, dark part(s) of ourselves from where we speak of our longing and desire.
Betty Susiarjo: 'Umbra' is the darkest, innermost layer of a shadow. To me, it is symbolic of our inner being: the part we always try to connect with in order to understand ourselves, who we are, and our deepest longings.
Tell us about the work in this exhibition that means the most to you.
Kueh: The work 'If Little by Little' is one that is strangely precious. It is based on the experience I had just after my knee replacement surgery in 2014. I was essentially bedridden and strapped to a machine to keep my knee moving all day long. The thoughts that went through my head at that time – at one of the darkest moments of my life – were so varied and trippy.
Susiarjo: A six-image photo series titled 'The Dusk Series'. They were shot in gardens and parks in Singapore around dusk; I had intended it that way because I wanted to capture the lushness and beauty of the limited greenery we have here and depict them as magically as possible.
Artwork: Adeline Kueh


What is the relationship between language and perception?
Kueh: Language shapes perception. When we speak of language, oftentimes power is implicit in our knowledge of (a) language. What we know, in terms of the vocabulary within a language, will also shape our perception (or the reading and meaning-making of the works).
Susiarjo: I see them being interdependent to each other; each is born out of the other. As an artist, I feel that I am in the midst of materialising this relationship.
How do you think the other artist's works complement – or clash with – yours?
Kueh: In many ways, I find Betty's works to be more beautifully hopeful and poetic in the ways she has injected magic into the materials and the rendering of everyday occurrences. My series of works looks at fleeting moments of longing, desiring and sometimes of loss. My subject matter tends to be darker and, at times, seedier.
Susiarjo: Both of us deal with the idea of temporal situations in our works. Adeline is interested in the intimate relationship between two people, the narratives derived from found objects, and moments lost and recalled in time. I'm looking for the same intimacy, but through the observation of a landscape, and the romanticising of nature, light and solitude.
Although the source of our ideas and our choice of materials are often different, we understand each other's work because we share a common poetic sensibility. This exhibition almost felt like a collaborative project in which our works are intertwined to become one that speaks of an umbra.
The Singapore art scene is…
Kueh: …as vibrant as we seek it out to be. Many of us make works not for purely commercial purposes but because we believe in artmaking as our raison d'être, our reason for being. We make art because we believe in it. Art is like the air we breathe.
Susiarjo: …small but substantial. There's something about being and living in this city that makes artists crave for something deeper. We crave for more time, more nature, more beauty, more openness, and more rawness. Those cravings push our artworks to create meaning and significance.