Interview: Mark Justiniani
Filipino artist Mark Justiniani reflects on the nature of physical space with his latest exhibition. By Rahimah Rashith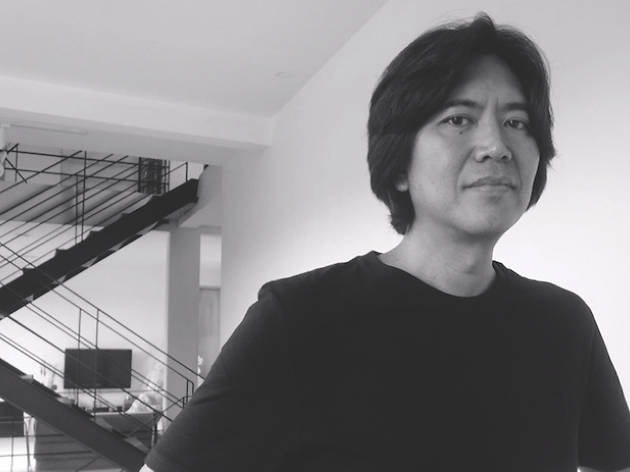 By

Time Out Singapore editors
|
As you emerge through the door of Mizuma Gallery, it's difficult to miss this giant installation. Standing at more than 2m tall is what looks like a battering ram that footmen would use to shatter castle gates. Instead, the massive pole, which hangs within a triangular frame, is piercing through glass, creating the illusion of endless space.
'Break' is part of Mark Justiniani's exhibition, Provoking Space. In it, the Filipino artist uses mirrors and lights to create illusions that challenge our perception of physical space. By doing so, he's probing into the nature of space, questioning its structure, boundaries and malleability. 'It's only in the last century that the idea of a malleable space and the uneven ticking of time have been proven to be true,' he says. 'I am focused on how we interact with it.'
'Break'. Photo: Courtesy of Mizuma Gallery
'The mirror becomes a void that makes people think about nothingness'
Justiniani's fascination with the subject stretches back years, beginning with an insight he gleaned from his native tongue. He found that many words in Tagalog reveal new meanings when the letters are reversed or rearranged. 'Ulap' refers to the clouds, for instance, while 'lupa' points to the ground, the artist shares.
'I started with placing mirrors in front of words,' he recalls. 'When you see the reflection, it's not only the words that have flipped, but their meanings.'
'Capsule'. Photo: Courtesy of Mizuma Gallery
Man in the mirror
Justiniani has been using mirrors as a medium since 1994. It's not difficult to figure out how he does it – but the 'why' is a much harder question to answer.
'A mirror is a two-dimensional object, yet it carries a three-dimensional image,' Justiniani says. 'It goes beyond its own dimensions. So when you place two mirrors front of one another, a tunnel to infinity is produced.'
'Break'. Photo: Courtesy of Mizuma Gallery.
He wants his audience to discover new meanings to his work when they gaze into infinity. 'I hope they go beyond the initial amusement of the illusion,' he says. 'It's only a bridge towards something that is more meaningful, that will lead them to reflect upon things.
He pairs his works with light to highlight a poignant message. 'People are attracted to light,' he says. 'But as the light dissipates in front of the mirror, it becomes a void that makes people think about nothingness: is it really a void or is it a womb from which things emerge?'
'Provoking Space' at Mizuma Gallery until Sep 17.