Rare masterpieces: Chinese ink takes centre-stage
Rare Chinese ink paintings are back in the spotlight, thanks to the National Gallery's three new exhibitions. Here's what to expect
Who says Chinese ink painting's dated or irrelevant? The National Gallery Singapore breathes new life into the colourful world of Chinese ink with over 200 rare masterpieces from 20th century artists – among them Chinese contemporary painter Wu Guanzhong, works from the famed Xiu Hai Lou collection and Chen Chong Swee's earliest depictions of Singapore. We chart these (inked) pieces, starting with Wu Guanzhong: A Walk Through Nature.
New beginnings
His works boldly incorporate Chinese art with Western modernism, an homage to the influences that shaped his five-decades-long artistic practice – among them post-Impressionist painters van Gogh, Cézanne and Gauguin.

But Wu Guanzhong was, in his own right, one of the most influential painters of the 20th century. You'll note this in his distinct style of strong sweeping lines and blotches of colour, weaved with influences of Chinese calligraphy in his pieces.

Born in 1919, the Jiangsu province-hailing painter trained at the China Art Academy of Hang Zhou in the late '30s – but it was his training in Paris from 1946 that shaped his interest in the technicalities of art. Wu's return to China during the Cultural Revolution period was rocked by the conflicting political undertones in his works, and he was forced into hard labour under the Communist Party's rule.
Colour and form
In 1976 – about three years after his release – the painter shifted from oil to ink painting, although he'd go on to incorporate both media until his passing in 2010.

'Oil painting must be nationalised, [and] Chinese painting modernised,' he noted in a 1978 piece entitled 'The Formal Beauty of Painting'. The resulting energised rhythm in his works is chronicled in the National Gallery Singapore at Wu Guanzhong: A Walk Through Nature. Beyond the essays he penned, the painter charted his travels across China in oil and ink, but it was a 1978 visit to the Yunnan province of south-western China that would go on to influence his practice.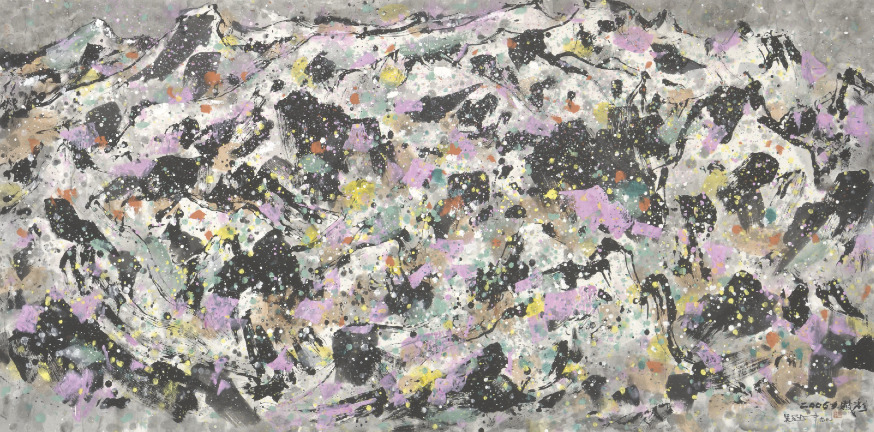 Wu Guanzhong. The Yulong Mountains at Sunset (2006). Collection of National Gallery Singapore
The Yulong Mountains at Sunset (2006) remains one of the most prized (and popular) paintings from the artist, whose works were marked by a mix of painting styles: the semi-abstract, the realistic, and the fully abstract – this one being the latter.
Wu Guanzhong. The Yellow Earth Plateau (1989). Collection of National Gallery Singapore
Separately, The Yellow Earth Plateau (1989) shows off Wu's versatility in his use of swift and certain brushstrokes. His pieces were often spontaneous and intuitive, as in this painting, which he once described as 'granaries that feed the Chinese race, and a gold mine yet to be tapped'.
Brushes with ink, not fate
Among Wu Guanzhong's influences were early Chinese ink masters Ren Yi, Qi Baishi and Zhang Daqian, whose works are also on display under the famed Xiu Hai Lou collection. Owned by local Teochew businessman, Yeo Khee Lin, the collection – amassed over four decades – explores art collecting and patronage in Singapore during the early 20th century.
Ren Yi. Bestowal of Title and Wealth (1884).
In this instance, Zhejiang province-hailing artist, Ren Yi, used his signature boneless ('mogu') technique for this work – so forms like the peacocks and deer were made using ink and colour washes, rather than outlines. Here, the spread of the peacock's tail is likened to the shape of an official's headdress, and the deer refers to wages. Such representations were often used to signal a promotion, typically to office-bearer.
In the third exhibition, Strokes of Life: The Art of Chen Chong Swee, you'll see how the local artist pioneered a style of Chinese ink that incorporates Western perspectives and local subjects.
Chen Chong Swee. Ice Kachang Vendor (1950s-'60s).

Admire Wu Guanzhong's works – and the full collection of Chinese ink paintings – at the Wu Guanzhong Gallery and Level 4 Gallery until Dec 3.