The universe in a polka dot
How dots mean an entire universe to the legendary Japanese artist, Yayoi Kusama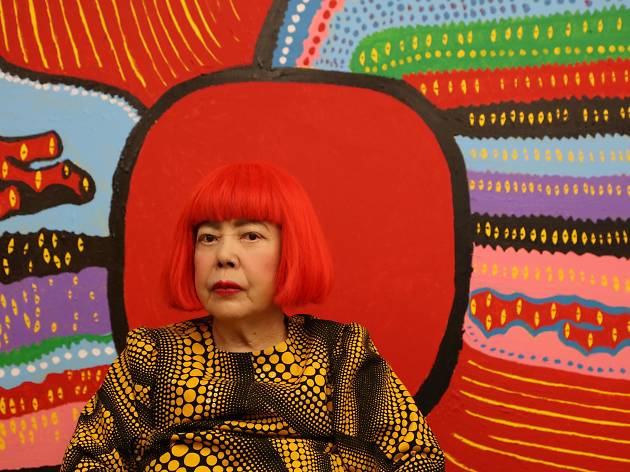 Artists often travel far and wide in search of inspiration. After all, experience of the world is a key factor in shaping ideas for art. But for legendary Japanese artist Yayoi Kusama, her inner world has presented her an endlessly fertile concept to work with: polka dots.
'Pumpkin (1981)'. Artwork: Collection of Daisuke Miyatsu, Japan Courtesy of Ota Fine Arts, Tokyo/Singapore ©YAYOI KUSAMA
This recurrent motif in Kusama's work is not just an artistic tool – it symbolises the Sun, Moon, Earth, the universe as a whole, and most importantly, our own place within the infinity of this universe. Kusama's philosophy towards the repetition and obsessiveness of painting polka dots has allowed her to express her hallucinatory experience of her environment and has resulted in a life-long exploration into the visual and conceptual potential of polka dots.
'Narcissus Garden (1966)'. Photo: Collection of the Artist ©YAYOI KUSAMA
Experimenting with media such as painting, sculpture, installation and performance, Kusama has been able to overcome physical and psychological challenges through her work. Inspired by the hallucinations she has experienced since childhood, she has used repetition and reflection to evoke illusory effects throughout her body of work.
'Infinity Mirrored Room: Gleaming Lights of the Souls'. Artwork: Collection of the Artist ©YAYOI KUSAMA, Courtesy of Ota Fine Arts, Tokyo/Singapore, Victoria Miro, London
Kusama once said that 'our Earth is only one polka dot among a million stars in the cosmos. Polka dots are a way to infinity. When we obliterate nature and our bodies with polka dots, we become part of the unity of our environment.' This refers to her idea of 'self-obliteration', in which the individual ego – which she associates with violence and domination – is subsumed within patterns of dots and nets, to become at one with the universe. Her famous infinity mirrored rooms exemplify this idea, as audiences can experience what it feels to be a 'dot in the universe' within a space filled with tiny spots of light. The endless repetition enabled by the mirrored walls, ceiling and floor gives the impression of a limitless space. This illusion offers a sublime experience that connects to the artist's key themes, such as the cycles of life and death.
Delve into Kusama's universe of dotted art and ponder the self-obliteration process through her first major museum survey in South-East Asia. In collaboration with Queensland Art Gallery | Gallery of Modern Art, the exhibition features over 120 works that span from the 1950s to the present.
'Life is the Heart of a Rainbow'. Artwork: © YAYOI KUSAMA, Courtesy of Ota Fine Arts, Tokyo/Singapore, Victoria Miro, London, David Zwirner, New York
Keep a lookout for Kusama's new painting LIFE IS THE HEART OF A RAINBOW (2017), which is part of her ongoing My Eternal Soul series, and Narcissus Garden (1966/2017), an astounding installation, first shown at the 1966 Venice Biennale, that fills the City Hall Chamber with 1,500 stainless steel reflective balls. I WANT TO LOVE ON THE FESTIVAL NIGHT (2017), a mirrored peep room featuring psychedelic light patterns, also makes its exhibition debut and is specially created for the Gallery.