Crossroads Bar's Mark Graham Thomas is redefining the hotel bar
We speak with bartender extraordinaire and Diageo Reserve World Class finalist Mark Graham Thomas about what it's like to run the Crossroads Bar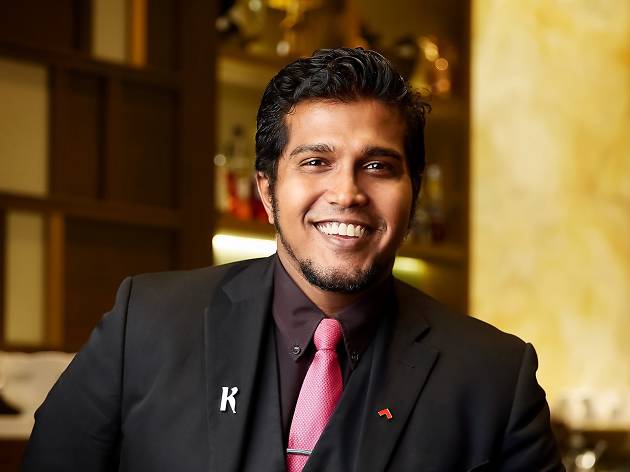 Crossroads Bar has let down its hair, ditched its glasses and gotten a makeover. The place is now rocking new threads, new tunes and a new menu offering classic tipples and bites with an Asian twist – think mango-flavoured drinks infused with smoked nutmeg, and Straits-inspired Peranakan tea sets. We speak with head bartender Mark Graham Thomas about Crossroads Bar's transformation, thinking like a chef and the art of cocktail crafting.
Crossroads Bar is redefining the hotel bar.
Hotel bars are notorious for being stiff and stodgy, but Swissotel Merchant Court's Crossroads Bar is shedding that stereotype – a recent revamp has transformed it into an elegant, contemporary bar. 'The hotel itself has been supportive of and adaptive to change,' says Mark. 'The bar has become an after-hours place where tourists and locals alike can enjoy themselves.' The fresh, new vibes are a boon for the bartenders, who take inspiration from the venue itself when creating new drinks.
He approaches cocktails the way chefs do food.
Mixing up cocktails is like cooking up a meal, explains Mark: 'We take cooking processes from the kitchen and translate that to the bar. We use stoves, heat, vacuum packs, freezing, liquid nitrogen and blast freezers.' Swissotel Merchant Court also has its own garden, tended to by the hotel's culinary team, allowing the bartenders and chefs to pick ingredients within the premises of the hotel. Mark also heads to the markets in the mornings to search for fresh produce, just like chefs do for their restaurants.
Even durians feature in his mixes.
One of the hallmarks of Swissotel Merchant Court is its heritage. After all, the hotel sits right by the banks of the Singapore River. This local influence comes into play at Crossroads Bar through the use of spices – cinnamon and nutmeg are commonplace in Mark's drinks, as are less conventional spices with stronger flavours, such as cloves. 'I'll put cloves in a drink that's slightly warmer, such as the Hot Tottie, which is a classic drink that uses lemon, cloves, brandy, and a little bit of honey,' he says.
He also believes in using spices to their strengths. He doesn't often add nutmeg into drinks, but rather layers it on the drink itself with nutmeg smoke or dust. The bar also makes use of a selection of ingredients that you wouldn't usually associate with cocktails, such as buah keluak – which references Swissotel's Peranakan heritage – and, yes, durian.
Crossroads Bar's syrups and sodas are all made in-house.
Mark prizes authenticity in his drinks, which means no store-bought syrups and sodas. His lime cordial, for instance, is made in-house: 'We start by making the sugar syrup from scratch. The sugar syrup isn't just for making the drink sweet, but also to give an extra kick to a flat-tasting cocktail. We also make our grenadine ourselves by juicing pomegranates by hand.' According to the bartender, it's how grenadine would taste like in the '20s, when the syrup was first concocted.
A flight to Taiwan inspired Mark to create one of the bar's signature tipples.
Mango beer was served on the flight that tasted artificial, Mark recalls, but 'worked'. It led the barman to start thinking of his own version of the beverage. 'How would I put those two flavours together, naturally and organically?' he had asked himself. He experimented with the balance between mango and beer, and if one flavour should be emphasised over the other. Thinking about flavours this way is Mark's starting point for creating cocktails – meaning every one of his drinks has its own origin story.
From now to Jan 1, Crossroads Bar is rolling out festive cocktails and tapas for the holiday season. Celebratory drink staples such as mulled wine, eggnog, and snowball are accompanied by Asian-inspired bites like grilled medallion of quail kebab and steamed mussels with saffron and white wine. For more information, visit www.swissotel.com/merchantcourt.