Five occasions to embrace a new beer this season
The new Tiger Radler Grapefruit will add fresh zest to your year-end celebrations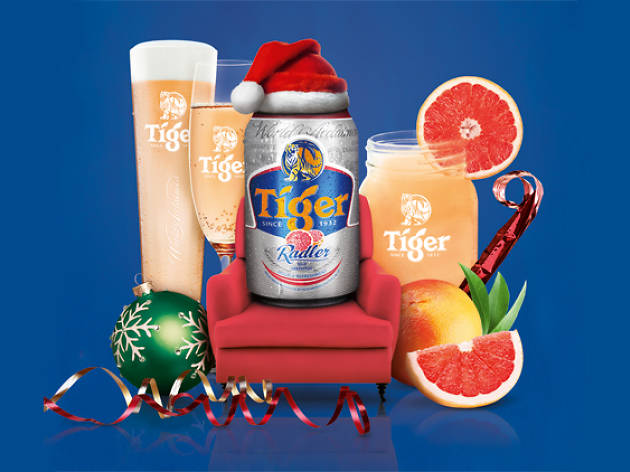 If the Tiger Radler Lemon struck your fancy, you'll be happy to know that the local brewery has concocted another innovative citrus mix.
The Tiger Radler Grapefruit combines the iconic lager with natural grapefruit juice. At just 2 percent ABV with a bright, sweet flavour and just a tinge of bitterness on the finish, this refreshing beverage comes right on time to jazz up your year-end celebrations. Here are five ways to enjoy the Tiger Radler Grapefruit.
Christmas gatherings
When you think traditional yuletide drinks, thick and creamy beverages, like eggnog, will probably spring to mind. But we've only got an endless summer here. So skip the belly-warming glühwein and wash that turkey and ham down with a light and refreshing cooler instead.
Outdoor barbecues and picnics
You know what it's like: sun's out, guns out. And you'll need a good thirst-quencher while you're outdoors, trust us. Enter the Tiger Radler Grapefruit – not only will it cool you down in the heat, the bright flavours are versatile enough to pair with any picnic or barbecue grub, no matter how greasy.
New Year's countdown
Yes, New Year's Eve is always a cause for celebration. But if you're hankering after a more affordable alternative to bubbly, why not pop open a can of Tiger Radler Grapefruit? It's sparkling and fruity, yet doesn't come along with an astronomical price tag to match. It's never too early to get started on your resolution to save that money.
Chinese New Year
You've got new clothes, shoes and haircut – so it makes sense to have something new at your reunion dinner table as well. As good as a regular mug of beer goes with steamboat, the Tiger Radler is light enough that it won't get in the way of all that eating. We're willing to bet it'll stave off the post-feast belching, too.
After work
When five o'clock strikes and you've taken the quickest escape route out of the office and into the comfort of your couch, that's pretty much worthy of celebration. So take the edge off with a chilled can of Tiger Radler Grapefruit – hoist a toast to yourself, sip and slowly savour.
The limited edition Tiger Radler Grapefruit is available in six-can packs ($9.90) at hypermarkets, supermarkets and convenience stores.