Depending on the brewing schedule, you might be able to enjoy fresh beers, served straight from tank to tap, at Thirty Six Brewlab and Smokehouse. Opened by Lion Brewery Co, the spacious beer hall comes decked out with a 120-seater dining space, and an on-site 500-litre microbrewery that experiments with fun and funky recipes.
From the 23-strong list, quaff down familiar blends from the local craft beer company, including the Lion Brewery Co Straits Pale Ale ($11), crisp, clean, and brightened with notes of lychee; or the low-malt Kaiser Kolsh ($13) perfumed with pear and apple aroma.
Head brewer Greg Brown taps into his past life as an IT professional to imbue analytical precision into beer-making. Freshly made at Thirty Six are a series of creative tipples: Raspberry Beer-et ($11) is a Berliner Weisse well-balanced with sweet juiciness and tartness from the berry, and Something Something ($13) is a tropical-bodied India Pale Ale. Also highly enjoyable is the floral-driven Session IPA, Old Greg ($11).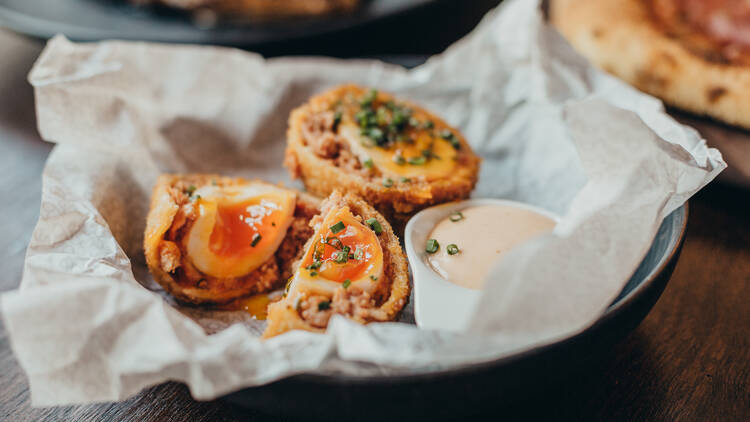 The cold pints on the table make for perfect accompaniments to the menu of sharing plates and smoke-kissed meats.
Lard-laced pastry is first filled with minced beef, then deep-fried to create steamy parcels of empanadas ($12). Scotch egg ($10) features a soft-boiled middle, and a casing made with a combination of nduja, sausage, and Impossible meat for a spice-scented, bouncy bite. Don't forget to dunk loops of calamari ($14) into mayonnaise infused with burnt leek ash for an alluring whiff smoky flavour.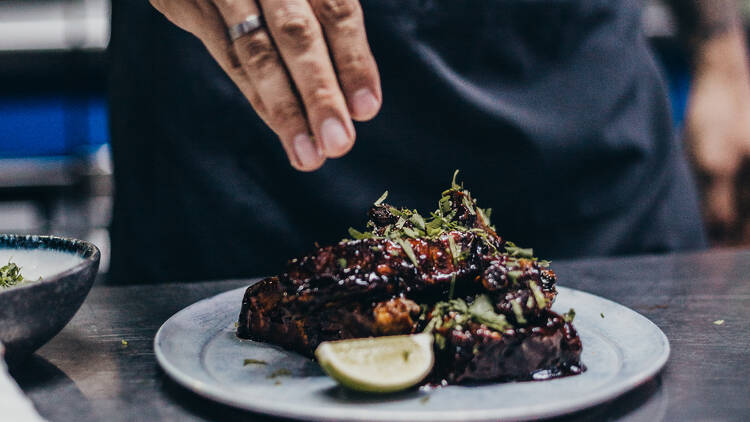 But the mains come brandished with stronger aroma from the flames – most of which come prepped in a custom brick hearth, or cooked over the open fire. Pork belly satay ($16) is marinated overnight in a sambal marinade, then grilled till tender. Cauliflower ($25) is quite the sleeper hit; the vegetable is first rubbed with turmeric and other spices and left to sit for a day, then steamed and grilled before getting served with cashew butter and leek miso. Sticky pork ribs ($28) are sleek with kicap manis glaze, while charred beef short ribs ($34) are chocked full of soy-tinged, chilli-laced flavour.
There are plenty of seating and dining nooks to choose from, each providing a different ambience. An alfresco area is flanked with hedges, and the wraparound interior features a mix of handsome leather couches for intimate gatherings, and tall stools for casual get-togethers.