Swanky silver screens
Splurge on a luxe cinema experience with your other half – trust us, it's well worth the cash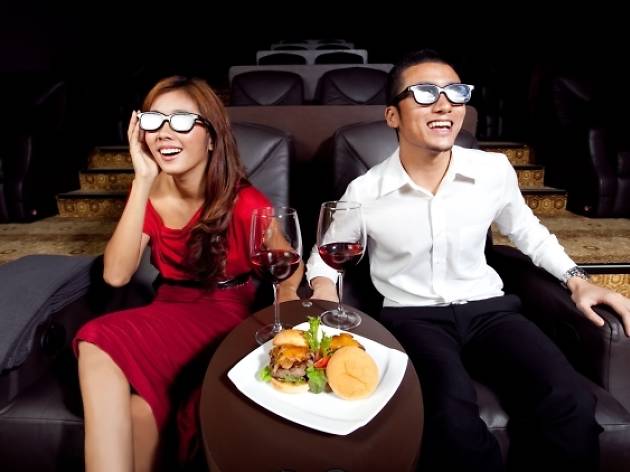 THE DETAILS
• One cinema: nex
• Two halls
• 48 seats per hall
• Lounge with an extensive menu of finger food, all-day breakfast sets, vegetarian options and drinks
• Reclining leather chairs with partitions behind and a blanket before you
• Mon-Thu $20-$30; Fri-Sun, eve of PH & PH $25-$30
OUR THOUGHTS
After being shown to our seats, we found our space pleasant and private, with a screen at the back concealing us from other couples. Our chairs squeaked a little when we moved, and hitting the recline button almost caused our feet to ram into the seat in front of us. You probably won't be able to fully extend your legs here – unless you're in the front row – but it's still cushy and spacious.

There's no table light provided; only a small clip-on one that comes with the menu, so the glare from your phone will have to suffice. As such, go for bite-sized munchies instead of hearty meals here.
HONOURABLE MENTIONS
If Serangoon seems like a long way off, try Lido or JCube for a mind-blowing experience with IMAX ($17-$23). The seats may not be as plushy and the theatre not as cosy, but your close-up view of shenanigans unfolding on the ginormous screen is nothing short of captivating.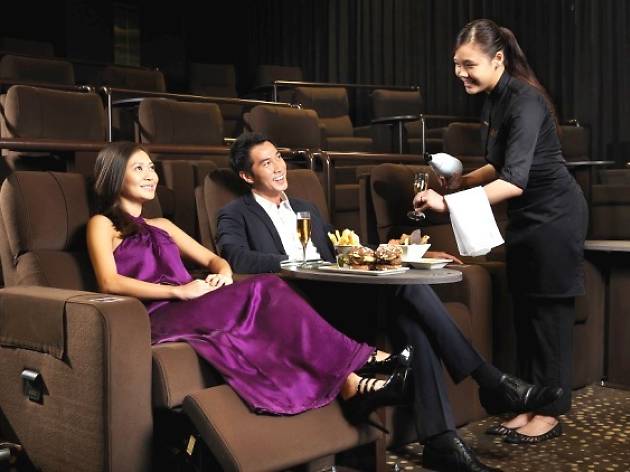 Photo: Adrian Koh
Golden Village: Gold Class
THE DETAILS
• Four cinemas: VivoCity, Great World City, Katong and Suntec City
• One to three halls per cinema
• 24 to 48 seats per hall
• Lounge with menu of snacks, mains, desserts and drinks
• Reclining leather chairs with blanket provided
• Mon-Wed $29; Thu $29-$39; Fri-Sun, eve of PH & PH $39
OUR THOUGHTS
At the shiny new Suntec City branch, our pampering session began when we sank into the supremely soft seats, wrapped the furry wool blanket around ourselves, and decided we never wanted to leave. As the chairs are spaced far apart, you get an unobstructed view – and no one else can hear the dumb questions your partner asks during the movie.
There are two separate recline buttons: one for your back and another for your feet. Our only gripe was the tiny table light that hardly offered any help when our fork stabbed unidentified objects on the plate.
HONOURABLE MENTIONS
For something more affordable, try the plush, reclining Grand Seats ($15) at Great World City's GV Grand. Otherwise, go for Gemini seats ($24-$36/pair) at Grand and City Square; couples sit wide apart from one another and armrests can be moved for more cuddle space.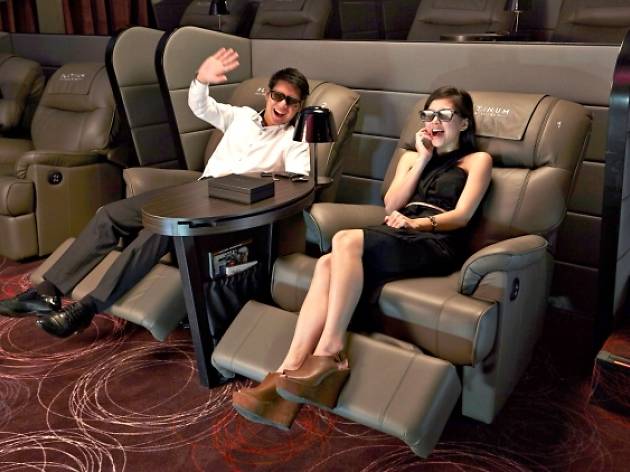 Cathay Cineplexes: Platinum Movie Suites
THE DETAILS
• Three cinemas: The Cathay, Cathay Cineleisure Orchard and JEM
• One to two halls each
• 16 to 30 seats per hall
• Lounge with menu of snacks, burgers, desserts and drinks
• Partitions beside and behind reclining leather chairs with a blanket; table is extendable
• Mon-Thu $28-$35; Fri-Sun, eve of PH & PH $38-$45
OUR THOUGHTS
Stepping into the glitzy lounge at The Cathay, we were ushered to our seats by an attendant who handed us a wet towel and explained how to use the chair. These leather babies allow for a near-horizontal recline, which more than make up for their slightly smaller width. And don't get us started on the blanket – it was more like a comforter – which made us feel as snug as a bug in a rug.

Not only is there a lamp with adjustable brightness, the table features two extendable surfaces. Factor in the side and back dividers that cocoon each pair into your own personal spot, and you get a pretty indulgent experience.
HONOURABLE MENTIONS
If you live in the west, try Cathay at West Mall. Outfitted in the last two rows of every hall is Elite Club ($11.50-$17), which offers leather seats with separate back and leg rest mechanisms. Or, if you're looking to snuggle, try the Ultima couple-sharing seats ($10.50-$16) at JEM and West Mall for a roomy (pseudo) private date.