D-BOX: A four-dimensional cinematic experience
Golden Village's new D-BOX experience offers a new spin on action movies. Benita Lee straps on for the ride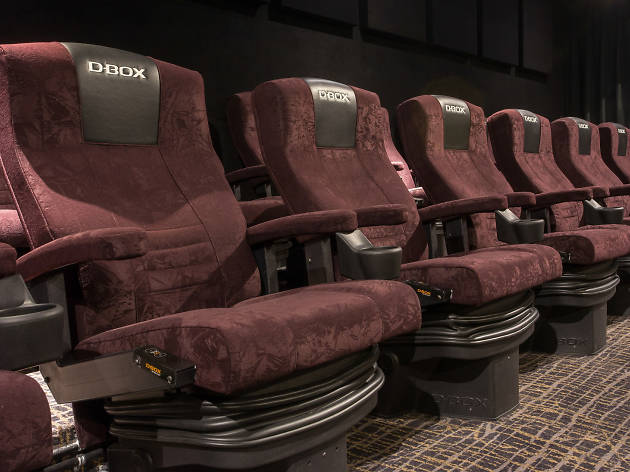 Ever wondered what it feels like to be part of an action scene on the big screen? To recoil from the impact of each punch or feel the vibrations inside a revved up getaway car as it speeds down the highway? The new D-BOX technology – premiered commercially in the US with 2009's Fast & Furious – aims to mimic just that with their sensory motion seats. And now it's here in Singapore, available exclusively in only two theatres at the recently-revamped Golden Village Bishan, having debuted in March for screenings of Need for Speed, followed by Marvel's Captain America: The Winter Soldier, Edge of Tomorrow, Dawn of the Planet of the Apes and more.

Taking up the last two rows of the theatre (not ideal for those who prefer closer views), the D-BOX seats are separated from the 'normal' ones by a spacious walkway, amounting to 16 seats per screening. This patented technology makes use of the D-Box Motion Code, developed by the Canada-based D-BOX Technologies Inc, which was founded in 1998 and known for designing and manufacturing motion systems for simulation or entertainment.

So how does it work? Each movement is specially programmed to a visual element, and the resulting signals are sent to a motion generating system in tune with a platform or a seat. It's still quite a novel concept, and only available for action-packed blockbusters pulsing with heaps of adrenaline. The D-BOX seats are slightly bigger (ie, more comfortable) and further apart than regular ones, and they immediately vibrate when you sit down to acknowledge your presence. But if you think you can sneak onto an empty one, it won't work – each individual chair moves independently and is only activated when its ticket is purchased.

On the right side of each seat is a controller for you to choose your preferred intensity, with four levels including completely motionless (if you get annoyed with the action). When you kick up a notch, the difference is slight, but the maximum intensity works well for those who love a good simulator ride, especially during action scenes (we heard initial murmurs of 'oohhs' and 'aahhs'). Otherwise, the vibrations can be pretty unpredictable, buzzing during small onscreen movements such as falling out of bed or even closing a door.

Overall, the vibrations and sensations follow three types of movements – subtle pitch, roll and heave – shifting you up and down, right and left, and front and back in perfect sync with the onscreen action. Sort of similar to a simulator, the manoeuvres are fascinating when things get fast-paced, and work well for those who tend to get fidgety during long movies; but instead of a first person perspective, it's a third person one. This comes off as slightly odd, because the pauses during conversations disrupt the flow, your seat sways when the camera pans for soaring wide angle shots (hello, vertigo) and you get all kinds of furious vibrations during fierce fight scenes.

Although there's a disclaimer for pregnant women, the elderly and those with any pre-existing medical conditions before you buy the tickets, the lack of any warning signs about consuming food and drinks was probably a precursor to how tame the experience actually is. However, if you're prone to motion sickness, we'd advise you to stay away from the munchies. It's a pretty unique experience, for sure, but it's not completely immersive – you feel like someone's shaking you for the most part while you watch the action unfold as a third party outsider. Compared to the thrill of a simulator, this feels more like a half-hearted attempt – if you're thirsty for adrenaline, you're probably better off on a rollercoaster.

Visit the GV Bishan website for screening updates. 2D: $11.50-$15.50; 3D: $14-$20.