Interview: Ho Wi Ding
Family rom-com 'Our Sister Mambo' is Cathay's first film in over a decade – we find out more from director Ho Wi Ding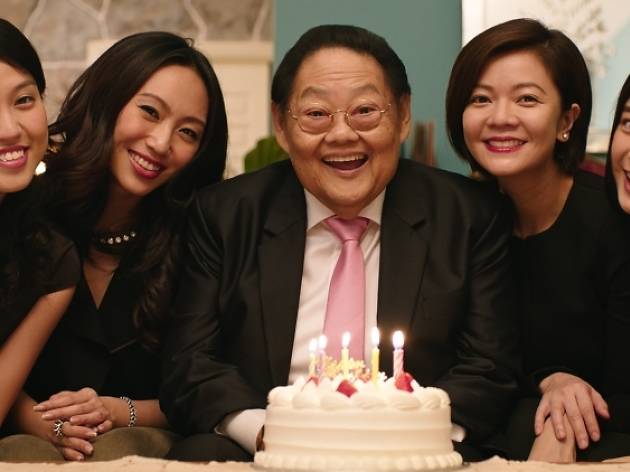 The cast of Our Sister Mambo reads like a who's who list of the Singapore entertainment scene. There's Moses Lim, who plays the patriarch of the Wong family. There's Audrey Luo, his feisty wife. There's Ethel Yap, Oon Shu An, Joey Leong and Michelle Chong as the Wong siblings, the latter of whom stars as the titular Mambo. And that's not mentioning musician Jonathan Leong, actress Siti Khalijah, jazz songbird Rani Singam and chef Willin Low. Phew.
Helmed by Taiwan-based Malaysian filmmaker Ho Wi Ding and written by veteran playwright Michael Chiang, the movie pays tribute to its inspirations: Cathay classics Our Sister Hedy (1957) and The Greatest Civil War on Earth (1961). The film, released in celebration of Cathay Organisation's 80th anniversary and Singapore's 50th, revolves around the middle-class Wong family and its four unwed daughters, delving into the intricacies of blood ties, love and cross-cultural relations. It's also Cathay's first production in 15 years, but no pressure there. Ho tells us why.
'Shooting "Mambo" was like coming home to make a movie'
What was it about the film that caught your interest?
Like many filmmakers, I discovered the magic of film when I watched Star Wars in the Cathay cinema in my hometown of Muar, Malaysia. The façade of the theatre is still there, even though it's now a warehouse that sells discount clothes.

Also, I come from a big family, and when I was young, I spent a great deal of time in Singapore during my school holidays, so shooting Mambo was like coming home to make a movie. Plus, I was curious about making an English-language film.
And call it karma or cosmic connection, but I made a short film several years ago, licensing from Cathay a clip of Ge Lan (Grace Chang) singing 'I Love Cha Cha' in her hit film, Mambo Girl. One year later, I got a call to direct a film referencing Ge Lan and Mambo Girl.
With such a huge cast, how did you guide them in the direction of your vision?
'When casting's done, 90 percent of my creative work is done,' said film director Robert Altman.
This was actually the case for us. The dynamics of this cast are awesome. I'm glad their performances turned out to be even and balanced, and they looked like they belonged in the same movie. Filmmaking is an art of compromise. My goal was to make the end result as close to the initial vision as possible. On Mambo, it's very close. I'm satisfied with the result.
'A comedy can make you laugh, then cry, then laugh again, all in one movie'
Seeing as this was a film of many firsts for you, what was your directorial approach?
This was the first time I got to work with the cast, and the first time I made a movie in Singapore. I walked into this project thinking it felt like my first feature or first student film – I didn't know any of them, and I didn't know what would happen.
I had to make sure people would laugh. It's a comedy, after all. And a comedy can make you laugh, then cry, then laugh again, all in one movie. Touching people is as important as making people laugh.
Is there a message that the movie delivers, or themes it addresses?
It's a tribute to a big family. I come from one, so I know how it feels to be living with so many people under one roof. I miss that kind of atmosphere. Now, big families are a rarity.
Look out for the dinner scene with Wu Dao (a character who comes from China) – this scene is 100 percent of what I had in mind and fleshes out all the themes. It's better than a mindless action sequence, and we had such a blast shooting it for 16 hours, with 60 set-ups, 13 pages of dialogue written, and two cameras on a dinner scene involving seven cast members and a Korean feast.
Our Sister Mambo is in cinemas from Jul 15.