Interview: Robert Downey Jr, Benedict Cumberbatch, Karen Gillan and Joe Russo
The cast of Avengers: Infinity War swooped into town to tell us about Marvel's latest superhero offering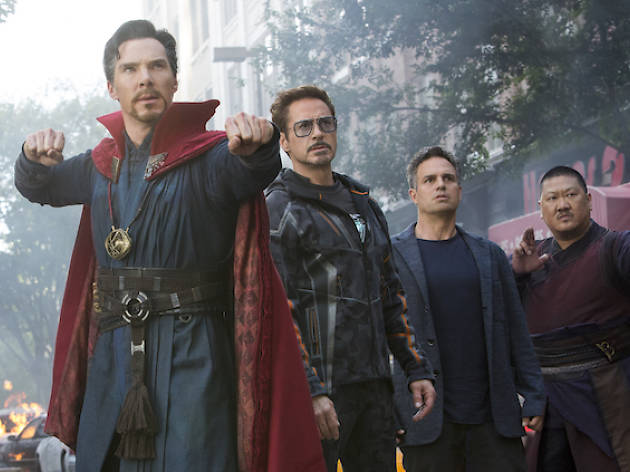 Ten year and 19 films later, the Marvel cinematic universe is only 'bout to get bigger and better. As the star-studded Avengers: Infinity War hit our screens on April 25 (and subsequently is all everyone can talk about), we got the chance to sit down with Robert Downey Jr (Iron Man), Benedict Cumberbatch (Doctor Strange), Karen Gillan (Nebula) and director Joe Russo during their press tour in Singapore last month to get the inside scoop on the superhero blockbuster.
First of all, welcome to Singapore! And also welcome back, Joe Russo. Last time you were here to promote Captain America: Civil War with #TeamCap. How does it feel to be back but this time with #TeamIronMan?
Joe Russo: It feels awesome to be back. I've honestly always supported #TeamIronMan. I was here previously with #TeamCap but only as a favour to Chris Evans. I love Singapore and the fans here are really just the best in the world. We're all just very happy to be here.
How does it feel to be part of a production that's been 10 years in the making?
Benedict Cumberbatch: It's intimidating when you step onto a set with a roster filled with iconic characters and actors. But then you go on about doing your day's work and forget about the number of films and the billions of dollars that go into the production, it just leads to being on set with the most talented directors, cast and crew.
Karen, how does it feel to be a villain that actually survives from movie to movie?
Karen Gillan: I'm honoured! I love playing Nebula. She initially starts off as a villain but then we learn more about her backstory and we question whether or not she really wants to be evil.
Robert, when you got cast for your role the superhero cinematic world didn't exist back then. Would you say it was a risk for you to take on the job as Iron Man?
Robert Downey Jr: Truthfully back then, I just needed a job badly. I really believed in Marvel comics and the first Iron Man movie was produced in a time when DC Comic movies were huge – they were supposedly the cool ones. So I thought we'd just do ours and we'd give them counter programming.
So where's Hawkeye in the movie?
Joe Russo: We didn't forget him! But there's only so many people you can put in one film and we have a really interesting story cooked up for Hawkeye. I'd say patience is a virtue.
Avengers: Infinity War is now showing in cinemas islandwide, including Golden Village and Shaw Theatres.
Film, Action and adventure
Summer arrives early in the frenetic, emotionally hollow first chapter of Marvel's epic cross-franchise concoction
More to explore