Interview: Royston Tan on '3688'
We chat with the filmmaker about his first feature film in seven years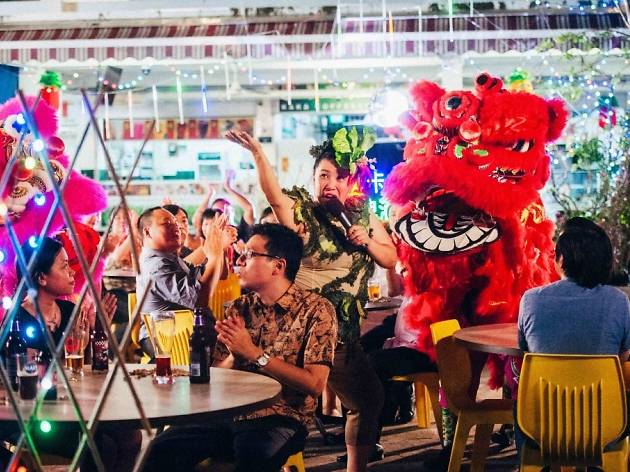 This has been a good year for Royston Tan. First, there was 7 Letters, in which the homegrown filmmaker played a huge part rounding up fellow notable directors for a medley of short films dedicated to Singapore. And this month, 3688 hits cinemas, starring local singer Joi Chua in her silver screen debut, rapper Shigga Shay and getai icon Liu Ling Ling. The nostalgia-tinged film revolves around a parking attendant who, despite her struggles with caring for her dementia-stricken father, dreams of becoming like her namesake, Taiwanese singer Fong Fei Fei.
'This year is the second anniversary for Fong Fei Fei's death, and I wanted to play a small part to commemorate that.'
Your previous films 12 Lotus and 881 were about getai performers. And with 3688, you were inspired by Fong Fei Fei. Why the interest in singers and performers?
Music plays a big part in my life. Naturally, I use singers in my films so that they can translate the emotions when they are singing into their acting.
Any particular reason you decided to release the film this SG50 year?
I didn't realise that it was SG50. This year is the second anniversary of Fong Fei Fei's death, and I wanted to play a small part to commemorate that.
Which is your favourite Fong Fei Fei song?
My favourite is 'Wo Shi Yi Pian Yun'. It's a simple song, but the lyrics speak to you in a profound way as you grow older. When we see clouds in the sky, we see that they are not bound by anything. But as you grow older, you will start to sense the need for stability.
Tell us about your decision to craft a story around a parking attendant, someone who isn't exactly well-liked in society.
I feel that the job of a parking attendant is one of the toughest. The more you excel in your job, the more people will hate it. It's a tough job and I think it's important people see the human side of these workers. It's also a job that will become extinct soon, as a lot of the car parks are changing their system to an automated one.
How was it working with Joi Chua on her acting debut?
It was a wonderful experience. I like working with someone whose base isn't acting, because then you will get to see the genuine emotions. She is hardworking and professional, and she draws from her real emotions when portraying the character.
What was it about her that led you to cast her?
Instinct. When I first saw her, I had a feeling that she would fit the role perfectly. She understood the struggle of becoming a singer and she was very moved when she first read the script.
How was the experience of shooting at Dakota Crescent?
It was rather challenging, as weather was not on our side. It rained almost every day we were there but it did not affect the mood of the team. The residents were very helpful, and the activity centre even switched around their karaoke sessions to help us.
Any memorable moments from the filming process?
There were a number of challenges – the weather, the budget. But it didn't stop us from working together to make the film. It felt exactly the same as 881. I saw the teamwork and hard work in both the talents and crew. During the process, all of us were comforted by the many songs of Fong Fei Fei. I have to say, this was one of my calmest shoots.
3688 is in cinemas from Sept 17.