Interview: the cast of Crazy Rich Asians
Local stars Fiona Xie, Tan Kheng Hua and Pierre Png tells us about the Hollywood blockbuster, backstage shenanigans and the craziest things about their co-stars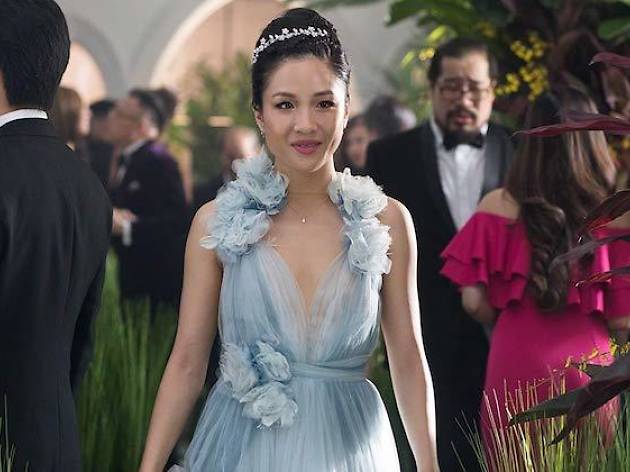 Based on the best-selling novel of the same name by Kevin Kwan, Crazy Rich Asians is making waves around the world, giving us exactly what we need: a refreshing Hollywood blockbuster with an all-Asian cast, a feat not accomplished since The Joy Luck Club. As the title suggests, the rom-com oozes over-the-top decadence and revolves around wealthy Asians. It follows a Monster-in-Law-esque narrative about Rachel Chu (played by Constance Wu) and her rocky relationship with her Singaporean boyfriend Nick Young's (played by Henry Golding) family.
The film has paved way for rising stars, including our local actors. We chat with the real Singaporeans Fiona Xie, Tan Kheng Hua and Pierre Png on what they love about the Motherland, being a part of Crazy Rich Asians, and the craziest thing their co-stars have done.
RECOMMENDED: The Crazy Broke Asians guide to Singapore and we try to spot all the Singapore landmarks in the film
As Crazy Rich Asians is set in Singapore, tell us what you love about the city.
Fiona Xie (FX): The efficiency, the glorious landscapes, the mouthwatering food and its future-forward culture.
Tan Kheng Hua (TKH): I love the efficiency and organisation that Singapore is famous for. And the Wi-Fi works really well.
Pierre Png (PP): The fact that there are still so many tourist attractions like the soon-to-be refurbished Raffles Hotel, Gardens by the Bay, Esplanade Park and the closed-off streets on the weekends like Ann Siang Hill and Liang Seah Street that I have yet to visit. Man, I seriously need to find time to be a tourist in my own country real soon!
Tell us about your role in Crazy Rich Asians.
FX: I play Kitty Pong, a Taiwanese star with Amy Winehouse hair and Cardi B sass. The life of a party, she's the 'pretty woman' of our generation who's also funny. I'm always first in the makeup chair and the last to leave set because of my elaborate get-up.
TKH: I play Rachel Chu's immigrant single mother from mainland China, Kerry. I read the first novel before there was even a whisper about the movie. It's wonderful to understand and identify with the characters Kwan created. Having said that, I really have so much in common with Kerry. Like her, I have a superb relationship with my daughter whom I share a really unusual bond with.
PP: I play Michael Teo, an ex-military man. He is strong in everything he does. His only weakness is his pride, and his love for his wife Astrid (played by Gemma Chan) is unquestionable. Unfortunately, living up to the Joneses is not his cup of tea. Preparing for the role took a lot of discipline and physical training. Thankfully, Warner Brothers invested in a trainer to get me into shape and put me on a strict high protein diet.
How does it feel taking on the global stage?
FX: It's beyond my wildest dreams to be part of this family and this success, and for it to span so many counties. I am greatly honoured and humbled.
PP: It's a dream come true! Every actor hopes to make it beyond his or her shores and to become recognised on an international stage. This has allowed me to believe that I am capable of so much more and that there is still so much out there to learn, feel and do as an actor.
How do you keep your cool and stay professional?
FX: It's all about team effort and having a common goal of wanting the best for the film. It's something much greater than ourselves.
TKH: I commit to this project like how I commit to all my projects – keep your blinkers on and concentrate on what is in front of you with the same energy no matter the proportion of the project. When you choose to say yes to a project, the project and all the people in it deserve your best.
PP: I love what I do and I take the craft seriously. In every role I have played, I have given more than my 100 percent. Whether you're a local or Hollywood star, you are expected to perform and perform well, so I keep myself in check all the time.
It's refreshing to see an all-Asian cast on the silver screen. How does it feel working with an all-Asian cast from all around the world?
FX: It's interesting to share stories of different struggles and benefits. It's amazing to have a team love each other like this – as if our summer camp video went viral.
TKH: It's fantastic to work with not just the all-Asian cast but with the entire international village it took to make this movie. I learned so much. The director (Jon M Chu) is brilliant. Despite his youth, he is stoic, generous, clear and insightful in his direction and people management. We all became a family and we are still close even a year post-filming.
PP: Tremendously refreshing! We may all be Asians but we grew up in different reaches of the globe, went to different acting schools, some of us are more Westernised than others. So, there was much to learn from each other and much to laugh about!
Tell us one quirk about your co-star(s) that we don't know about.
FX: Ken Jeong hogs all the space in the group chat and gives me laughing fits. Jimmy O Yang is the king of Tasty Noodle House and likes to order food enough to feed a small nation. Remy is trigger happy. He takes amazing photos and is also ace at computer games. We constantly tease Chris for being chiseled and handsome because of his low-sodium diet. Jon Chu uses water bottles to represent us while doing camera flow work in his hotel room the night before a shoot.
TKH: My brilliant co-star and fellow Singaporean actress Janice Koh is an expert in Ashtanga Yoga and can put her ankles behind her head with ease.
What's next in store for you?
FX: Prepping for the sequel!
TKH: I am producing several really fun and interesting projects for Uniqlo Singapore, The Substation and The Arts House.
PP: My manager is in talks with a few offers that have come in from the US, so I'm just as excited as you to know what's in store for me next.