A quick guide to… Hawker dishes
We round up ten 'die, die must-try' local dishes found at hawker centres and where we get our fix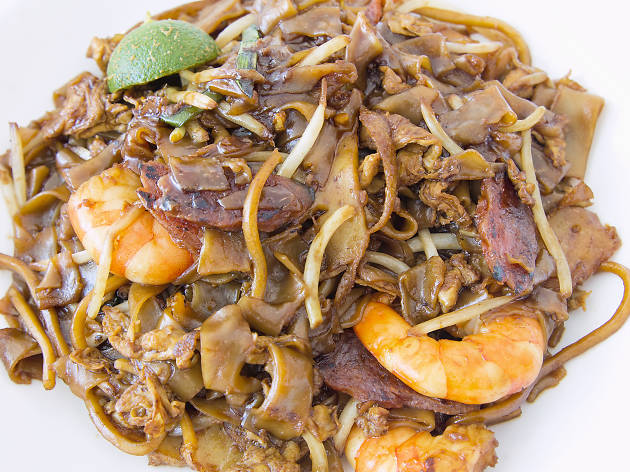 Dark, glistening stickly tangle of flat rice noodles fried in lard, black sauce and lashings of chilli sauce, tossed through with egg, cockles, lap cheong (Chinese dried sausage), fishcake and bean sprouts. This is definitely not for the diet-conscious, but it is worth breaking the calorie bank for.

Try it at Hill Street Char Kway Teow #01-187 Bedok New Town & Food Centre, Blk 16 Bedok South Rd. MRT Bedok Tue-Sun noon-4pm, 6-10pm. $3. Hai Kee Char Teochew Kway Teow #01-102 Telok Blangah Crescent Market and Food Centre, Blk 11 Telok Blangah Crescent. MRT Telok Blangah. Mon-Sat 5- 10pm. $3. No. 18 Fried Kway Teow #01-17 Zion Riverside Food Centre, 70 Zion Rd. Take a taxi. Wed-Mon 7-11pm. From $3.
Carrot cake (Chai tao kway)
This salted white-radish dish (it contains not a smidgeon of carrot) is fried with a 'cake' with eggs, garlic and spring onions, available 'white' or 'black' – the latter comes flavoured with sweet black sauce. A good rendition should be crisp on the outside and soft on the inside.

Try it at Ah Heng Carrot Cake #01-28 Newton Food Centre, 500 Clemenceau Ave North. MRT Newton. Daily 6pm-2am, closed alternate Tue. $4. Song Zhou Luo Bo Gao #01-18 Bedok Interchange Food Centre, 207 New Upper Changi Rd. MRT Bedok. Mon-Sat 6.30am-8pm. $2.50. Fu Ming Shu Shi #01-49 Redhill Food Centre, 85 Redhill Ln. MRT Redhill. Mon-Sat 3pm-1am, Sun 6am-1pm. From $2.
It's hard to resist aromatic coconut milk-infused rice, made all the better by adding a fried egg, crisp anchovies and sambal (chilli sauce).

Try it at Mizzy's Corner #01- 55 Changi Village Food Centre, 2 Changi Village Rd. MRT Pasir Ris. Daily 7am-4pm. From $3.50. Ponggol Nasi Lemak Outlets including 965 Upper Serangoon Rd. MRT Kovan. Fri-Wed 5.30pm-3.30am. From $4. Selera Rasa Nasi Lemak Stall #2 Adam Road Food Centre, 2 Adam Rd. MRT Newton. Daily 6.30am-9.30pm. From $3.
These little bowl-shaped steamed rice cakes are topped with aromatic diced chai poh (preserved radish). Soft cakes and the flavour-packed topping mean umami bombs in the mouth. Delightful.

Try it at Ghim Moh Chwee Kueh #01-31 Ghim Moh Market and Food Centre, 20 Ghim Moh Rd. MRT Buona Vista. Daily 6.30am-7pm. $2.40. Jian Bo Shui Kueh #02-05 Tiong Bahru Market, 30 Seng Poh Rd. Daily 8am-10pm. $2. Authentic Tiong Bahru Chwee Kueh #02-62 Tiong Bahru Market, 30 Seng Poh Rd. MRT Tiong Bahru. Daily 8am-10pm. $2.
Wrapped in opeh (a type of palm leaves), this is a lard-fried dish of thick yellow egg noodles, rice vermicelli, seafood stock, pork, seafood and beansprouts. Best eaten with a squeeze of lime and lots of sambal belacan (chilli sauce) on the side.

Try it at Nam Sing Hokkien Fried Prawn Mee #01-32 Old Airport Road Food Centre, Blk 51 Old Airport Rd. MRT Mountbatten. Daily 11am until sold out. $3. Yong Huat 125/127 East Coast Rd. Take a taxi. Daily 8am-8pm. $4. Geylang Lor 29 Fried Hokkien Mee 396 East Coast Rd. Take a taxi. Tue-Sun 11.30am-9.30pm. $5.
This soybean dessert is favoured for its smooth, silky and melt-in-the-mouth texture. Traditional tau huay is served warm and flavoured with sugar syrup (order fried doughsticks to go with it); modern versions see the dessert (like at Lao Ban) served in chilled, pudding form. Both are equally good.

Try it at Rochor Original Beancurd 2 Short St (6334 1138). MRT Bugis. Daily noon-midnight. $2. Beancurd City Outlets including 133 Jalan Besar (6296 9058). MRT Bugis or Little India. Daily 11.30am-midnight. $2. Lao Ban Soya Beancurd Outlets including #01-127 Old Airport Road Hawker Centre, 51 Old Airport Rd (8181 2201). MRT Mountbatten. Tue-Sat 11am-8pm, Sun 1.30pm-8pm. $2.
The dish that celebrity chef Gordom Ramsey failed to win judges over at the Singtel Hawker Heroes Challenge last year is also one that has local foodies painfully divided. A whole chicken is poached till tender, and then served on a plate of glistening rice with dark soy sauce and chilli on the side.

Try it at Hainanese Boneless Chicken Rice #01-15 Alexandra Village Food Centre, 120 Bukit Merah Ln 1. MRT Queenstown. Mon-Sat 10am-8pm. $3. Tian Tian Hainanese Chicken Rice #01-10/11 Maxwell Food Centre, 1 Kadayanallur St. MRT Tanjong Pagar. Tue-Sun 11am-8pm. From $4. Hainanese Delicacy #05-116 Far East Plaza, 14 Scotts Rd. MRT Orchard. Daily 11am-8pm. From $4.
Cantonese-style barbecued pork slicked in a sticky sweet, glistening sauce, served with white rice and sliced cucumber on the side. The best meats are tender, smoky and full of flavour.

Try it at Kay Lee Roast Meat Joint 125 Upper Paya Lebar Rd. MRT Paya Lebar. Thu-Sun. 10.30am-6pm. From $10. Lau Phua Chay Authentic Roasted Delicacies #01-20 Alexandra Village Food Centre, Blk 120 Bukit Merah Ln 1. MRT Queenstown. Mon-Fri & Sun 11am-7pm. From $4. Fatty Cheong #01-120 ABC Brickworks Food Centre, 6 Jalan Bukit Merah. MRT Queenstown. Fri-Wed 11am-8.30pm. $5.
Minced meat, meatballs and dried mushrooms tossed through yellow noodles, with more indulgent stalls adding handfuls of fried lard. Available 'dry' and tossed in vinegar-laced sauce, or served in broth (like at Xing Ji).

Try it at Xing Ji Rou Cuo Mian Stall 7 Fengshan Food Centre, 85 Bedok North St 4. Take a taxi. Tue-Sun 5pm-1am. From $3. Yan Kee BK Eating House, 21 South Bridge Rd. MRT Clarke Quay. Mon-Sat 24 hrs. From $3.50. Hill Street Tai Hwa Pork Noodles #01-12 Tai Hwa Eating House, 466 Crawford Ln. MRT Bugis. Daily 9.30am-9pm, closed every 1st and 3rd Mon. From $5.
Slippery noodles, prawns, fishcake, eggs and cockles swim in a bowl of spicy coconut broth. It's creamy enough to tamper the heat from the chilli paste, but that may not stop the sweat beads from rolling.

Try it at 328 Katong Laksa 51/53 East Coast Rd. Take a taxi. Daily 8am-10pm. From $5. Marine Parade Laksa #01-02 Blk 128 Bedok North St 2. MRT Bedok. Daily 9am-5pm. From $3. Depot Road Zhen Shan Mei Claypot Laksa #01-401 Fine Taste Kopitiam, 119 Bukit Timah Ln 1. Take a taxi. Mon-Sat 9am-3pm, 6pm-8pm. From $4.