Advertorial: HENDRICK'S elixir for the cocktail-serious
All you need to know about the new cocktail ingredient from HENDRICK'S, a cordial called Quinetum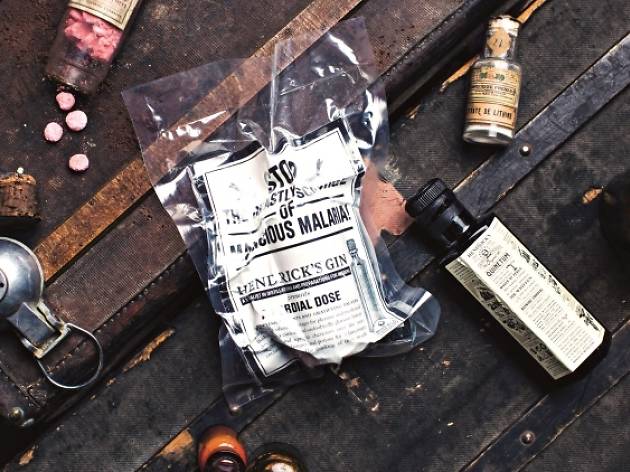 Advertorial
Presenting HENDRICK'S Quinetum – the gin brand is introducing a new cocktail ingredient that's just as quirky and goes through the same flavour cartwheels as its forebear.
As its name suggests, Quinetum's main ingredient is quinine, the old-timey cure for malaria that British soldiers used to quaff back when colonies were still a thing. But this ain't no medicine. Quinetum is a complex quinine cordial, designed to be a bartender's 'tinkering tool' that can be used similarly to bitters: to add perfume to a cocktail, or lengthened with soda water in a G&T.
A RARE THING
Created by HENDRICK'S Gin Master Distiller Lesley Gracie, the 4 percent ABV cordial is an evolution of the brand's earlier attempt at a quinine cocktail, Battersea. Portfolio Brand Ambassador Zachary Connor de Git shared that after its trial, it was evident that Battersea was more popular among bartenders for use in their cocktail creations, and so Gracie experimented with more botanicals – including lavender, wormwood and holy thistle – to strike the right balance for everyone. Despite the bitterness of quinine, Quinetum is balanced, thanks to the botanicals and the velvety mouthfeel of glycerine. A first whiff of the cordial brings up hints of orange and subtle lavender underneath; these complement the signature citrus and floral notes of HENDRICK'S Gin.
'When you taste it, the wormwood and holy thistle give a deep, bitter and green flavour to suit the quinine and balance the citrus,' explains de Git. 'Which, when mixed with HENDRICK'S Gin, works in wonderful ways with the caraway seeds and cubeb berries.'
And sorry, all you bedroom bartenders – Quinetum isn't available on retail shelves yet. The first batch yielded 4,000 bottles, which HENDRICK'S gifted only the top bartenders around the world, including a few in Singapore, for them to experiment with in their cocktails.
'We have always said "small is beautiful", and so it is with Quinetum,' quips de Git. 'Hopefully, after the success of the first batch, we'll be able to announce subsequent batches.'
MAGIC POTION
At the Quinetum launch event last month, botanist Matti Niisalo ran through the botanical history of quinine, which was still being used as medicine as late as the '40s. According to Niisalo, quinine kills the malaria parasite, works as a muscle relaxant and alleviates a fever. In the 1850s, doctors would give a tablespoon of bitter quinine powder to British soldiers in India every day to stave off the disease.
But that's exactly how the humble G&T took form, says de Git. To make the quinine powder more palatable, servicemen were handed a daily ration of gin. It took just one savvy drinker to mix the gin, quinine powder, water and a dusting of sugar – effectively, the world's first G&T. Even when citrus was added to the mix years later, it was for medicinal purposes: to protect the troops from scurvy.
Didn't think your G&T was that complicated, eh?