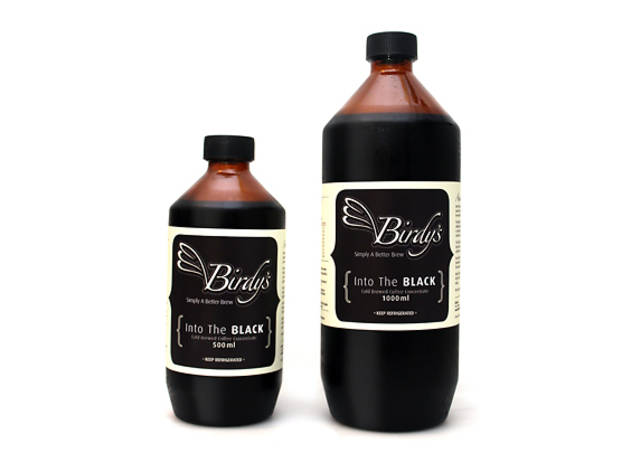 Java jolts on delivery
After giving whisky drinkers a second wind at its debut at Whisky Live 2014, coffee-on-delivery service Birdy's Brew goes online. Founder Stefanie Goh – her parents nicknamed her 'Birdy' after her incessant talking as a kid – cold brews her java over 24 hours, then filters and bottles the black gold before shipping it off to your doorstep.
The flagship bottle ($19.90/500ml; $31.90/1-litre), Into the Black, is a concentrated blend of Colombian and Sumatran beans, which Goh says is up to 70 percent less acidic (and therefore more tummy-friendly) than regular coffees – yet it's no less punchy. While the fortifying, dark chocolatey stuff can be watered down for a simple post-lunch jolt, Birdy's website also lists drink recipes that incorporate her Organic Hazelnut ($16.90/250ml; $29.90/500ml) and Organic Orange ($16.90/250ml; $29.90/500ml) flavour concentrates, made with organic raw sugar. All bottles can be kept for up to 17 days refrigerated.
Goh eventually hopes to have her coffee used in cocktails around town – and we certainly see it working well with a peg of whisky, or in Birdy's drink of choice: espresso martinis. See her website for a special Time Out Singapore concoction of Organic Orange concentrate, Into the Black and espresso-frozen ice cubes.
Order a bottle or three at www.birdysbrew.com.
| | |
| --- | --- |
| Venue name: | Birdy's Brew |
| Address: | Singapore |
| Do you own this business? | |