Interview: Jeremy Chua
Recently promoted to head bartender at 28HKS, Jeremy Chua tells Natasha Hong what's in store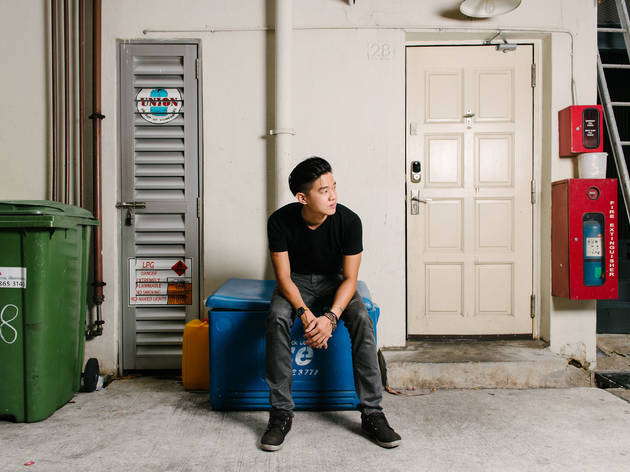 Having groomed their share of local bartending talents since their launch in 2012, 28HKS has stayed true to their original tenant of developing the Singapore bar scene, cultivating and mentoring a loyal crop of local mixologists. Among the members of their long-standing team is 24-year-old Jeremy Chua, who they've recently tapped as their new head bartender, following in the steps of the bar's senior members Michael Callahan, Zdenek Kastenek and Joe Alessandroni (who now devote most of their time to 28HKS' distribution wing, Proof & Company). It's a major step up for the local boy, who joined 28HKS shortly after its opening and worked his way up.

Like many other local barmen, Chua got his start pouring Singapore Slings, lychee martinis and Sex on the Beach cocktails at various bass-pumping dives around town just as a way of earning a bit of extra dough on the side. But it was only after joining 28HKS that he began his real bar education, progessing to ingredients like craft vermouths, volcanic salts and garden- grown herbs. We met up with the clean-cut youngster to hear more about what he's got planned as he continues to hone his craft as head bartender.

What got you interested in bartending?
Working in the food and beverage industry has always been a way to earn an income for me since I was young. But after working in a kitchen for a couple of months, I realised that I loved working behind a bar the most. It's like the best of both worlds there – you get to create something, and you get to talk to customers, which is what I really like. If there's one thing I learnt at my trip [with 28HKS] to Tales of the Cocktail [an annual bar industry conference in New Orleans], it's that bartending is 50 percent knowledge on how to make your drinks, and 50 percent hospitality.

You've been at 28HKS since nearly the beginning – is there a reason why you've stuck around, especially given how high turnover is in the industry?
I had always been interested in mixing drinks, but never found someone who could teach me. My cousin found out about this place and told me they were looking to hire, so I came down for an interview with Michael. We had a chat, he asked me about my background, and after that he was like, 'All right, cool. Just come in on the weekends, do your shifts.' I started as a bar back, then worked my way up in the bar. I think the reason why we [bartenders Peter Chua and Leo Tanemo, who also joined 28HKS early on] have stayed on was because Michael was a good mentor. We call ourselves the three disciples of 28, and we've never found a reason to leave. A lot of bartenders are still searching for their bar, but for us, we've pretty much found the bar – our bar.

What does the head bartender role at 28HKS mean to you?
I found out about the job at the start of the year, and was initially excited and scared. Des [28HKS' front of house manager] and I talked about it and we agreed to do this together as a team effort. We've both been here from the start. We've been bred here, and we're moving forward.

Being the head bartender doesn't mean that there will be many changes at the bar, though. My job is to make sure everything's working the way it should be, that the standards are being kept up, and to me, my priorities are in the hospitality and service here. Being head bartender also doesn't really mean that all my drinks will automatically get in the menu now [laughs]. I'll still have to pass a ten- judge panel tasting at the bar.

One of the things you've started is a new secret bar competition at 28HKS – what's that about?
We run a monthly competition by, for and against bartenders at 28HKS. Ten bartenders compete to make a creation based on a theme: you make your drinks, then bring it up to the judges. The best drink wins $280 sponsored by 28, and then the occasional bottles of spirits sponsored by the industry. We call it The Bartender's Allowance and hold it on the last Monday of every month because, you know, people tend to go broke at the end of the month. It's all about giving local bartenders a chance to win a financial pick-me-up by making the best drink at our competition, and a way for local bartenders to gather, compete and make drinks for fun.

We caught the first round in March and it was really fun!
Yeah, I couldn't be happier with the turn out and the crowd. Everyone was cheering their friends behind the bar, and I hope it's like that every month. A lot of people were sceptical about the competition in the beginning as it wasn't clear what it was about, but the first round really got people excited, and they've been calling dibs on spots for the next rounds. Everyone's happy to compete on a more friendly level.

What does it mean to be a bartender in Singapore now?
I always saw it as a job, but now, it's a profession. When we have guest bartenders from the region come to Singapore, one thing they always say about us is, 'I can't imagine how united you guys are.' We're not necessarily a gang of Singaporean bartenders, you know? But everyone's friendly to each other, and everyone's always happy together. People are starting to take us seriously too, and it's no longer a case of, 'Oh. [deadpans] You're a bartender,' but more like, Oh! You're a bartender!' You hear the difference when people realise you're a bartender. It's legit now.

Does that help you with the ladies?
Oh no, it means my mom is proud!

Find Jeremy behind the bar at 28 Hongkong Street and at The Bartender's Allowance on every last Monday of the month, 7.30pm.