Sunday Punch
Up your game at house parties with these pre-made cocktails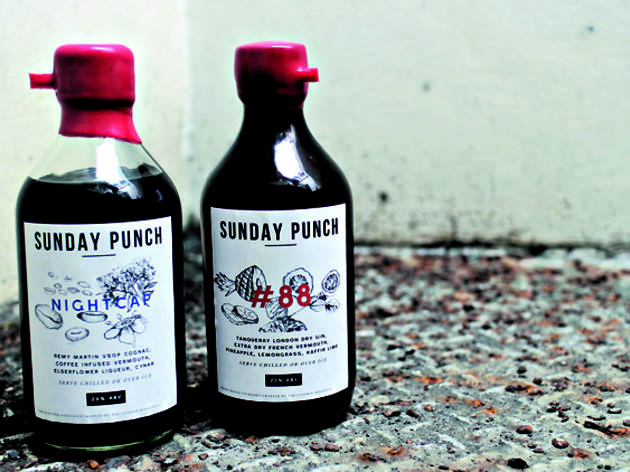 Put back that six-pack of watery beers or the cheap Argentinian wine you were about to pick up at the supermarket. At your next BYO barbecue or house party, up your drinks game with a handsome bottle or two of these pre-made cocktails.
Sunday Punch, set up by men's magazine editor Mark Tay and his partner Yap Hwee Jen – she has more than ten years' experience working for drinks companies – put together bar-worthy cocktails that you can take home and sip. The wax-sealed 500ml bottles, with their hand-sketched labels, pack about eight to ten good servings of cocktails tinkered and tailored at one of the city's cocktail bars. Plus, they've been road-tested with un-fancy barware and ice – just like how you might drink it at a house party.
The cocktails on offer alternate between spirit-forward mixes like the musky Nightcap ($75) – cognac, coffee-steeped vermouth, elderflower liqueur and artichoke Cynar – and refreshing gin-based #88 ($68), with pineapples, lemongrass and French vermouth. The pair also added a ruby-hued Bramble B ($75) rich in raspberry-ish Chambord, Tanqueray and citrus to the line-up at the end of April. More flavours are in the works, so keep tabs on the website for updates.
It's all good fun tilting your head to pour out that exacting jigger of tequila, and hearing ice rattle about in your shaker. But unless you have a well-stocked bar to mix drinks, you'll probably find yourself falling back on a bottle of Sunday Punch to help you and your friends drink better cocktails at home.

Order online at drinksundaypunch.com.