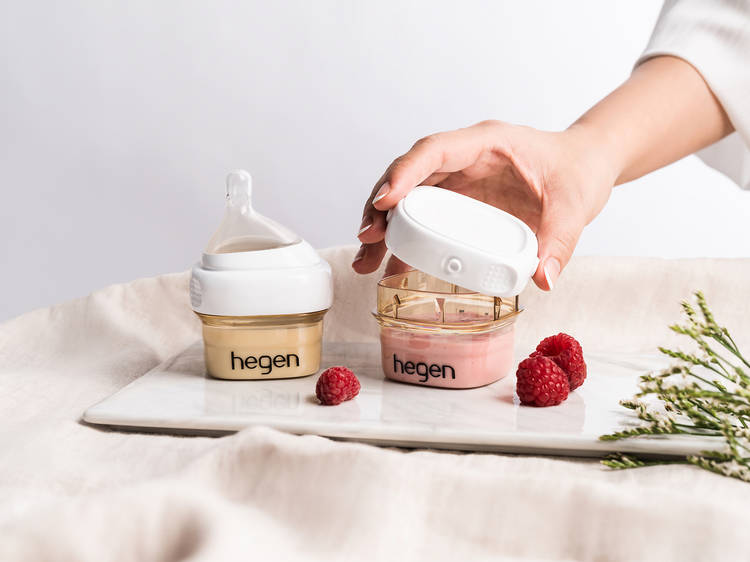 Photograph: Hegen
A mum on a mission: Hegen
Yvon Bock started her breastfeeding journey 16 years ago, and struggled with over 10 separate baby care products just for expressing, storing and feeding her breast milk. Armed with years of experience and the calling to help other new mothers, she set out on her mission to develop a revolutionary breastfeeding system, thus Hegen was born.
"I started thinking about creating an integrated system of baby products that can express, store and feed through a singular bottle, which forms the cornerstone of Hegen today," she says. What started as a self-funded, bootstrapped company in 2015 has gone on to win numerous awards including the Singapore Good Design Mark 2019, SuperMom Award 2018, 2020 Stevie Awards and more. Hegen was also selected as the first and only Singapore brand to be on Alibaba's 11.11 shopping festival year on year since 2017, reaching out to a larger customer base beyond physical stores.
In fact, the company invented the world's first Sqround™ (Square-Round) feeding bottle with no screw thread, and instead featuring a super-soft off-centre elliptical teat designed to prevent nipple confusion and colic. The foolproof interchangeable lid also uses a seamless feeding system that reduces wasteful transfer and spillage. Another invention is the world's first massaging breast pump that draws inspiration from TCM cupping to help boost circulation and relieve engorgement.


Yvon's advice to aspiring entrepreneurs? "Stay humble and never give up. Starting a new business is always a risk but having strong support from your work family and at-home family, plus having a positive attitude, is key to running a successful company or brand. It is not about the amount of resources we have but how resourceful you and your team are to stay nimble and agile to navigate through tough times."
WHAT TO BUY First-time mothers should invest in a complete starter kit ($150), which allows mums to express, store and feed within a single container with no wasteful transfer of milk. All you have to do is attach the breast pump to the adapter to express directly into the Hegen PCTO Breast Milk Storage PPSU, then swap the lid with a Hegen PCTO Breast Milk Storage Lid, instantly converting it into an air-tight storage container. hegen.com and Shopee