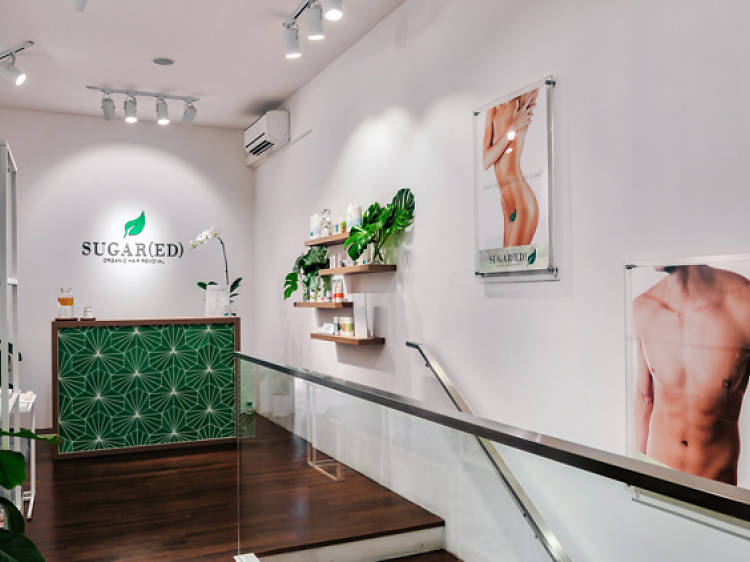 (Almost) painless hair removalWhat it is
An ancient Middle Eastern hair removal technique that uses a warm, thick paste made from sugar, lemon juice and water. Sugaring claims to be a sweeter deal compared to waxing: its all-natural ingredients don't adhere to live skin cells, which minimises – if not completely eliminates – the formation of dreaded ingrown hair.
How it feels
Sugaring is simpler than it sounds: a warm, honey-coloured paste, imported from the US, is applied in the opposite direction of hair growth before it's stripped off in the reverse direction. This removes the hair from follicle with the bulb intact. It's almost like waxing, except with sugar paste.
Owner and 'sugarist' Jasmine Yong expertly executed each stroke across my lower legs, pressing down on the sugared areas to relieve pain, all the while without breaking conversation. The procedure was repeated on my bikini area and underarms, and ended with a complimentary Hungarian mud mask.
I'll be honest: ripping hair out at the root is bound to be painful. But sugaring doesn't sting as much as waxing, and the second time around – yes, I went back on my own terms – was far more comfortable.
Verdict
I relished in almost three weeks of dolphin-smooth skin, and hair regrowth was finer, smoother and slower. The sugared areas were also brighter, especially on my kneecaps, and here's the clincher: no ingrown hair. An organic hair removal method that's less painful, brightens my skin and is eco-friendly on top of that? Consider me a convert.
Price
$60 for Brazilian (first-timers only), $25 for underarms and $45 for lower legs.