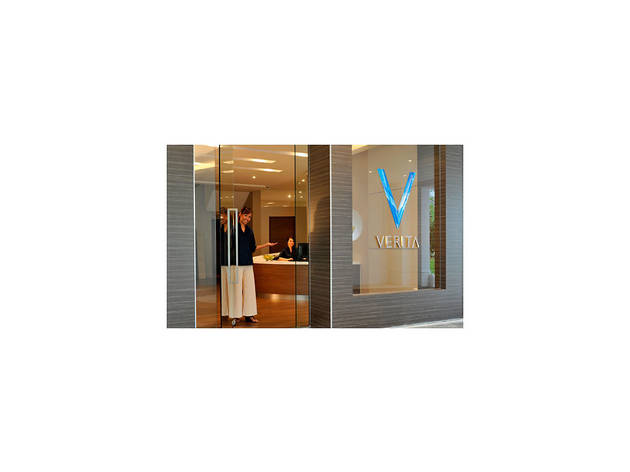 Suffering from sick building syndrome? We'd normally recommend a taxi ride to Changi Airport, and the next flight to Phuket or Bali; but if that's not possible, we'd still tell you to board a taxi – just ask the uncle to bring you to Phoenix Park.
That's where Verita Advanced Wellness has opened Asia's first 'salt cave' – a 14 sq m all-white, windowless, low-ceiling chamber with a machine that spews tiny negative-ionised salt particles. Halotherapy, as this is called, alleviates respiratory illnesses such as asthma, and skin allergies like eczema.
Now if the thought of smelling like the sea puts you off – the centre's aromatherapy bar creates a bespoke scent for you using therapeutic-grade oils. Consultant Jennifer Pressimone, who owns JennScents in the US, sat all of us down in one room and asked us to rank her library of essential oils.
'If you can't smell the oil, you must have deep emotional stuff going on,' Jennifer told us. She gave each of us a vial of our personalised scent, with an explicit instruction that we use it whenever we felt down, harassed or unfocused. It's happiness in a bottle.
Verita has gathered naturopaths, nutritionists, herbalists and TRX practitioners to help oversee their menu of services, which includes flotation tank therapy, neurofeedback (used to condition salespeople) and a healthy zap of high-powered cold laser.
Verita also offers yoga and Pilates classes, as well as four kinds of massages. There's lymphatic drainage; deep tissue; aromatherapy; full spectrum infrared sauna; and cranial sacral therapy, a healing technique focusing on the soft tissue of the head and the length of the spine. But unlike a hotel spa, it suggests that you first take machine-assisted assessment tests to determine what your body really needs, so they can instruct the therapist to focus on problem areas.
Try out the dishes at Café 308, which emphasises low-calorie healthy foods. James Ong
Venue name:
Verita Advanced Wellness
Contact:
Address:
Phoenix Park (former Ministry of Home Affairs)
308 Tanglin Rd
Singapore
247974

Opening hours:
Daily 9am-9pm
Do you own this business?