A mum's guide to the Children's Biennale at National Gallery
This kiasu mum brought her boy to the Children's Biennale at National Gallery Singapore three times over the course of a week – here's why. By Esther Tan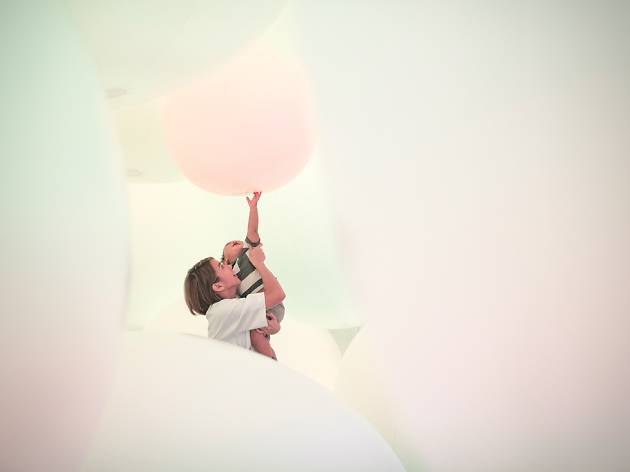 In the queue to enter the Yayoi Kusama installation in the Gallery Children's Biennale, my 18-month-old son suffered a meltdown. Not for anything else but impatience – Orion couldn't wait to check out the Japanese artist's technicoloured room filled with polka dots. The tantrum was worth it, though.
When he finally got in, Orion couldn't keep his hands off the artworks. It was just one of many installations that entranced him, so much so we visited the gallery thrice in a week – never mind that the children's art festival will be on until October 8. But if you've only got an afternoon to spare with your kids, these are the exhibits you shouldn't miss.
Photo: Vamos Photography
Homogenizing and Transforming World
Balls are definitely Orion's thing, so this installation by Japanese art collective teamLab came up tops. His face lit up the moment we stepped into the room that gently pulsated with light and sound, wriggling out of my arms to boyhandle the large translucent orbs littered across the space. It was almost like a nightclub for preschoolers.
Photo: Vamos Photography
The sight of the kaleidoscopic room from outside was enough to send Orion into a frenzy. The installation is fashioned after a living room, entirely painted in white, on whose furniture visitors are encouraged to paste colourful circular stickers (they're included in the $5 Art Pack – totally recommended). Except my son preferred running around, peeling off other kids' stickers and rearranging them wherever he saw fit.
Photo: Vamos Photography
This was where Orion couldn't help but let out his inner bully. The installation, by local artist Ian Woo, comprised foam shapes large and small that children were meant to assemble into makeshift forts and towers. So Orion naturally bumbled around toppling other kids' handiwork – not so cool.
Photo: Vamos Photography
It was hard to miss this beautiful artwork by Tran Trong Vu along the walkway of the gallery's Court Foyer. The installation mimics a garden of blue and orange flowers, with arches and tunnels for the kids to crawl through. As he tried yanking out the artificial blooms (thankfully, he wasn't strong enough), I took the time to read the stories and poems, all penned by children, that were written on the flowers.
Photo: Vamos Photography
Keppel Centre for Art Education
Although this was our final stop, I've a feeling we'll be back soon to explore this space again. There are five zones in the centre that showcase a range of kid-friendly installations. We only managed to let Orion explore the Project Gallery, currently exhibiting The Blue Who Swims All This Way by artist Betty Susiarjo. He went all-out in this shimmering, whimsical world of huggable sculptures. I, on the other hand, took the chance to take a well-deserved rest in one of the installation's little nooks while keeping an eye out for my little energiser bunny, who used up the last bit of his energy hopping on faux tree stumps and grabbing dangling tentacles hanging from the walls.