Interview: Peter Moore on SSO Babies' Proms
Got jumping beans for kids? Steven Ang recommends you take them to the SSO Babies' Proms, a concert where the little tykes can hop around all they want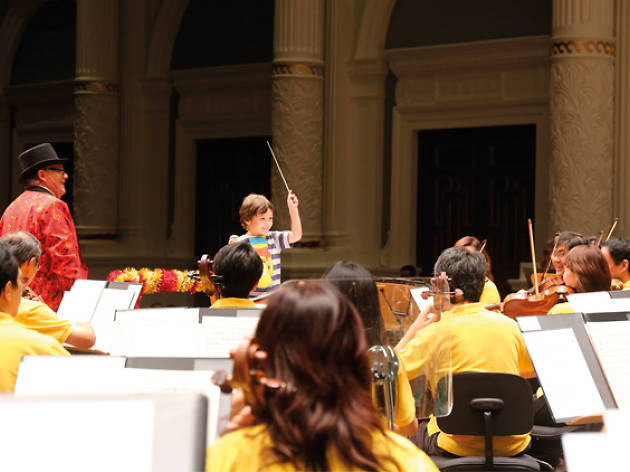 The annual Babies' Proms by the Singapore Symphony Orchestra (SSO) is one of the hottest tickets in town, selling out shows since it was first staged 13 years ago. Led by 65-year-old Peter Moore, otherwise known as Uncle Peter, the Babies' Proms has introduced kids to the joys of classical music by encouraging them to clap, dance and even get up onstage to conduct the live orchestra. Moore tells us more.
'The audience is always changing, as babies have a habit of growing up.'
This year's edition of the SSO Babies' Proms is in its 13th year. What are your thoughts about this accomplishment?

I think that 13 years with the SSO and 29 years with my youth orchestra adds up to a lot of 'Baby Prommers'. What is amazing is the number of people who came to Babies' Proms back then are now bringing their own children.
They tell me what they remember: it's often sound, colour, other children enjoying the concert, musicians enjoying the concert and their parents enjoying it as well!

Take us back to the beginning. How did you get bitten by the musical bug?

I learnt the violin and piano when I was eight. I had attended a concert – meant specifically for young people – in London when I was 12. The orchestra was the Royal Philharmonic, and I heard the march from the suite Things to Come by Arthur Bliss. That was it! I was completely hooked and have been ever since.
When did you discover your affinity for introducing classical music to kids?

When I emigrated from the UK to Australia, I became the musical director of the West Australian Youth Orchestra Association. This involved students from ages five to 25 in various orchestras and ensembles. There seemed to be very little opportunity for very young children to attend a concert, without having to be quiet and still. With the Youth Orchestra, I was able to experiment. And the Babies' Proms, as I present them, came into existence.
How do you keep things fresh and interesting for yourself, the orchestra and the audience?
I don't! The thing about Babies' Proms is that the audience is always changing, as babies have a habit of growing up. When I think about presenting the concerts I pretend I am a five-year-old child and try to think as they would.
Strangely, I tried to change the format a few years ago and it's the only time I had complaints from the audience. Children want every Babies' Prom to be the same as the last one.