Interview: Peter Ng
The journey to Singapore's own Natural History Museum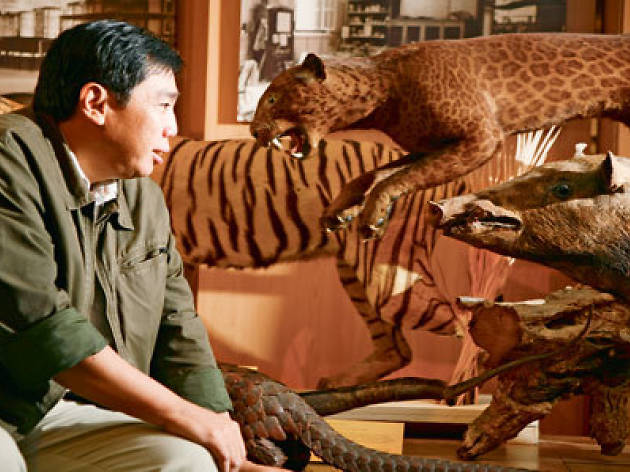 'This museum should not have survived as long as it has.'
Professor Peter Ng, 51, is a man who doesn't believe in mincing his words. 'Most of us like to be ignorant hypocrites, and we're all hypocrites in different degrees and ways. I know there's no free lunch in this world,' says the man in his office with his deep smile lines and slight hunch. 'I am required to kill for my living.'
The taking of lives is essential for any crab taxonomist. As director of the Raffles Museum of Biodiversity Research (RMBR), Ng's passion for natural history compels him to continue adding to the three-storey museum's collection of over 500,000 zoological specimens. This makeshift-looking facility – it's far from temporary, insists Ng – stores the national flora and fauna collections of South-East Asia and the Indo-West Pacific region. It also houses the National University of Singapore's herbarium.
'I've been told to not use the word "kill",' says this sturdily statured man earnestly. 'But that is the reality. I might as well tell the cold-blooded facts.' And, the fact is, he adds, this museum should not have survived as long as it has.
'The existence and persistence of RMBR defies logic,' Ng reflects. In 1969, the zoological collection at the Stamford Museum found itself without a home. 'The then minister decided the dead bodies of animals and plants were a waste of space, so ordered them to be [scrapped],' Ng recalls. 'If we were good Singaporeans, we would have obeyed. But thankfully we didn't.' Because of the Government's intervention, the collection became nomadic, eventually coming to rest at the National University of Singapore (NUS), where it has remained since 1987.
This site is officially the most potentially hazardous place on campus today – even if, in a purely conceptual sense, it's the most appropriate, since it shares its premises with a library. 'The library holds books; we hold dead bodies,' Ng says. 'Unfortunately the bottom two floors [of our building] are filled with alcohol, which the fire regulations officers say is explosive. Being a library there are flammables left, right and centre, and next door is the chemistry lab. If it blows, all the chemicals would flow down to the canteen downstairs – we're on top of a hill.' What makes it more dangerous still is that the whole building has become highly cluttered.
The 207 sq m, low-ceilinged public gallery was opened in 1998, and showcases only a fraction of the collection. Everything else is kept in staff-accessible compactors under strictly controlled temperatures, and that storage space is quickly running out. 'The public curses that our gallery is too small, we are in the middle of nowhere and they can't see us. It's a joke – which we all agree, lah,' Ng laughs.
Fortunately this joke will cease to be amusing in 2014, when RMBR relocates and changes its name to the Lee Kong Chian Natural History Museum. 'Every big city has a natural history museum. We don't have one yet [even though] we were the natural history hub for the whole of British Malaya,' Ng points out. 'So we're not world class yet.' The object of this campaign is far from gaining prestige, however – Ng hopes this museum will help form the soul of Singapore.
'What ties people to Singapore is individual memories. Individual memories make collective memories, [and those] hold a country together,' Ng explains. 'Those include history, buildings, heritage, culture and natural history. All the secret museums are part of that.' Not everyone's enthusiastic about the undertaking, though. 'The Malaysians are p**sed with us no bloody end. Why? Because their collective memory for nature is here.' A pause. 'I'm not giving them back, though, of course.' Ng reveals that the new building will not only have modern facilities to house the entire collection, with room for more – it will also have public galleries that will increase the current capacity more than tenfold (2,500 sq m, to be precise), and an undergraduate curriculum. The $46 million building, to be funded by both anonymous and public benefactors, will be indestructible – and Ng isn't just referring to its up-to-date bomb-and fire-resistant construction.
'I told my collection manager, "I need you to design it so that only you and not the students will die",' Ng laughs. Tongue-in-cheek comments aside, deep down he's fiercely proud of his baby. 'No one can tear this museum down. This will be the first museum in Singapore and the region to be built with public donations and an endowment fund.' The fund ensures that donations to the university will be matched dollar for dollar by the Government. Ng tells us that any income earned from investing the matched fund will go towards the maintenance of the museum, so it won't have to fret over its daily survival. '[This is] the foundation of any good museum,' he declares.
In addition, Lee Kong Chian will enjoy the investment of three major stakeholders – a nameless wellwisher, the Singapore Totalisator Board (or 'Tote Board') and the Lee Foundation – plus thousands of public stakeholders who have donated money. 'This museum is secure – it is locked in by a legal system that gives money regardless.' This is a big, autonomous, stuffed bird flung at the authorities, especially since – as Ng sees it – the initial collection lost its space at Stamford Road because it was at that time completely dependent on Government money.
The elephant skin in the room, then, is a lingering concern over where their funds are coming from. 'The Tote Board is the only gambling [body] we can use,' Ng reveals. As for the anonymous donor, the professor and his colleagues are obliged to respect their benefactor's wish to remain unnamed. For the sake of memories and future heritage awareness, then, it seems that in some cases we must turn a blind eye. 'Of course, there is nothing in the world that tells us this money does not come from the darkest of the dark,' Ng confesses. 'But we don't think so, lah. We have to assume they have [undertaken the] due process.'