Interview: Braids
Raphaelle Standall-Preston, the frontwoman of Braids tells us how the band's third album came to be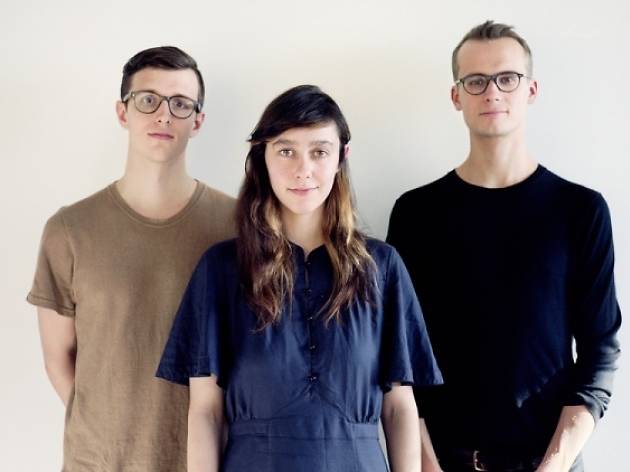 When their 2011 debut Native Speaker was released into the ether, the Montreal group reconfigured pop, rock and indie into a whole new vastly exploratory whole. Coupled with Standell-Preston's angelic voice that gave vent to harrowing revelations about her past, it, along with the 2013 follow-up Flourish//Perish made a dashing mark on the emerging indietronica canon. But this year, the now-trio unveiled Deep In The Iris, leaving their patented electronic sound in favour of live instrumentation that conveys an even bigger emotional payload. Read on for how it all came about.
'I needed to yell about how I feel. It was the most cathartic experience ever, just playing it so loud and freaking out, and believing in what I say to the fullest extent possible.'
How's your Asia tour going?
Really good! We've had some days off in most of the cities, so we've really gotten to explore and see more than if we were just there for a day. We've eaten incredible food and ridden scooters. Currently we are in Ho Chi Minh City, and have been here for the last 5 days.
Congrats on Deep In The Iris. Was the process of putting it together different from how Flourish // Perish came together?

It was massively different. The making of Deep In The Iris was in direct response to the difficult experience we had recording Flourish//Perish. We recorded F//P in a garage with no windows in the dead of winter. We also had a lot of artistic differences during the making of this record and ended up parting way with a fourth member. So with Deep In The Iris we decided we wanted to go somewhere with a lot of sunlight. Somewhere that had a lot of space, where you could look out for miles. Somewhere that was within nature. We first went to Prescott Arizona, the desert, then to Delhi, New York, lush farm land, and Putney Vermont, lush rolling hills. All of which greatly influenced the sound of the record. We also wanted to play a lot more, on F//P we tended to lean more towards programming and less towards playing actual instruments. We rented pianos in each town for Deep In The Iris, and had them delivered to the house, usually in the back of a pickup truck up some dirt roads! We also just wanted to enjoy the process more, and make sure we were having a good time. We didn't want it to be strife. We wanted it to be liberating and energizing. So absolutely everything was different!
What influenced digital sounds being traded in for a more live-minded approach this time around?
Just the fact that after F//P we all felt cold and somewhat disconnected. Don't get me wrong, we love that record, but it was so hard to make. We wanted to return to playing music with each other, in a room, feeling each other's output. It's beautiful when you can create with someone, that's why we are in a band and not in solo projects. So we thought we'd return to our roots of writing on instruments and jamming.
It's known that the record was recorded in a variety of locations. How did this inspire the shape of the overall album?
Just the fact that there was sunlight… I can't even begin to explain its effect on the record. We were just so much happier being close to nature. Being able to walk outside and have it be peaceful, and have it be sunny. We would go on walks when we didn't want to write, long hikes, we'd go swimming. It was also really important for us to have full immersion, by just being away from everything that we were familiar with. I think you can hear the warmth that the locations gave within the record. You can hear the creeks of the wood floor in the houses, you can hear the detuned piano. We just wanted to capture everything. We wanted nothing to feel sterile, and I think that approach led to a really emotional record.
We can't imagine what it must have felt like to write something as emotionally complex as 'Taste'. Do you see it as a song of liberation or of self-sacrifice?
I see this whole record as a form of liberation. I would never sacrifice myself. I think it's important to come out feeling strong, otherwise what are you doing, or how do you keep going if you feel drained? I've had to get over the fear of revealing too much about myself because I only write about experiences I've had. I'm not much of a fictional writer at this point, but perhaps I'll dive into that more as I get older. Like Joanna Newsom's lyrics, a lot of which are beautiful fictional poems. I'm just very into reflecting on things that have happened at this point in my life.
On a purely personal level, was there anything cathartic you experienced from releasing 'Miniskirt'?
Yes, I needed to yell about how I feel. It was the most cathartic experience ever, just playing it so loud and freaking out, and believing in what I say to the fullest extent possible. I hope to write more songs with this much passion. We all want to. It's a really energizing and beautiful experience to write something that you believe in fully.
Young Thug's insistence on separating art from social involvement during the Ferguson riots drew him a lot of flak. What's the band's take on artists speaking out today?
I think if you're affected by it, and feel passionate about discussing it, then you should. There's no right or wrong there. Unless you're not passionate, and you really don't care, and you're just writing about a social issue because you want to jump on the band wagon and get attention, which maybe happens? But that seems pretty low. I think artists have an amazing platform for calling attention to social issues. But if you don't want to talk about it, then don't.
Lastly, what are you looking forward to the most about playing in Singapore?
I'm so excited for the chicken rice. I want the boys to try it. And I'd like to take them to the port, where all the big ships are docked. Also the people in Singapore were really nice last time I was there so I'm also excited for that. I'm not excited for the heat, but I think we will just make sure to drink too much water.