Interview: Fariz Jabba
Homegrown viral rap star Fariz Jabba tells us why he wants to stay true to his roots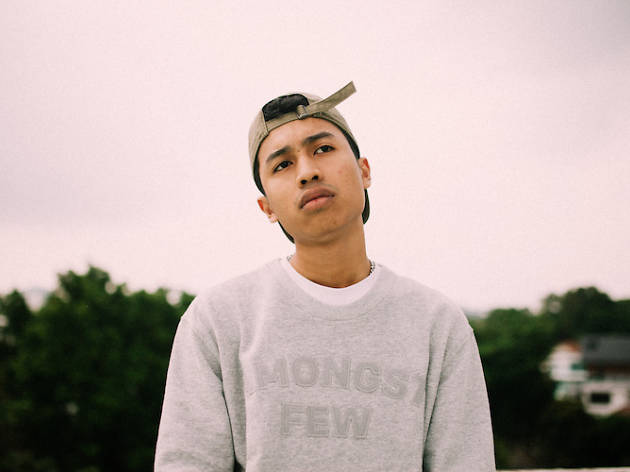 "It isn't a gimmick or a stunt. I rap in Malay because I am Malay – it's part of who I am," Muhammad Fariz Abdul Rashid explains. "I want to create music that my community and I can relate to."
Working under the moniker Fariz Jabba, the 21-year-old rapper and younger brother of local comedian Fakkah Fuzz is unlike most peers his age. This hip hop wunderkind isn't afraid to embrace his culture and he's showing it in the music he makes by adding local humour and a dash of 'Malay-ness' in his bars.
Breaking onto the scene last year after posting a series of freestyle rap videos on his social media, the young rapper has since gotten the attention of hip hop icons from around the region including rapper SonaOne and ex Too Phat member Joe Flizzow. Fariz's most watched video, Kunci Gang – a playful Malay remix of Lil Pump's infamous rap anthem Gucci Gang – has close to 200,000 views and over 13,000 shares on Twitter.
Now managed under independent record label M03 Records and training under homegrown producer Flightsch – who's worked with local acts like Sam Rui and Gentle Bones – Fariz Jabba's proving to be an underdog in the scene and he's gunning for the throne.
On how his rap career took off
"I've been listening to hip hop and writing songs for as long as I could remember but only started taking it seriously after my national service. I did a couple of freestyle rap videos, uploaded it online and eventually got recognition from Malaysian rappers like SonaOne and DJ Fuzz. By chance, Joe Flizzow, started his online cypher show 16 Baris and I knew I had to be apart of it. It's kinda taken off since."
On rapping in Malay
"I want to make hip hop relevant to my community and one way is to use Malay language in my songs. People like relatability and I find that so important. Why make a song when your listeners can't relate to it? Plus, tons of people speak the language in this region. There's Malaysia, Indonesia and Brunei – I want to tap into those markets. I'd like to think us Malays rule this part of the world."
On avoiding appropriating hip hop culture
"I think it's critical to remember that hip hop isn't ours to claim and that we should always be mindful when borrowing someone else's culture. I'm adapting it to my society but also making sure that I respect and pay homage to the real creators of the genre."
On making his own music
"At the end of the day I only want to make music that makes me happy. Some days I'd feel like Michael Jackson and other days I'd want to feel groovy like Justin Timberlake. I don't want to pigeonhole myself. I love singing and I also enjoy rapping, so why can't I do both?"
On dealing with fans and fame
"I can't even grasp the idea of being famous, it's so weird. I've only been in the game for less than a year and I have fans? That's crazy. Seeing all these people come out to my shows and wanting to take photos with me feels odd but I appreciate it. Although, I've realised that it's easy to lose yourself. Sometimes you get swept away by all the attention, it's hard to have a clear vision of what your main goal was. That's why I'm grateful for my team for always keeping me grounded and reminding me of what I came here to do – make music."
On his brother, Fakkah Fuzz
"He's my mentor and biggest inspiration. My brother basically orchestrated my entire success by coming up with the ideas for all my viral videos. I'm just the guy with the words standing in front of the camera. I secretly think he's living vicariously through me as a rapper but I'm so thankful for what he's done. My brother works so hard for others that sometimes he kinda forgets about taking care of himself."
On his stage name Fariz Jabba
"It's actually a mashup of my name and the hip hop dance crew Jabbawockeez, because I also love dancing. Funny story, when my dad first heard of the nickname he thought I was referencing the Arabic word 'jabbar', which means almighty. I mean, I guess it can also go that way. Fariz Almighty sounds pretty cool too."
On his dream collaboration
"It's crazy to even think about it but if I could choose my top three it'd be Tyler the Creator, A$AP Rocky and Kendrick Lamar!"
On what's next for him
"I'm getting ready to drop my new single Ape Sia? ('What's This?' in Malay) real soon. It's a play on a typical Malay lingo and a fun track overall. Of course, I've got a couple of plans and gigs after the release but I'm not gonna spoil it. I plan on keeping it a surprise."
Get updated on Fariz Jabba's upcoming music here.