Interview: .gif
We sit down for a chat with local indietronica duo .gif about their upcoming LP, creative differences and people who cry at their gigs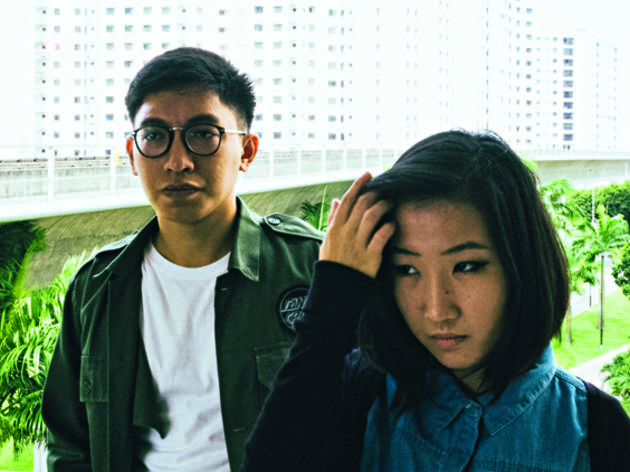 'We straddle the line between indie and electronic,' says Nurudin Sadali, one half of .gif. And so they do, with chill beats layered upon soothing vocals provided by Chew Wei Shan, the other half of the pair. Formed in late 2012 after tinkering around with their instruments, they released their debut EP Saudade in 2013, followed by singles like 'Juvenile' and 'Song Six', slowly grooming a name for themselves with appearances at big gigs like Baybeats and the 100 Bands Festival. This year, it all comes together for them at the St Jerome's Laneway Festival, where they'll be performing alongside the likes of St Vincent, FKA Twigs and Banks.
'Sometimes I wish I were like Jack Black or something, so I could write really funny songs'
First off, congrats on making it to the Laneway line-up! How did you react to the announcement?
Nurudin (D): I think we were more surprised than anything.
Chew (W): We both thought it was fake at first, maybe from some spammer [laughs].
We've seen you play around town the past few years. Have you got anything different up your sleeves for Laneway?
W: We're trying to rearrange and rehash some of our old material – we've been racking our brains on how to create a festival vibe with our lullabies. I don't think we've ever had hardcore goals until Laneway came along. We were just chilling out. But now we're planning to release an album soon.
Sounds good to us. How long has it been in the pipeline?
W: We abandoned it for a long time. We wrote it around the middle of last year, then work got crazy and we abandoned it for a good five months. Then we edited it and threw most of it away, because it didn't appeal to us anymore. So we started writing again, reinterpreting some of the old stuff.
D: We were kind of rushing it the last time. It didn't feel natural, so it didn't progress.
W: Now we're changing our vibe a little bit. At the core, we're chill and downtempo, but we're spicing things up with a bit more groove and drive for the next album, exploring different sounds that we didn't have previously. We've had a lot more space and experience to experiment with sounds and styles.
D: It's definitely more upbeat. And we have a few collaboration tracks, where we mix in a couple of different sounds and genres because we roped in some of our friends to help us.
Seems like you're quite the perfectionists when it comes to making music.
D: She is. I'm a bit more chill.
W: I take a while to get all the tiny things right. He gets the big picture right first, then he fine-tunes it. But I just can't move on because I have a short-term memory. Once I let an imperfection go, I'll forget it. So we drive each other up the wall [laughs].
So you must've experienced creative differences at some point.
Both: All the time!
D: Sometimes I wanna kill her and she wants to kill me [laughs]. But we don't take it personally. It's for the greater good.
W: We've fought over this new album a lot. I think we put a lot more heart and soul into this one, which is why we've had… conflict. And with every step, it takes some sort of humility and hindsight to say, okay I screwed up, let me take that out and let's start again. At the end of the day, it's easy to solve any conflict. As long as either of us don't like it, it doesn't fly.
How does inspiration come to you?
D: I don't get inspired. I'll just be doing random things when suddenly a beat comes to me. You can't sit down and say, 'Let's come up with a song.' That never works for us.
W: Content-wise, there will always be things that we write or want to say. In terms of writing riffs and melodies, that's quite a deliberate thing. Random, yes, but putting it together is a very painstaking process.
Have there been any lyrics you've written that stick out in your mind?
W: One of the songs on our Saudade EP is a semi-spoken word track called 'Box Burning'. It's a poem I wrote for my grandma's funeral. I read part of it as her eulogy, developed it a little and put it in a song. I think that's something that I'm most proud of writing, in terms of lyrics. We've made quite a few people cry at live gigs; they say the song really captures something they still feel about someone. I like that because it reminds me why making music means a lot to us. These small feelings or things that unite us as human beings just mean a lot to me.
With personal songs like these, do you think your music is a reflection of yourselves?
D: Our music makes us sound like we take ourselves very seriously, but in real life we don't. The music is still honest and true, though.
W: We've had people who met us and said, we thought you guys would be very intense and serious! Sometimes I wish I were like Jack Black or something, so I could write really funny songs [laughs]. But I guess it does reflect certain feelings or memories that are real, or things we want to express genuinely.
Is there a certain vibe or message you want to come through to audiences?
W: At the end of the day, as long as the music evokes any kind of connection, it's special. You feel like these are universal experiences and feelings, and that we're not alone. Contributing to that body of connections… that's it for me.
And how has that been for you, connecting with fans?
D: I always find it weird to call people fans – they're just people who listen to our music. Not that we don't appreciate their support. We try to make it a point to talk to people and thank them for coming.
W: We could give them names… like 'jpegs' [
laughs
]! Some people even write emails, which sounds like a lot of effort to me. It's very moving that they actually take the time to write us a note. And people who come up to the stage and say something about a specific song, that's nice.