Interview: Hanging up the Moon
We chat with Hanging up the Moon founder, Sean Lam, about the evolution of the band and their upcoming release.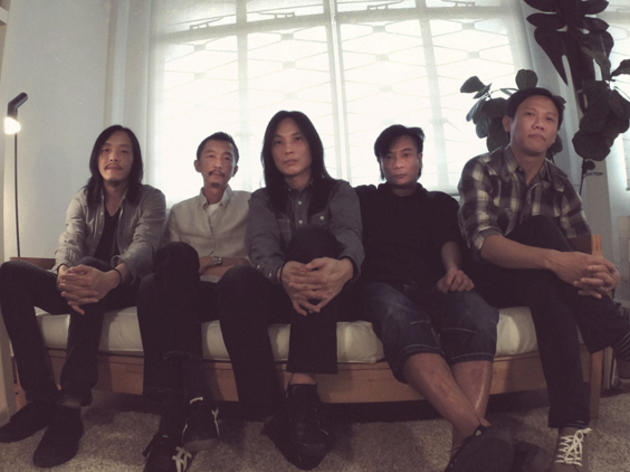 First there was Concave Scream, the essential homegrown alternative rock band that Sean Lam fronted for over a decade since 1995. Then came his solo project, Hanging Up the Moon (HUTM), which saw him pen tunes in the middle of the night and release them in two albums: his self-titled debut in 2011 and The Biggest Lie in the World two years later.

Now HUTM has grown into a five-member outfit, made out of friends from fellow local bands like The Observatory. And a third record is in the pipeline, set to drop this year. Before they take the stage at Laneway for the first time, we talk to Lam about the evolution of HUTM and their upcoming release.
'Writing songs is just a way for me to deal with feelings. And feelings, like all emotions, are just a natural part of life'
What sparked off your love for music, and how has that developed over the years?
When I was growing up, my family used to live and sleep together in one room and, occasionally, my mum would play a cassette just before bedtime. It was usually The Everly Brothers, Cliff Richard or Teresa Teng, as those were her favourites. But one particular track by Bobby Vinton struck a chord with me. It was a remake of The Paris Sister's 'I Love How You Love Me'. Listening to it, I felt for the first time the raw emotive power that was music. I must have been around four then.

Naturally, as I got older, I was exposed to different forms of music and, like everyone else, went through phases of liking different genres at different timeframes. Still, at the heart of it, I don't think anything has changed because no matter what form it takes, I'd always connect with it on that emotional level.
You started HUTM writing songs in the dead of the night – what was it about those twilight hours that inspired you?
It wasn't a choice really, as that was the only window of time available for me to tinker in my hobbies. That said, there's a certain calmness in the still of the night that I found very conducive for the mood I was going for in my songs. And since all is quiet, I was also able to get very decent recordings done in my study without any soundproofing. The challenge for me has always been trying to find the time for music making while juggling family and work.
HUTM has grown into a five-piece. How did that come about?
It's just something that happened organically along the way. After my solo album, I was ready to explore a different sound. Victor [Low], who helped with the album's production and mastering, suggested I try looking into collaborations. At the time, Leslie [Low], despite his busy schedule with The Observatory, was also backing me up during live shows.

Since we felt really comfortable playing together, I approached them with the idea of having a band sound for the next album. With that in mind, I roped in my long time buddy and old band mate, Dean [Aziz], to add his percussive touches to the new songs. That's how we ended up with the fuller-sounding second album.
Sticking to this direction with the upcoming third album, I approached Alexius [Cai] to join us. I got to know him through mutual friends and had the pleasure of playing a couple gigs together for his shows under the moniker, Piblokto. I really like his style and I feel his input will add another dimension to our expanding soundscape. That's how we ended up as five.
When you first started HUTM, did you envision it growing to what it's become now?
No. Back then, I just wanted to get back at songwriting with whatever means I could muster. I can't say how thankful I am for all the support my buddies and collaborators have given me to bring this project to its current form. Still, I don't have any plans as to where it's going to go from here.
You're releasing your third album this year – tell us how your sound has changed with the new band dynamics.
The sound may have grown a little fuller as there's even more instrumentation now. Still, the overall vibe and slightly downcast mood remains. It features ten tracks – and this time around, there aren't any ukulele tracks. It's more guitar-driven instead.

With the help of two talented sessionists, Karen Lee and Zhong Ren, who play the violin and cello respectively, we also managed to record live strings to embellish some of the songs. As before, this album will be released in an LP vinyl format with a supporting digital download. Song-wise, they are still very much about observations and introspection. I won't go into detail on what the themes are about as it should really be up to the listener's interpretation.
What is it about your life experiences that inspire you to write songs?
Writing songs is just a way for me to deal with feelings. And feelings, like all emotions, are just a natural part of life. Everyone goes through the highs and lows and in many ways, we are all inspired by these unique personal experiences. In my case, I just turn them into songs.
What have been some of the more memorable ups or downs in your musical journey so far?
Learning to play the guitar, taught to me by Victor when we were in our teens. Forming the band Concave Scream in the early '90s and lasting more than a decade together as a unit. Finding my own footing by going solo as HUTM and having it grow to what it is today.

Every album released from my time with Concave Scream to HUTM are all very high points. There aren't any real low ones as I'm not ambitious with my music so it's hard to be disappointed. I'm just happy and thankful to still be able to have a musical outlet after all these years.
Speaking of high points, this month marks the first time you're performing at Laneway. Congrats!
I was really surprised when I got the offer. Initially, I had some reservations, as I wasn't sure if our style of music would be appropriate for the event, but the organisers were very encouraging. The guys were also equally supportive and game to give it a go, so I quickly got over it. That said, it is a great honour to have been given this once-in-a-lifetime opportunity and we'll try our best not to disappoint.
What can we expect from your gig?
We'll be playing a couple of songs from the current album, as well as previewing some new tunes from the upcoming one. Our music is kinda mellow, so I'd say find a good spot to sit or lay down and just chill out. I'd encourage the audience to put genre aside, have a good time, come and go with an open mind.