Interview: In Each Hand A Cutlass
Local instrumental rockers In Each Hand a Cutlass take Benita Lee through the makings of their monstrous second album, The Kraken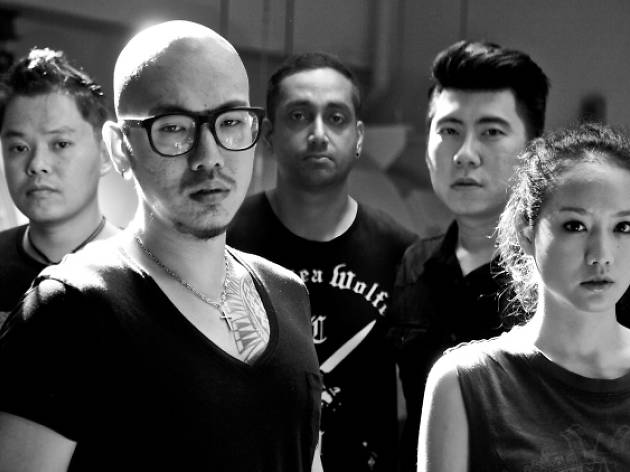 Epic' doesn't even begin to describe the music that thunders from the instruments of In Each Hand a Cutlass. We could go on about how each member is a respected name in the local music scene, or we could wax lyrical about their debut LP, A Universe of Strings. But we're here to talk about their upcoming record, The Kraken, which shares its name with the colossal 20-minute title track. It's been four years since we heard new tunes from the quintet, but it's all good, 'cause their album will be unleashed this month. They tell us more.
'Think movie, think superhero saves the world, think love scenes, think world peace – all rolled into one'
On their evolving sound.
Daniel Sassoon, guitar (DS): It was pretty organic. Everyone's older now, and tastes have changed. What we collectively want to achieve as a band and what we enjoy playing have also developed. We've become a lot more comfortable in our skin, and at the same time a lot more open-minded.

Jordan Cheng, drums (JC): Our sound has matured. The Kraken has a lot more space within each track, letting the individual instruments breathe more. The rhythm section has more groove and pocket, and transitions are more complex, almost in your face.


On the allure of the mythical creature.
Sujin Thomas, guitar (ST): I was out with a friend browsing a children's pop-up book on Greek and Nordic mythology, and when I turned the page, a kraken popped up and my friend said: 'Hey, that's a great name for a song.'

I pitched the idea to the band and everyone liked it. The other two parts of the song were written with a kraken figure in mind, and a storyline of a ship at sea running into the monster, with a fierce battle ensuing and the calm that follows. It's a story we conjured, but listeners should be able to feel it aurally.


On the album's themes.
ST: The songs are almost all linked to nautical themes, legends or history. Some were researched, others just thought up on the fly or through influences from TV shows we watched or books we read.

DS: 'Heracleion' starts off sounding like a dive into the watery depths. We like to think it conveys the idea of discovery and bombast. 'Overture' is literally a description of the song: its second half is a medley of riffs from every other song on the album, repurposed and combined. It was fun picking out the pieces and stitching them together in a way that was musical, natural and not awkward.


On penning The Kraken.
Amanda Ling, keyboards: It turned out way better than expected – to have all the myriad ideas that were pre-planned recorded into one piece was the most challenging. [It's our] biggest, most epic, monstrous record.

JC: Think movie, think superhero saves the world, think love scenes, think world peace – all rolled into one.


On 'Satori 101', the first single off the album.
DS: It's our hipster dance party anthem that pokes a little good-natured fun at the hipster, neo-hippie hybrid culture that's become ubiquitous at Laneway and other outdoor music fests.

Y'know, like when you see videos of people claiming to love bands that don't exist, and the often-lukewarm response shown to our homegrown acts playing these festivals. That's sad, because if there's one thing they should have adopted from embracing this culture, it's the whole go-local movement.


On their upcoming album launch gig.
Nelson Tan, bass: I don't suppose you will be able to publish how epic I think it's going to be, but it starts with a capital 'F'.

DS: And rhymes with 'ducking possum'.