Interview: Jagwar Ma
Gabriel Winterfield of Australian psychedelic rock band Jagwar Ma discusses their latest album 'Every Now and Then' and what it's like living on the wild side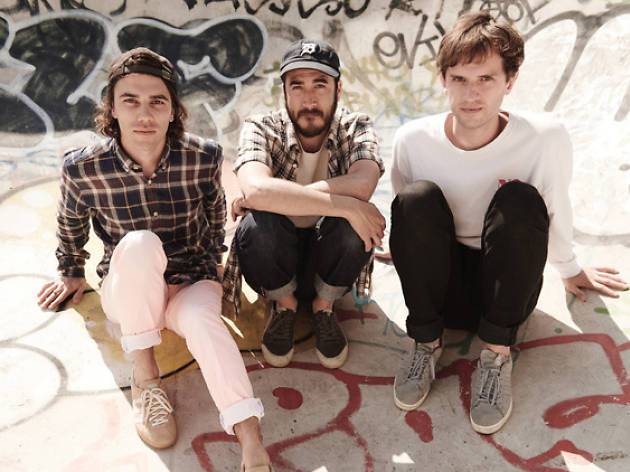 A quick listen to any of Jagwar Ma's tracks and you can tell that the band's brand of arm-swaying music oozes feel-good and summertime vibes. The Australian outfit – comprising Gabriel Winterfield on vocals, Jono Ma on synths and Jack Freeman on bass – may have missed the opportunity to perform as a full band at 2014's St Jerome's Laneway Festival in Singapore (Winterfield had suffered from a torn ligament), but the guys return this year and they're ready to thrill concert-goers as a trio.
Ahead of the big day, we play catch-up with frontman Winterfield and get the scoop on their second album Every Now and Then.
The band's gone through some interesting recording sessions, having to deal with flea infestations and shark attacks. Sounds pretty befitting of the band name , don't you think?
The flea infestation was so bad that we almost had to wear flea collars! We're just constantly at war with nature. You'd think they like us but, no, the animal kingdom doesn't like Jagwar Ma apparently.
Did your bandmate Jono Ma actually build the recording studio on a farm in a French countryside?
Jono and his friends built it together several years ago. When we started the band, he asked me if I wanted to come to the studio and make a record there together. The first time [the band did it], we didn't have any money and recording studios are expensive. The second time, we just felt nostalgic and wanted to go back and have fun there.
'Yannis Philippakis [of Foals] came up to me and said, "We're about to tour Europe and we'd love for you to come support it and steal our fans"'
So would you say some of the band's inspiration came from, err, the wildlife?
I mean I like the idea. But I think it has to do more with the fact of being away from distraction – it's difficult to know if it's nature that has inspired you. I feel at home in that kind of environment. It's probably an Australian thing. We like the outdoors.
Do you have a personal favourite from Every Now and Then?
'Colours of Paradise'. The name's taken from an Iranian movie that my father showed me years ago, and it's such a beautiful film. Also the lyrical narrative of that song – it's about someone I was in love with.
Jagwar Ma initially started out as a project for both Ma and yourself. At which point did you guys realise that it was going to be much more than what you expected?
It was when we played at Australian music festival Big Day Out and Foals were watching us from the side of the stage. Yannis Philippakis [Foals' lead singer] came up to me and said, 'That was awesome. We're about to tour Europe and we'd love for you to come support it and steal our fans.' I think he was joking but that was one of the greatest things that happened to us.
What was it like touring with them?
Awesome! They're very lovely people and we just loved it.
'We definitely want to make our own music, do something different and feel good about it'
There's always pressure on bands to produce a sophomore record that's better than the first. Did that kind of expectation get to you guys while you were making Every Now and Then?
If you've got it under control, a bit of pressure is not necessarily a bad thing. We'd take some of it and try to make the best record that we can by pouring our hearts into it.
How do you guys feel about the Tame Impala comparisons?
It's extremely flattering – they're huge! And they're heroes of ours. We even supported them during their European tour. Now we'll be heading to Laneway together, which is going to be fun. We see each other quite a lot.