Interview: Julie Byrne
The US singer-songwriter on her nomadic life and break-out 2017. By Jake Newby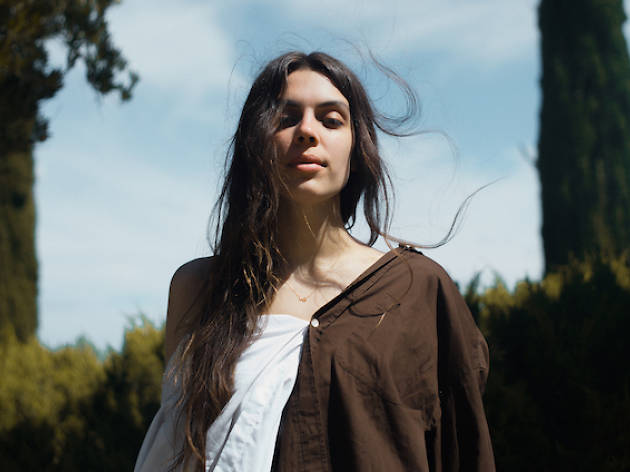 Singer-songwriter Julie Byrne's beautiful sophomore record Not Even Happiness won her a wave of adulation when it was released in February 2017, picking up a Pitchfork Best New Music tag in the process. As the year closed, the album also made numerous Best of lists (including Pitchfork again), with critics inescapably spellbound by Byrne's beguiling finger-style tunes, performed on her father's old guitar.
The other part of her musical equation is her vocals. Byrne was born with the gift of a golden voice (to borrow a phrase from Leonard Cohen), one that imparts her songs' poetic lyricism softly yet has the power to stop you in your tracks and demand your full attention. Even over a slightly fuzzy Skype connection her voice is captivating, as she carefully delivers composed, thoughtful answers. We take some time to chat with Byrne before she drops by our city on February 9 for her debut performance.
Your released your second album Not Even Happiness almost exactly a year ago to widespread acclaim. What have the last 12 months been like for you?
It's been a real whirlwind – and it hasn't stopped quite yet. There's sort of a lot of processing that will need to be done when I have some time without travel. It's been a year of growth, which can probably be said of any of the years before it, but this one... I don't know... it feels a little bit beyond the measure of words at the moment.
"Touring can be such an unusual way to live and so psychologically demanding"
How did it feel to see the new record getting such rave reviews and making lots of 'end of year' lists?
Well, it's a complicated question, because of course when I released the album I hoped that it would be something that would resonate with other people, but I think it's a really dangerous thing to be so attached to any kind of outcome for something like that – a positive outcome or a negative outcome – because you're hopefully making a creative work that feels that it is meant to exist in the world in some capacity, that feels like a very pure response to living, and it can so easily be contaminated by deep concerns over exterior response. Of course I'm not immune to it, and it certainly did feel very good to be on those lists and all of that, but I see immediately the pitfall in having my identity be too contingent on that kind of thing, because it's very fluid and temporary. But I'm grateful for it.
You're about to go back out on tour again. Is that something you're looking forward to?
It's funny, it just feels like my way of life at this point. It feels natural for me to live that way. It's a continuation of a way of life that I've been cultivating over the past few years of touring. Before this album I did a lot of DIY touring and was living pretty transiently. I'm accustomed to it and my favourite part of it all is being able to meet new people and see old friends in these cities. I love performing but mostly as a way to connect with the people that are there, and I've made some good friendships that way. You never know what will come, it's very exciting and mysterious in that way.
Does that process feel different when it comes to touring outside of North America? You've got dates in Australia and New Zealand coming up before you tour Asia.
Yeah, I think maybe it feels more surreal. I've toured in the UK the most of any other country aside from the United States and I've been there enough now that I've begun to feel a greater sense of community and that's been a real blessing because it is just more stressful being so far away from home and what I'm familiar with. Having people there that you love and trust on the other side makes all the difference – it's so important. Touring can be such an unusual way to live and so psychologically demanding, just because you're living without the comforts of home and with very little privacy.
"My internal world was filled with so much anxiety and insecurity and doubt when I was in New York that it probably wouldn't have made for a very inspiring collection of songs"
You talk about living transiently and having moved around a lot, but when it came to making Not Even Happiness you chose to do so back at your family home in Buffalo. What drew you back there for that process?
Yeah it's a bit of an irony. I had been living in New York for two years at that point and I was never really able to reconcile my nature with the pace and demands of living in a place like New York City. Eric [Littman, Not Even Happiness producer] and I began recording in our apartment there and we ended up going on tour and when we came back we scrapped the entire thing. We decided that we needed to be in a place that could offer more peace and quiet and spaciousness. And I missed my family and I missed having that time with them.
So it would have been a very different record if you'd carried on trying to create it in New York.
Ha, yeah. I can't say what would have happened because I felt so out of my mind when I was living there. I think that the spirit that is in the room or that come in contact with when we were recording, all of that is captured in the songs and so my internal world was filled with so much anxiety and insecurity and doubt when I was in New York that it probably wouldn't have made for a very inspiring collection of songs. Buffalo was the better way to do it!
Is it a set up that you'd like to repeat when it comes to making your next album?
That's a good question, I'm not sure. I guess it will depend on where we are at that time. I don't know if Eric would be able to leave his job again for so long, but my mum always say to tell Eric to come back and record there! So maybe – it would be nice.