Interview: Kimbra
Kimbra sheds light on The Golden Echo.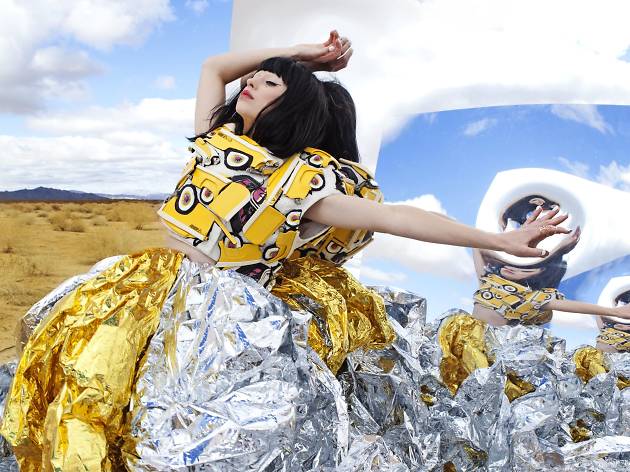 It hasn't taken Kimbra Lee Johnson to become an internationally recognised force of nature in her own right. Her 2011 assist on Gotye's universe-devouring smash 'Somebody that I Used to Know' might have ushered the Kiwi chanteuse's smouldering soul chops to mainstream consciousness but it's her solo albums that have captivated hearts and charts alike with their phenomenal range. Last year, she released her second maximal pop statement in The Golden Echo. Read on for how she tapped into funk, pop, Greek mythology and even dreams to bring it to light.
'I have always been interested in finding transcendence through music.'
You just came off a really amazing Coachella set. How do you feel about it?

Coachella was amazing! It is my favourite gig of the year because we were upgraded with Gotye last year and I have never done it with my own band or with my own music. It was just so special to perform there, especially since I got to play songs from the Golden Echo.
According to your Facebook page, you were also at the Stankonia Studios recently. Was it just a visit or is another album in the works?
Ah, you have done your research! It was great. I think Outkast is one of the bands that changed my perspective on music because they are very experimental in many ways. They pull from references like George Clinton and Miles Davis but they make pop music. For me, this is all very inspiring. To be in the same room where their records were made and birthed is very special. I spent time with Big Boi and he is a fan of my music, so we'll see what happens.
Congratulations on the Golden Echo. You've said that it was inspired by dreams and Greek mythology. Could you elaborate?
I had a lot of dreams and one of them was a recurring one of the idea of Narcissus from the famous Greek myth and it felt very relevant in our day and age. We are constantly seeing projections of ourselves on social media but more than that, we are called to sort of seek beyond ourselves and I have always been interested in finding transcendence through music. In that sense, I think the Golden Echo became my little story or portal into another universe.
Also, you said that when you were making the album, you felt like you were making a piece of history. How do you see the Golden Echo fitting into the context of contemporary pop music?
I just hope that it's a piece of art that has a lot of love and soul in it. I can't speak for anything else because but all I know is that I put all of my heart into it. My favourite records were the ones that people didn't care about until 10 years later, you know what I mean? All I care about is putting all of myself into my music at that moment and not worrying about how it's received. That's not my responsibility.

Let's talk about the first single, '90's Music'. For something that is named after 90's music, it doesn't sound like your typical TLC song.
What is interesting to me about that song in particular, is the juxtaposition. The point of that song, for me, was to try to take influences from the things that I loved from that era and make them my own in some way by playing with them. You take influence from things you love and try to re-translate them in a new way. In this case, I gave '90s music a modern context.
What was it like working with Bilal on 'Everlovin' Ya'?
It was amazing with Bilal – he is my favourite vocalist in the world. I put him up there with Prince. In fact, I think he might be maybe even… beyond. I cannot speak more highly of him

It has been a few years since 'Somebody that I Used to Know' was released. Are you still surprised by how overwhelmingly successful the song became?
Yes I know, I still can't believe it; it's crazy! You know, when we made that song in my bedroom, I thought it was just going to be a ballad on the album, I didn't think it was going to be a big star because I thought it was so mellow, so it's very surprising and very humbling that something you made in your bedroom can become a worldwide hit. It's inspiring.
And what are you looking forward to the most about playing in Singapore again?
I'm looking forward to playing with Charlie Lim. He's my friend from Melbourne and he's always been a supporter. Besides that, I really enjoy myself every time I come to Singapore. I love the food and I love the diversity of the culture. This will also be the first time I get to perform songs from the
Golden Echo
there, so I think that will be very special.