Interview: Neon Indian
Neon Indian's Alan Palomo opens up to us about his passion for film, thoughts on collabs and notes from the Big Apple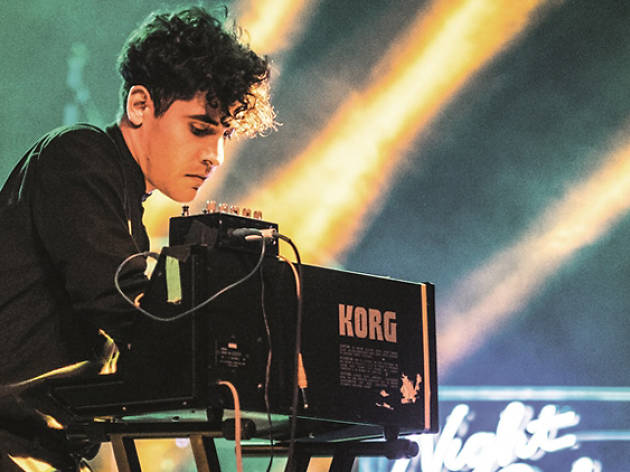 It's 11pm on a Sunday when my phone rings. It's a call from Alan Palomo, the man behind electronic project Neon Indian, and he tells me he's just started his day. The 28-year-old's on his way to New Haven, Connecticut, as part of his tour to promote his latest record VEGA INTL Night School, weeks before he lands in Singapore to perform at the indie music and arts fest Neon Lights.
The New York-based musician started Neon Indian seven years ago. Music blogs were quick to stamp him as a pioneer of 'chillwave', a label that Palomo still winces at. Characterised by slow-burning beats drowned in reverb, chillwave is now all but dead. Even Neon Indian's newest album has shirked the genre (if you could call it that), experimenting instead with '80s-inspired grooves you might have heard playing retro arcade games – but on acid. And this time, music blogs called it 'vapourwave'. He tells us why that confuses him.
Do words like 'chillwave' and 'vapourwave' make you cringe?
Typically, yeah. Internet genres are kinda like place markers for people who don't quite understand the references. I mean, people labelled lo-fi electronic music as 'chillwave' five years ago. And watching that editorial trend kind of die and the same type of music being referred to as 'vapourwave' seemed equally arbitrary.
You talk a lot about being inspired by movies. Tell us more.
I didn't have any formal training or background in music. So I had to approach it through something I did know about, which was the process of filmmaking. VEGA INTL Night School is my homage to different directors, and how they'd reinterpret New York through a distorted lens.
'I had to approach music through the process of filmmaking'
What were the films that inspired your tracks?
The last album was inspired by Abel Ferrara films like The Driller Killer and Fear City. There's also a bit of Spike Lee's Do the Right Thing and Martin Scorsese's After Hours.

If you could reimagine a score from any film, what would it be?
That's a tough question to answer! I feel like if it's any film that I really enjoy, it's mainly because I think the scores are, generally, already perfect. But I would love to reimagine music that's no longer in tune with the movie. I think a couple of scores that I personally enjoy are stuff from Bernard Hermann, like his composition for Taxi Driver. Or even the music for movies such as Savage Planet.
You mentioned that your latest album is your interpretation of a 'lurid' New York. Where in the city can someone find your version of it?
In terms of my experience: Sunset Park, Prospect Park, and obviously Lower East Side and West Village. But that's what's wonderful about this city – it's so broad.
'It's just how I approach record writing: it doesn't come from this "mass" mentality that I feel like a lot of labels have'
Do you have a favourite place in NYC, then?
There's this park in my neighbourhood called McGolrick. It's similar to Central Park, but smaller. I like to spend my afternoons there either reading or having a little picnic by myself.
Since you have a song called 'Techno Clique', we'd like to know who you'd include in your fantasy electronic #squad?
Honestly, my purpose of making music isn't about collaborating with others. So there's really no one that comes to mind. It's just how I approach record writing: it doesn't come from this 'mass' mentality that I feel like a lot of labels have.
Lastly, what are you looking forward to at Neon Lights?
Playing in front of a new audience is always a tremendously humbling experience. Especially to be performing halfway across the world and hearing people sing along – that's special.
And what can we expect from your set here?
Just a lot of frantic, manic dances and very loud funk music.