Interview: The Garden
Ahead of their Singaporean debut, we check in with the Californian band of brothers and talk all things punk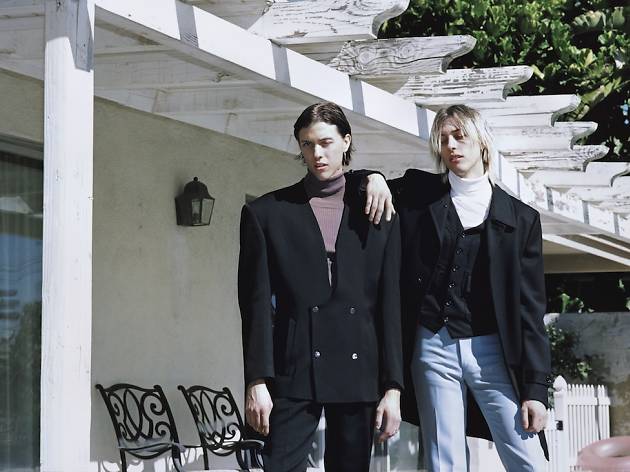 When identical twins Fletcher and Wyatt Shears aren't making hypnotic lo-fi punk rock, they're blazing the catwalk for Yves Saint Laurent. Ahead of their forthcoming album Haha, we find out more about their haute punk appeal.
'We know each other's boundaries scary-well.'
What was different about your approach to Haha compared to your earlier albums?
Fletcher: We went in with different instruments and a different mindset, so we could try new things musically and lyrically.
Wyatt: We were just ready to move forward. We also experimented with a lot of different instruments – the record is pretty versatile.
Congrats on 'All Smiles Over Here :)'. How did that song come about?
Wyatt: I made 'All Smiles' as a motivational power song. It's sarcastic, yes, but it's also serious in projecting confidence and personal progression.
What's it like being in a band of brothers?
Fletcher: I enjoy it. It makes things simple, and gives us more of an unquestioning natural feel. This project would be something totally different if it wasn't just us two.

Wyatt: We know each other's boundaries scary-well. The flow and chemistry is pretty much always there. We both know what we want out of the project and what comes with it. We are on almost the same level about everything, musically, and how we want to project ourselves.
Where do you think punk is at in 2015?
Fletcher: If punk stands for being original, and breaking the mould in some ways, then I'd say that rap and hip hop are the closest things to punk right now.
Wyatt: The word 'punk' to me represents waving your freak flag and being unique in your own sort of way, musically and personally. It's definitely not just aggressive guitar music, in my opinion.
Are there any myths about modelling you'd like to shatter?
Wyatt: Some people have expected my brother and I to be slower intellectually than we actually are. And some people have just assumed that we are druggies. Modelling came later in my life. It no way defines who I am as a person. It's a job – one of many that I have.