Interview: The Naked and Famous
In town to play at yoga-slash-music festival Bliss-Out 2015, The Naked and Famous tell Benita Lee about how growing up has changed their tune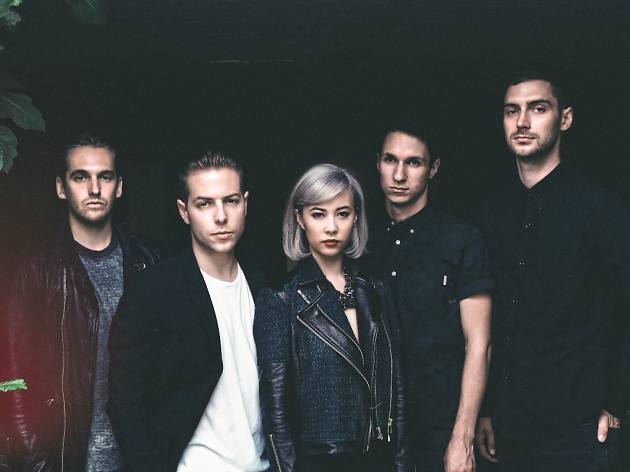 We're not sure how nostalgia-tinged synth-pop has anything to do with yoga, but when The Naked and Famous are involved, we don't really care. The New Zealand indie outfit are hitting town for Bliss-Out 2015, and frontwoman Alisa Xayalith took time off from recording the band's third album – it's due to drop next year – to speak with us about, among other things, how growing up has made her look younger.
'I look miserable, because I was so scared I was gonna screw up'
The band name is a tongue-in-cheek reference to your song 'Tricky Kid'. Did gaining international recognition influence your perspective on the lyrics?
I think it stays true. We wear The Naked and Famous as a little reminder of what we're trying to always avoid. Even though we might be a more established band and have recognition on a larger scale, we still like doing music for the sake of music, and we're not really concerned with fame or celebrity culture. So it's always been a motto for us – and a point of irony.
And you've been taking time off to write your third album – tell us about that.
It hasn't been in the works for very long. We've only been writing and demoing for the last six to eight months. After we came off tour at the end of 2013, we really needed to have a break, so we took a year to just recalibrate. We've been living like nomads for such a long time, we really needed to anchor ourselves again and become grounded. We're trying to create a big pop record. We wanna take the best of Passive Me, Aggressive You and In Rolling Waves [their first and second album, respectively], and we want that to be the third album. We wanna make sure it's right.
What's the inspiration behind it?
The world, everyday life, people that I know and the stories that I hear – everything kind of inspires me in some way. So a lot of the music that I write always starts from a personal place based on my own life experiences. And things just end up where they end up. Right now we're throwing stuff at the wall and we're right in the middle of it, just crawling around trying to figure our way around the songs.
If Passive Me, Aggressive You was your coming-of-age introduction, and In Rolling Waves fleshed out your emotional maturity, how would you describe the new record?
It's gonna be very introspective and retrospective. It's gonna be complicated. I feel like it'll be a good peak, musically, for us.

As one of New Zealand's most successful music acts, has there been a defining moment for the band since you broke out with 'Young Blood'?
For us, it would be playing shows with our contemporaries. And them saying, 'Hey guys, that's really good'. That was just like a nod to say that we were doing the right thing. That kind of thing is really invaluable. Like when we opened for Nine Inch Nails in the Vector Arena in Auckland – Thom [Powers, guitarist] and Aaron [Short, keyboardist] have been influenced by them for years growing up – it was so cool having those kinds of experiences. It's such a blessing.
What's been your main takeaway from spending the last few years on the road?
The biggest thing that we've learnt would be making sure that every single night we give our performance a hundred percent, just to block out all of the noise in our heads – no matter how tired we are, no matter how sick we might be feeling. Like, this is do or die. We love music so much. Touring has really proven how much we are so passionate about doing this as a job. I think that's the biggest thing, 'cause when you're a band and you've been doing it for such a long time, you can take things for granted.
The Naked and Famous now, versus The Naked and Famous seven years ago. What's the biggest change?
We have grown up a bit, and we're a lot more seasoned now. I'm just trying to think of who I was at the very beginning of all this [laughs]. It's actually a very good meter, because when I started this band with Thom, Aaron, Dave [Beadle, bassist] and Jesse [Wood, drummer], I was so timid, I was so shy. I had no idea what I was capable of.
You can actually look back on our [US live radio] debut on KCRW, where we performed 'Young Blood'. I'm wearing a beige cardigan, my hair is in my face, I look like a grandma [
laughs
]. I'm singing really nervous, and I'm looking at the floor. I look miserable, because I was so scared I was gonna screw up. If you look at me then versus me now, a lot has changed. We've just grown up in every way as performers and writers and people, and we're a lot more confident of who we are as a band and where we are in music.