Interview: The Sam Willows
Michelle Fong chats to the quartet about their upcoming debut album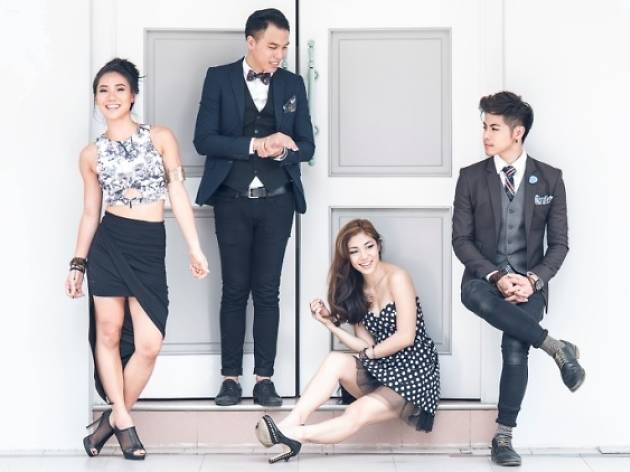 Formed in mid-2012, soul-folk quartet The Sam Willows have been steadily making waves on the local music scene ever since they dropped their hit single, 'Glasshouse'. Comprising Sandra Riley Tang, Jon Chua and siblings Benjamin and Narelle Kheng, the band released their self-titled debut EP three years ago, followed by stints at international music festivals like SXSW in Texas and WAM Festival in Perth. They also worked with five-time Grammy award-winning producer Steve Lillywhite on a remixed version of 'Glasshouse'. Safe to say they've kept busy in the past few years, what with their constant appearances at local gigs and music video covers of pop tunes like 'Blank Space' by Taylor Swift and Kodaline's 'All I Want'. Before their long-awaited debut album – which they recorded with producer Harry Sommerdahl in Sweden – comes out later this year, The Sam Willows chat with Michelle Fong about what went into the record-making process.
'The great thing about this band is that we all treasure it a lot, we put a lot of thought into everything, and this is the album that we've been waiting for a long time.'
On what happened in the years between their 2012 EP and the upcoming album.
Narelle Kheng: We wanted to take some time to build ourselves as a band, to garner attention and support before we released something new. But we were still doing a lot of music, a lot of gigs, a lot of 'seed-planting'. We also took time to explore and do our own personal things – Sandra just opened a yoga studio, Jon co-runs his own production house, and Ben has been acting.
On the album-making process.
Benjamin Kheng: It's still on-going. Some of the songs have been in the album for a long time, and some of them we just wrote a couple weeks ago. That's the great thing about an album – it comes from different places and you put it together. The challenge of the band is to incorporate everyone in. Usually, you just have one songwriter and one brain, but we have four tiers. Yet there are added benefits, because then you have four filters, and the song comes out refined. It's like draft four straightaway.
NK: The great thing about this band is that we all treasure it a lot, we put a lot of thought into everything, and this is the album that we've been waiting for a long time. So we really wanted to do the best we could.
Sandra Tang: As much as we compromised, we all still have a common goal, and we don't go, 'fine whatever, I don't care'.
On their inspirations.
NK: A bit of One Direction?
BK: That's controversial! But yeah, a bit. I think Kodaline too, for lyrical content and sound structure.
ST: For me, I latch on to different songs and piece them together, and I'm always inclined towards melodic and rhythmic hooks.
Jon Chua: I listen to a lot of K-pop and get very influenced by them. They do have really good songs, I just don't understand what they say.
On working with producers Steve Lillywhite and Harry Sommerdahl.
BK: If you're in the studio every day, it gets very draining, so they keep the creative space conducive. Working with these two producers opened our eyes to how music is actually made in the world, and it's very different from how we imagined it to be.
NK: These people came on to enhance it. Even in Sweden, they're so experienced, they don't even worry. And it always helps to have a fresh pair of ears.
On the one song of theirs that they'd love to see on a movie soundtrack.
NK: One that I'm certainly gunning for is not recorded and not out yet, but it's called 'Stay'. It'd be in a super heart-breaking movie like The Notebook.
On their plans for the rest of the year.
JC: We'll be touring the region quite a bit – Malaysia, Indonesia, Australia – so we're very excited to push our music out to new regions as well. Hopefully, they're going to be welcoming.
'Take Heart', the first single off the new album, is out now on all digital music stores. Visit fb.com/TheSamWillows for updates on their album.