Interview: Yellowcard
Violinist and back-up vocalist Sean Mackin speaks to Darren Ng about the ever-evolving music industry, the creative direction for Lift a Sail and being positive in the face of adversity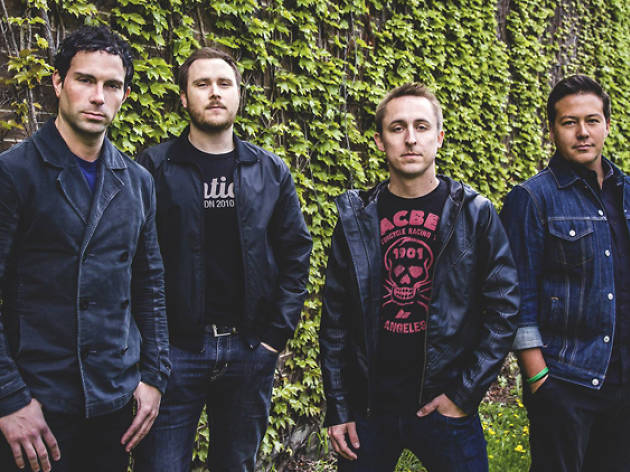 By

Time Out Singapore editors
|
Mention the name Yellowcard and most people think back to their hits from the 2000s like 'Ocean Avenue' and 'Lights and Sounds'. But the American pop-punk powerhouse, who have actually been around since 1997, show no signs of slowing down anytime soon. Despite being thwarted with setbacks in the form of injuries and numerous changes in the line-up over the years, the Los Angeles-based four-piece have reorganised, updated and improved their sound and attitude to life. Their latest release, this year's Lift a Sail, marks their ninth album in almost two decades of music-making. Before their return gig here, violinist and back-up vocalist Sean Mackin speaks to Darren Ng about the ever-evolving music industry, the creative direction for Lift a Sail and being positive in the face of adversity.
'I always say our art mimics life. It is constantly changing and you can hear that in the story of Yellowcard'
You guys started out in 1997 – now everything's different with music streaming platforms and social media. What are some of the biggest changes in the industry that have affected you?
The way people consume music. The online presence, like streaming and YouTube, has been the single hardest thing to manage. Every year, there is so much new technology, and fans of music are reaching for the newest way to hear their favorite artists. Within the Yellowcard team, we have taken a leap of faith to stay on top of trends, but I believe that if we write great songs and perform to the best of our abilities, people will still come and see us play. Live music is, after all, the best form of expression.
Ocean Avenue was a pretty awesome introduction of Yellowcard to the world. Do you ever feel the pressure to have a repeat of that massive success?
Never. No pressure! We are so grateful to have an album like Ocean Avenue in the Yellowcard catalog, and it actually gives us the freedom to write and create new Yellowcard albums.
What impact do you think Yellowcard has had on the pop punk scene?
Genres are so funny to me; we have friends and brothers in bands in the 'scene'. But I hope as much as we are involved with the Vans Warped Tour and similar tours, that we inspire people to get out of their own boxes, break down barriers, blur the lines and really live life.
What's the difference between performing in the early 2000s and now?
Not much. We try to bring the highest energy show to the stage every night. The real difference is in preparation. We are not the rock star band that drinks every single night. We rest our voices, work out and practice. We want to make sure every fan gets to see the best Yellowcard show every time.
There are fewer fast-paced songs on Lift a Sail, with a tilt towards synthesizers and a different sound compared to tracks that fell under the pop punk genre like 'Light and Sounds' – what is the motivation for that change?
With Lift a Sail, we didn't want to make the same Yellowcard record; we wanted to push ourselves creatively by using modern instrumentation and songwriting techniques we have been thinking about for a while. We have a number of songs in the Yellowcard catalog written to a faster BPM, so the change of pace is nice. However, there are still some heavy rock gems on the album. I always say our art mimics life. It is constantly changing and you can hear that in the story of Yellowcard.
Could you talk more about the inspiration behind writing Lift a Sail? We understand that Ryan was dealing with his wife's unfortunate skiing accident while writing the album – how did that bleed into the album?
I think there are always challenges in life. The members of Yellowcard are no different and we share our stories, both the good and the bad, but we look towards the light. So much of this world is dark and crazy, so we try to be as positive as possible.
It seems a key theme on the album is about dealing with pain. How do you get comfortable putting so much of your private life into lyrics for the album?
It is so special when people tell us they have triumphed in their lives because our stories and songs moved them. There is no better feeling in this line than to reach people and feel like you have helped them in their life, even in the smallest of ways.
How do you think fans will react to the new music you're making?
The reaction to Lift a Sail has been so positive. I can't believe it! We knew with change there would be some push back, but there really hasn't been much. The message we want to share with Lift a Sail is that it's okay to accept change. Take a leap of faith. Life is always changing and you have to evolve and push forward in good times and bad. We try to move people and inspire them, and this album has already done that!