Local artist interview: Michaela Therese
A 14-year veteran of the local music scene, Michaela Therese gives Benita Lee a sampler of her soulful tunes through her rollercoaster ride of a journey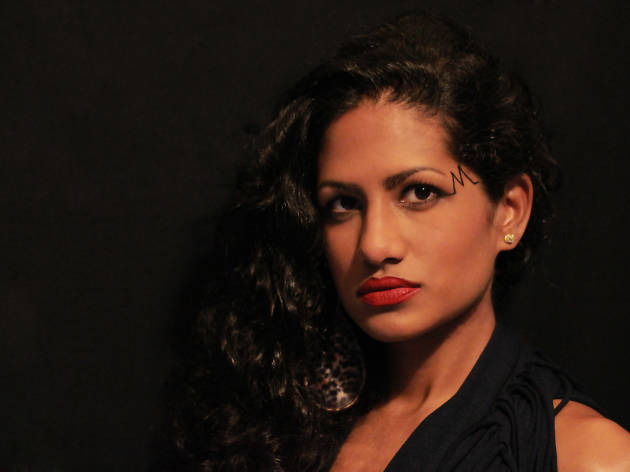 Petite she may be, but when Michaela Therese steps into the spotlight, all eyes naturally gravitate towards her. Forget the inscrutable enigma of the artist persona – with her, what you see is what you get. Never one to hide behind superfluous frills or sugarcoated fluff, the 33-year-old neo-soul singer/songwriter is genuine, eloquent and charming in performance, just like she is in person. There's something quite captivating about her affable nature, which is dotted with little quirks (she's a self-proclaimed cat lady); even her appearance is striking – born to parents of Indian and Eurasian background, the glamorous songbird donned an eclectic outfit of cat prints and glittery shoes to meet us. She describes herself as an introvert, but the confidence with which she grabs life by the reins flows from her 14 years of professional music-making in the local scene.

Emerging from a musical background, Therese started at the tender age of one, when she received a shower of gifts and paid attention to only one: the toy piano. Encouraged by her late grandfather, she attended piano lessons as a four-year-old, joined her church choir at 12 and won the local Rollin' Good Times music competition with her band the next year. Then, at 19, during her gap year between junior college and LASALLE (where she got her diploma in jazz and contemporary music), she nailed her very first 'professional' gig at the now-closed Barcelona Winebar. Initially heavily influenced by jazz greats such as Ella Fitzgerald, Billie Holiday and Sammy Davis Jr, her interests broadened over the years to include a span of genres like soul, hip hop, R&B and even rock, which she declares is her favourite. 'I don't perform it because I don't have the rock star attitude – it's just not my style,' she shrugs. 'But with its strong messages, rock has influenced me a lot lyrically.'

On the local front, Therese expresses heartfelt respect and admiration for our thriving scene, singling out names such as Vanessa Fernandez, Caracal, Monster Cat and electronic collectives like Darker Than Wax and Syndicate as those she holds in high esteem. Although she laments the dearth of unconventional venues that promote jazz and soul, she finds reward in the music itself. 'You can see how it touches people, it's very tangible,' she enthuses. 'I've seen it calm people down or lift their spirits, and because of that, I'm starting to look into other areas of music therapy.'

If you peer into her impressive repertoire, it's filled with gigs around the region, long-running residencies at venues like Acid Bar and Timbre – as well as current ones at Longtail and OCF (in The Customs House and The Arts House, respectively) – along with three self-released records. Her two eponymous EPs in 2008 and 2010 were never fully conceptualised, according to Therese, unlike her debut LP, My Name is MEEKELLAH, which dropped in April this year. 'I wanted to make a full-length album from the beginning, but sometimes you need certain things to happen before you're ready to share your art with the world. So this is finally a stamp of what my music is,' she announces. 'Previously, I was still trying to find my sound; as much as my EPs mean a lot to me, this album is the redefining point of my musical career. Before I reintroduce myself, people need to stop butchering my name. The whole album is a statement – this is my music, this is what I do, this is who I am, and it starts with the name.'

A long time in the making, this new record is a biography of sorts for Therese, chronicling the twists and turns of her journey in music and marking her comeback after a personal hiatus. The oldest song, 'Standstill', was written in 1998, based on her struggle in deciding whether to pave her own path in music school or follow the crowd. The rest cover her life experiences – from graduation to the beginning of her music career to where she is now – and speak of her growth in a real and raw manner, as she shied away from self-centered lyrics and drifted towards becoming socially conscious and attentive to global affairs. 'I realised I have a responsibility as an artist – if I were to make art for people to listen to, I'd better have something to say!' she exclaims. 'I started thinking about my core beliefs, and I felt I needed to respond to what was happening in the world, to try and make people think about something bigger than themselves. There's wonderful, feel-good music out there, but I'd like mine to be thought about.'

Listen to the funky, soulful blues and R&B tracks on her album, and you get a throwback sound to old school grooves – worlds apart from the formulaic tunes of commercial music nowadays. But besides all that jazz, the diverse talent of Therese undoubtedly shines through with her two other projects: Miss Mic, her alternate electronic music persona, and her experimental hip hop band named L.A.B. Inspired by a passionate performance from Erykah Badu, the 'queen of neo soul', after a trip to the 2012 Java Jazz Festival, Therese formed a tribute band called BaduLab; but it soon transformed into L.A.B. (an acronym for 'Listen.And.Believe') to hone the quartet's creative tendencies. As for Miss Mic, despite her earlier creation in 2008 – after playing live gigs with electronic production duo Cosa Nostra – she's still very much in the teething stages, without any official releases to her name.

Concentrating mostly on her solo stuff at the moment, Therese has moved past the need to define and differentiate between her projects. 'If it's good music, it's good music – it doesn't matter,' she explains. 'I've learnt to create that balance; once the album is settled, I'll have more space to think about the rest.' As for now, she's excited to start paying her dues on the regional festival circuit, so don't forget her name – Michaela Therese is one woman still on the rise.